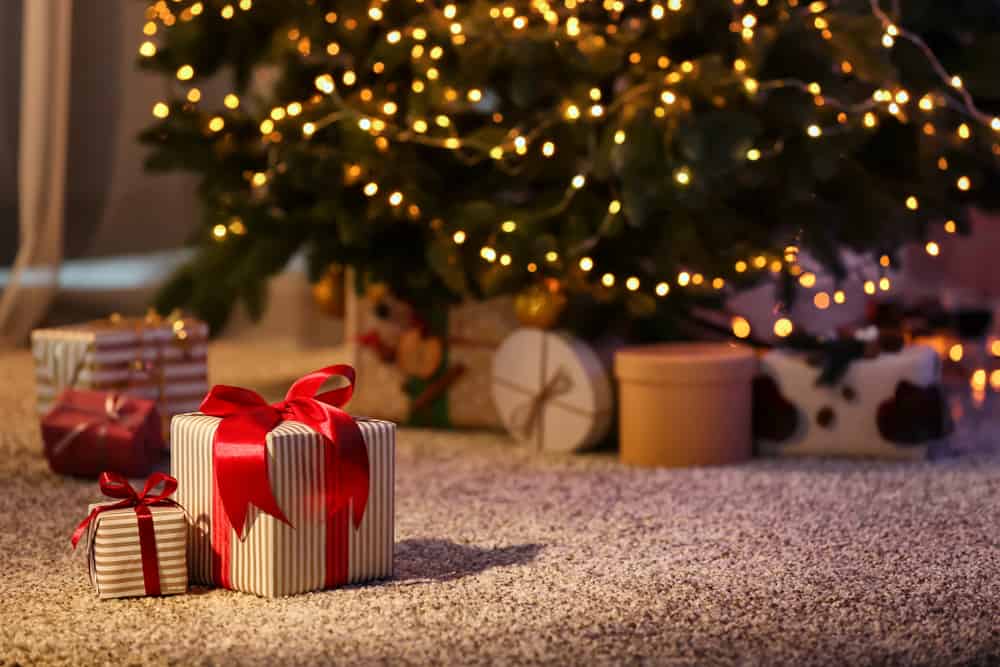 Perfect presents for your pampered pets
What's on your pet's wish list this Christmas? Every pet deserves a very special present and we've done some shopping around to find some fabulous festive gifts that your furry family members will love...
---
From dogs to cats, rabbits to guinea pigs, rats and ferrets, chinchillas and degus, not to mention hamsters, gerbils and mice – we've present ideas for each and every pet!
Gift ideas for your devoted dog
---
Intriguing packages for your favourite feline
---
Something special for your bestest bunny friends
---
Gifts for your gorgeous guinea pigs
---
Fab finds for your remarkable rat pack
Active at dusk and dawn and throughout the night, when your rat pack awakes they'll enjoy a leg stretch on a large Interpet Superpet Comfort Wheel. This solid wheel ensures they won't catch their paws or tails in it and comes with a sturdy free-standing base for placing on the enclosure floor, or clips for attaching to the side of a wire cage.
Clever rats love to put their intelligent minds to good use by problem solving. This Flip and Hide Foraging Toy is handmade from rat safe 100% kiln dried pine provides enrichment and amusement to you and your little ratty friends. Watch your rat pack work out the puzzle so they can pick out their hidden nuggets with their dexterous paws.
When it comes to comfortable snoozing places, your ratty friends will adore this Triple Tunnel Hammock that you can hang inside their accommodation. The inside part is made with a soft anti-pill fleece with a polycotton outer. With tons of top reviews, Miche says: "Amazing quality! My ratties love being in the tunnels, or just snuggling on top together! The perfect new item for them."
---
Ideal items for your fun-loving ferrets
Although ferrets love to sleep for up to 20 hours a day, when they're awake, they're bursting with energy and ready to play – especially when there are yummy treats involved. Combine both with this interactive treat ball dispenser. Simply place some of your ferrets' favourite nuggets inside, adjust the dispenser opening so that the goodies are dispensed as the ball tumbles around.


If your ferrets enjoy going for a walk with you, then you need a failsafe harness that will stop even the most expert escapologists from wriggling loose. As well as being undeniably stylish, the Coco Rosie Harness Set is specially designed to fit the unique anatomy of your ferrets (available in Petite or Medium/Large) and is made from nylon webbing with quick release clips for easy on and off action and even has a small bell.


And when it's time for a long, long ferret nap, this fleece and fabric Bunkbed Hammock will be a hit with your slinky, sleepy friends. Or how about a Red Octopus in the Stars toy? Made from cotton and fleece, there are five sleeves to run and wriggle through – two which rustle – plus the head makes for a great sleeping spot.
---
A little something for your super-cute chinchillas
Chinchillas are most active at night, between dusk and dawn. So, once the early evening sets in, they'll be feeling ready for some serious activity. These fluffy, agile high jumpers – who can leap around six feet from a standing start – will love a Selection of Ledges at different heights to hop about on. Scatter some yummy nuggetsalong them to make it even more rewarding.


Chinchillas love to chew and carry stuff, so what better present than some small Sea Grass Balls, which are wrapped in seagrass string, and are great for chewing on and carrying around.


After playtime and some dinner, when it comes to nap time (something that chinchillas take very seriously) what better place to cuddle up with a snack of Lucious Leaves than a Hanging Cube Bed? This hammock-style bed is made with fleece and cotton and features a fleece curtain to make the cube darker to animals that like to nap during the day.
---
Delights for dashing degus
Degus are diurnal, which means, unlike many small furries, they're active during the day – although it's possible they'll enjoy their favourite activities of digging, running and exploring at any time of day or night! They'll love checking out this Wooden Swing Tunnel or gnawing on a hanging Mini Wreath.


Agile degus love to climb, so why not add a chunky hazel and pine Bolted Bead Bridge to their accommodation? Dot a few treats tasty nuggets along it to encourage them to try it out. Great for gnawing and balancing on, this bridge is bolted to maximise your cage space.


Degus also adore shredding stuff, so stock up on Banana Leaf Balls wrapped in seagrass string, some Wildflower Forage, made with an enticing mix of rose, hibiscus, marigold and cornflower, along with some irresistibly chewy Palm Shredder
---
Merry moments for your happy hamsters
Once these daytime snoozers wake up in the evening, they're ready for a night of activity, which involves plenty of climbing and running about, so they'll enjoy checking out this slot-together Hamster Castle Kit, made from pet safe non-toxic poplar plywood. Comprising two castle turrets, two access ramps and an interconnecting bridge, there's plenty of space for play, sleep or eating. Just scatter a few yummy hamster nuggets for foraging fun and some luxury paper bedding for when it's hamster naptime.


Or how about a their own mini Log Cabinwhich will provide hours and hours of hamster-friendly fun and a safe, cosy space to enjoy all the food they've stashed.


With the smallest furries, you can't go wrong with a Gnawing Tunnel or two – perfect as a hide-away, something to scramble through and over, to snooze in or just chew to pieces. Add a Hanging Log made from a sturdy piece of hazel to scamper across, and a Bolted Balance Bridge to navigate.
---
Entertaining presents for your genial gerbils
Gerbils are diurnal, which means they are active during the daytime, although they enjoy frequent snoozes throughout the day and may turn their paws to some digging and tunnelling at any hour! So why not give them something fun to get their paws into – such as this Small Animal Moss selection which adds variety, texture and enrichment to their environment.
Add some Corrugated Cardboard Tubesfor running through and nibbling on. Gerbils like to see what's going on so a flat rock placed in their gerbilarium will serve as a handy lookout point – a few tasty nuggets scattered around will encourage them make good use of it.
Your playful gerbils will also love scampering up and down this Trixie Wood Tower or balancing on this Trixie Natural Living Seesaw made from natural bark wood.
---
So much fun for your mischievous mice
Mice are crepuscular and nocturnal animals and so are active at dusk and dawn and throughout the night, when they like to climb and scurry about. How about an exciting Wooden Maze to figure out? Made with an open base and two Perspex roof sections that allow you to watch your intrepid explorers as they investigate the tunnels. Dot some tasty nuggets inside to encourage your pets to investigate.


A Woodlands Pickles Cottage is a great addition to your small pets' environment. As well as a cosy place to sleep, it's a super den to hide and store tasty treats. As it's made from natural wood, this little cottage is perfect to nibble on – allowing your pets to make their mark on their new home – as well as keeping those ever-growing rodent teeth in good shape.


When you've had a busy time foraging and playing and it's time for a nap, how about 40 winks in your very own Hanging Hammock? Handmade in soft material on one side and plain calico on the other, each one is unique. What mouse could resist a snooze in one of these?
---
Is your pet a Burgess pet? Join the Burgess Pet Club for exclusive offers and rewards.
CARE MORE The health and wellbeing of pets is our number one goal here at Burgess Pet Care. Training, nutrition, grooming and general care, it's all here >>
---
If you found this interesting, you may also like:
THE DANGEROUS FOODS YOU SHOULD KEEP AWAY FROM YOUR PETS OVER CHRISTMAS Ever wondered how safe the food you feed your pets over Christmas really is? Here at Burgess Pet Care, we know that it can be tempting to allow your pets to join in with the festivities and give them something to eat from the dinner table - but the truth is, this can be a lot more dangerous than it sounds. 
HELPING YOUR SMALL PETS GET SET FOR WINTER As the mercury dips and cold, wet, wintry weather takes hold, it's essential to keep your small furries warm and cosy.
COME IN FROM THE COLD Practical ways from feline experts to help your cat cope with winter.
WET DAYS OUTDOORS AND MUDDY PAWS Whatever the weather, your dog needs regular walks, which means soggy doggies, muddy paws and the 'alluring' aroma of wet dog permeating your home. However, by investing in a few clever pieces of kit, both you and your canine chum can get through the wettest days of winter with ease.
A CRACKER OF A CHRISTMAS PET QUIZ Whatever your favourite category – animals in books, films and on TV, pets of famous people, different pet breeds or amazing animal facts, see how much you know by pitting your wits against our festive pet-themed quiz – and why not challenge your family and friends to play along too? You'll find the answers at the end of this blog – but no peeking!
THINGS TO MAKE AND DO When it comes to enriching toys for your pets to brighten up the dreary days of winter, why not get crafty and do it yourself?
FESTIVE FILM STAR ANIMALS The festive season is a time to cuddle up on the sofa with our pets and watch some favourite family movies. So why not have a go at our fun quiz about some of the best-loved animal stars on film. Answers at the end – but no peeking!
GAME PLAN From 'treat-seeking missions' to indoor circuits, getting creative with cardboard box activity centres and paper bag wraps, we've lots of ideas for you to boost the feelgood factor for your four-legged friends.
COSY TOES AND SNUGGLY NOSES As temperatures dip, our animal companions need our help to stay warm and toasty during the winter months.
WILD AT HEART Inside every pampered small pet is the desire to exhibit their innate, hardwired, natural behaviours which reveal their wild origins. It's the reason why bunnies want to dig and burrow, guinea pigs like to keep a watchful eye on what's going on from a safe hiding place, hamsters stuff food in their cheek pouches and chinchillas prefer to sleep hunched up. Find out more about the natural and fascinating behaviours of some of our favourite small furries.
SHOW YOUR PETS THE LOVE Every pet deserves the best – from the right environment to the correct nutrition and plenty of attention from their human. So why not make a pledge to be the best pet owner you can possibly be?
HOW TO TELL IF YOU HAVE A HAPPY PET Wheek-wheeking, bruxing, dooking, chirping, binkying, popcorning – there are all sorts of ways our pets tell us they're feeling good, once you know what to look for...