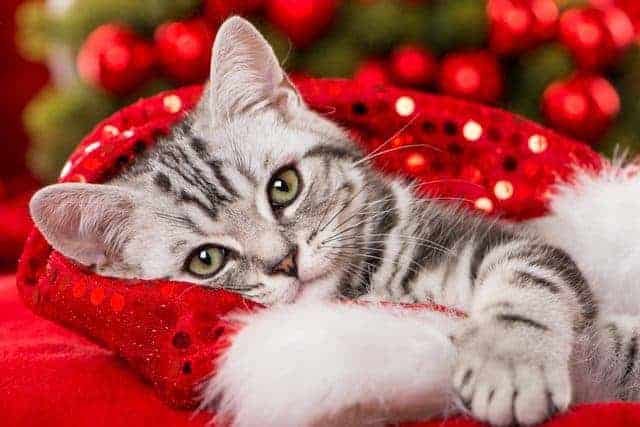 The 12 pet presents of Christmas
1. K9 Pursuits Maze Slider
This fun, two-in-one device is ideal for those dogs who tend to gobble down their food. There is a challenging maze slider on each side of a deeply grooved slow feeding bowl, which is designed to prevent dogs from rushing their food, easing reflux, indigestion and bloat.
Price: £9.99, available from PurrfectlyYappy Go to shop >>
---
2. Stylish and safe cat collar
Treat your cat to a new collar that's made from high-quality silicon, which is soft, smooth and lightweight, with a break-away clasp for safety. International Cat Care, the global cat charity, gave this design their first ever cat collar award. Choose from a range of gorgeous colours.
Price: £9.99, available from Kittyrama Go to shop >>
---
3. Wooden Hay Feeder and Lookout
This nifty hay feeder will keep your rabbits' favourite fragrant food clean and tidy. It also features a slide-off lid that doubles up as a lookout, so your bunnies can enjoy perching on the top to keep an eye on what's going on. 
Price: £15, available from Pets at Home Go to shop >>
---
4. Two-in-one luxury hanging hammock
Made from reversible plush fabric and wipe clean nylon, the beauty of this cleverly designed product is that it can be used as a traditional hammock or be turned into a hanging tunnel. Either way, it's likely to be a sure-fire hit with rats or ferrets.
Price: £5.38, available from Fetch Go to shop >>
---
5. Tin of Stinkies
A snazzy tin containing three heavy duty cotton sardines filled with 100% organically grown catnip. What more could your cat ask for on Christmas Day? And, by choosing this purrfect present, you're helping out pet charity PDSA in the process.
Price: £9.99, available from PDSA Go to shop >>
---
6. Happy Pets Natures First Grassy Nest
Small pets such as dwarf rabbits, chinchillas, degus, gerbils, ferrets and guinea pigs will have hours of fun with this natural, bowl-shaped nest that they can climb inside, roll around and nibble at.
Price: £9.89, available from Pet-Supermarket Go to shop >>
---
7. Rope Scramble Net
Active rats and fun-loving ferrets and degus can climb and clamber to their heart's content with this rope scramble net. It can be attached to each side of your pets' home to create a platform or hammock, or hung from the roof to create a climbing wall. Join two or more together to create the ultimate assault course.
Price: £13, available from Pets at Home Go to shop >>
---
8. Hanging Chinchilla Cube
This cute, handmade cube hammock is fleece-lined and the perfect size for chinchillas, degus and rats to snuggle down inside for a snooze. Four satin ribbon tabs in coordinating colours provide easy hanging in any cage.
Price: £13.30, available from Etsy Go to shop >>
---
9. Catit Design Senses Super Roller Circuit
For cats that just want to have fun, this eight-piece circuit features a motion-activated illuminated ball that zips around inside the track, enticing cats to chase and swipe at it. With over 1,000 five star reviews, it's a popular choice for pampered pussycats.
Price: £11.99, available from Amazon Go to shop >>
---
10. Supreme Hamster Fort
This self-assembly cardboard maze with push-out doorways provides hamsters and gerbils with exercise and stimulation as they search out treats you have hidden. Put different things in each room – from scattered food, to bedding or a bowl of chinchilla sand, and enjoy watching your small pets having hours of adventures.
Price: £5.59, available from Pet-Supermarket Go to shop >>
---
11. Silentnight Micro Climate Pet Bed
Mattress company Silentnight has come up with a brilliant innovation – pet beds moulded from the same materials used for human mattresses. The fully customisable beds create their own 'micro-climates' – keeping your pet warm on cold nights and providing coolness when it's hot. Spacious (in either medium or small sizes) and luxurious, this has to be the ultimate in pet bed comfort for dogs, cats or even house rabbits.
Price: £39.99, available from Argos Go to shop >>
---
PLEASE NOTE: Prices are a guide and subject to change