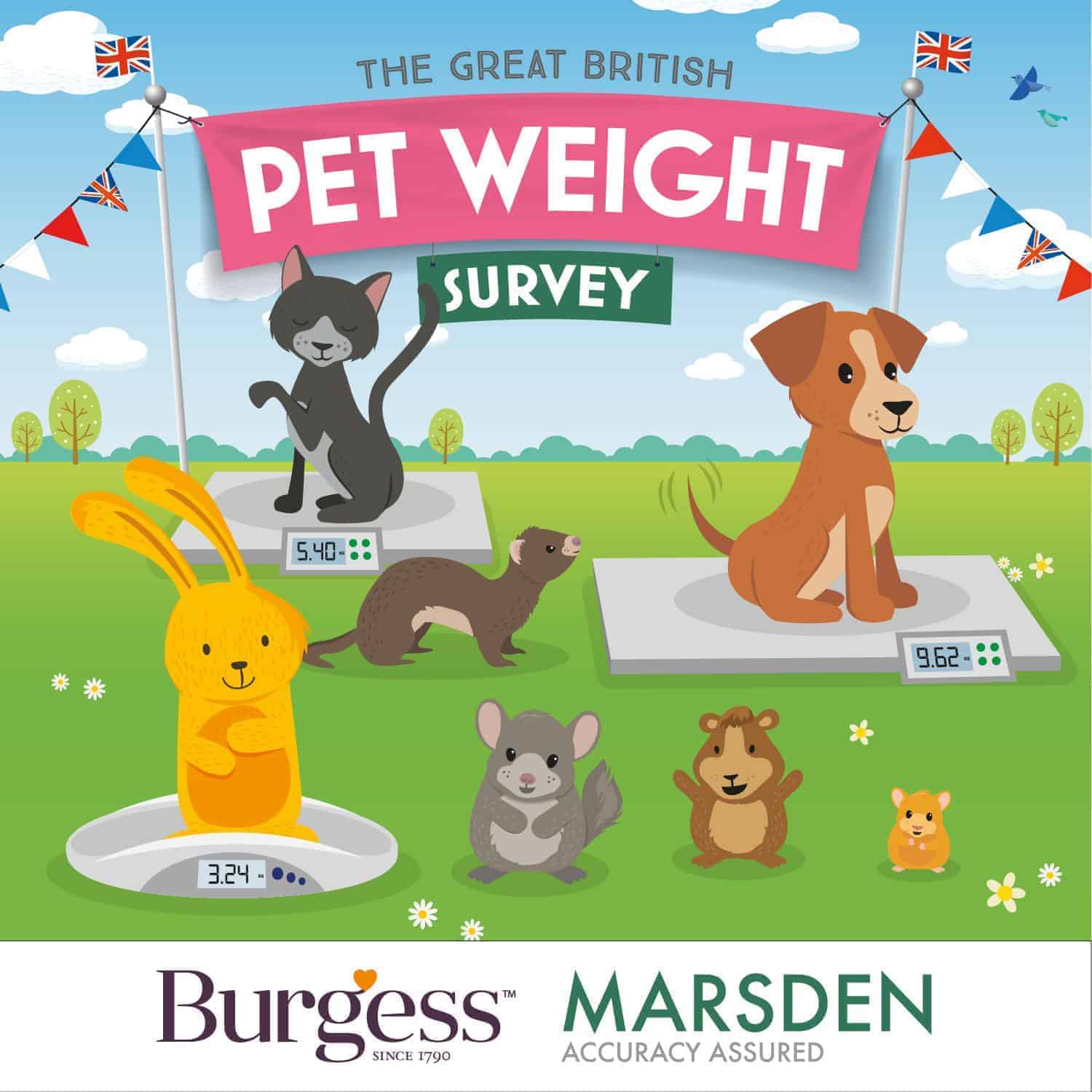 Will you help us to help the UK's pets maintain a healthy weight?
From Bopper the Whopper, the portly eight stone Border Collie to Mitzie the tubby tabby dubbed 'Britain's fattest cat', unfortunate stories of overweight pets have hit the headlines – and it's something that pet health professionals are increasingly worried about. Pet obesity has been identified by vets as one of the top three welfare concerns. 
To get to grips with this important subject, Burgess Pet Care and veterinary scales manufacturer, Marsden, are conducting a nationwide survey. The purpose is to gain a better understanding of people's knowledge and attitudes towards helping their pets maintain a healthy weight.
Burgess in-house vet Dr Suzanne Moyes says: "There's no doubt about it – pet obesity is a weighty issue. Being overweight can lead to all manner of health and wellbeing issues – including osteoarthritis, diabetes and cardiac disease and the inability to exhibit natural behaviours. We're really interested in finding out what people know about managing their pets' weight. The information we uncover will help pet health professionals provide better weight-management support to the UK's pets and their owners."
David Smith of Marsden – the largest supplier of vet scales in the UK – adds: "Accurate and regular weighing of both pets and their food is essential to maintain a healthy weight. We also know from working with vets and animal charities such as Battersea that people don't always recognise that their pet is overweight. We're keen to get people's opinions on the subject and also to raise awareness of just how important maintaining a healthy weight is for all our pets."
Can you spare five minutes to help?
So, whether you have a dog, cat, rabbits, guinea pigs, ferrets, chinchillas, hamster, gerbils, degus, rats or mice, we'd love you to get involved. The survey will take around five minutes to complete and, to thank you for taking part, you'll automatically be entered into a prize draw to win six months' supply of Burgess Pet Food of your choice.
Take part in our survey here
---
Burgess Pet Care is an independent family run business based in Thornton-le-Dale, Yorkshire and one of the UK's leading pet food manufacturers. The health and happiness of pets is our number one goal and our expert knowledge in animal nutrition helps us achieve this. We believe in responsible pet ownership, supporting welfare and education as well as making healthy, nutritious and tasty pet food.
For over 90 years, both the UK medical profession and British industry have relied on Marsden for reliability, accuracy and value for money. Marsden veterinary scales are used by the RSPCA and Battersea Dogs & Cats' Home. We have one of the largest ranges of veterinary scales in the UK – with Marsden animal scales used by vets, breeders, pet owners, zoos and shelters.