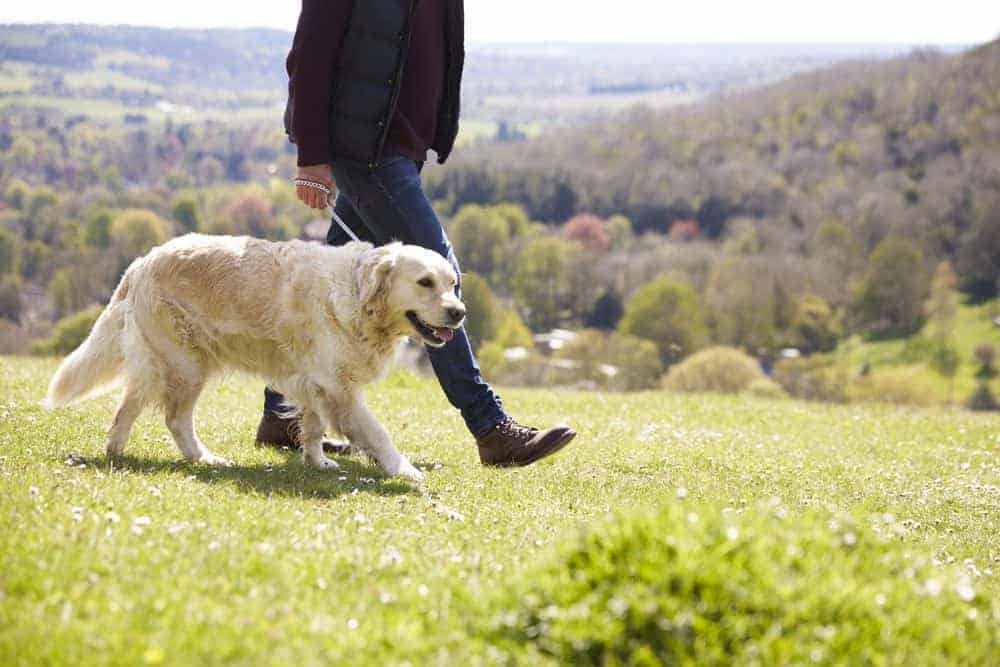 8 ways to help prevent your dog from being stolen
Dog ownership has increased here in the UK over the past year - the PFMA's recent Pet Population report has estimated that between us, we own 12.5 million dogs! With this increase in demand, the price of puppies has also risen since 2019. Cocker Spaniels and Miniature Dachshunds, the two most popular breeds of puppies, can cost up to £4000 each. As this demand increases, it is possible that people are resorting to stealing puppies or dogs to sell on as pets to people wanting a four-legged addition to their household.
As a nation of dog lovers, our dogs are so important to us. Losing your dog in any circumstance is awful, and we want to help put a stop to this terrible crime. Take a look at our steps owners can take to help prevent your dog from being stolen:
---
Have you got your ID on you?
This is a common phrase some of us might still hear at the supermarket checkout, but did you know pet ID is essential to help in the fight against pet theft.
Microchipping your dog cannot prevent them from being stolen, but it can increase the likelihood that you are reunited. In April 2016, new legislation stated that all dogs must be microchipped and registered by the time that they are eight weeks old.
Be in the know about microchips:
Microchipping is a quick procedure that happens when your dog is a puppy. It might be slightly uncomfortable but microchipping does not hurt your dog.
Each microchip has a unique number that is registered to your contact details.
Owners must make sure their dog is registered with the correct microchip database. You can find a full list of approved databases on the government website.
When your dog's microchip is scanned, your details will be displayed.
It is your responsibility as the owner to amend your details with the microchip database if they change.
Lots of authorities can scan for your dog's microchip, including vets, rescue centres, and dog wardens.
Top tip: Every time you take your dog to vet it is a good idea to ask them to scan their microchip to check it is still working.
If you don't get your dog microchipped, or you do not register them with one of the government's approved databases, you may be given a 21-day notice to get them microchipped. If after the notice period has ended your dog is not microchipped, you could be fined up to £500 on conviction.
Don't forget your dog's collar!
The Control of Dogs Order 1992 is clear that, when out in public, a dog should wear a collar "with the name and address of the owner inscribed on the collar or on a plate or badge attached to it." It's best to add a phone number too in case your dog should go missing while you're away from home.
Making sure you dog is wearing their ID at all times can increase the chances that, should the worst happen and someone takes your dog, you can be reunited through the power of the microchip.
---
Perfect your dog's recall.
Recall dog training is an important skill for your dog to learn. It can keep them safe from potential theft, but it is also good park etiquette. If a dog at the park doesn't want to play, or a family is enjoying a picnic, it's important that you are able to call your dog away and give them some peace and quiet.
Start small – practice recalling your dog and rewarding them when they come back to you in the safety and familiarity of your garden. Use recall words such as "treats!" or their name, rather than "come", or try a recall whistle.
Slowly build up the distractions. As you both grow in confidence, head to a quiet park and give it a go.
---
Top tip
Always remain calm while you're recalling your dog. Showing signs of irritation will just discourage them from obeying your command. No matter how long it takes don't forget to give your dog lots of praise when they come back to you!
For more information on how to train the perfect dog recall, check out our blog.
---
Think about your location.
Consider where you are taking your dog on their daily walk. Will you always be able to see your dog? Is it a busy park, or a quiet spot? There has been worrying reports of people approaching dog walkers offering to buy their dog, or forcibly taking it from them. If you are concerned, why not vary the location, time of day, and length of your walk. 
There have been some concerning reports recently of owners arming themselves while out for a dog walk. This is not a solution, and we strongly advise against owners taking matters into their own hands. This is illegal and it can also increase the risks to the owner if something were to happen. Instead, all dog owners should follow advice and take safe precautions to protect their pet from theft.
---
Got a gate? Remember to secure your garden.
Your garden, front or back, should be secure, both from people coming in and your dog getting out. Take some time to have a walk around and ask yourself:
Are there any weak spots in the fence?
Has my pup been digging underneath the fences or gates?
Is there any damage to the garden perimeter?
Could my dog fit through that small gap in the fence?
Are my gates securely locked?
Repair any damage as soon as you spot it. Another good tip is to consider investing in high fences that are hard to climb over. Similarly, moving any boxes or furniture that could be used to climb down from can act as a deterrent.
If parts of your garden are out of sight from your house, consider setting up a specific area for your dog to use that is within your eye line.
Just as you would secure your property against the theft of your belongings, making sure you are regularly checking that your doors and windows are secure when you leave the house, and closing any curtains or blinds in the evening are good ways to secure your home.
---
Top tip
Do you have any dog signs outside your house? Consider taking down any dog signs that aren't necessary. If you feel the need to display a 'Beware of the Dog' sign, display a generic sign, rather than stating which breed lives at your house.  
---
Stranger danger! Who is your dog meeting?
When we're out and about with our dogs, many of us will hear the sound of affirming compliments about lovely our pooches are. Some people might want to stroke our pet, and whether you let them is up to you. However, always be wary. If you have a bad feeling, trust it. Be cautious if someone asks to pick up your pet or is showing a lot of interest in their breed and age. These could be signs that all is not well.
Many of us will also use a dog walking service. Make sure they have dog walker's insurance, which will cover veterinary fees, as well as theft of a dog if they should go missing.
---
Don't leave your dog unattended.
You may have seen a dog tied up outside a corner shop or supermarket while their owner makes a quick dash in for a pint of milk. This can be a very stressful situation for a dog. They won't understand that you'll be back in a minute and might be uneasy around strangers or unfamiliar noises. Plus, while outside you cannot control who is interacting with your dog, including who might approach them with an ulterior motive.
Leaving your dog outside a shop or similar can make them a target for pet theft. Without you there to protect them, they are vulnerable.
---
DID YOU KNOW?
Neutering your dog has a wide range of benefits, including reducing the risks of breast cancer in females and testicular tumours in males. It also removes the urge for a dog to breed, reducing their desire to go astray in search of a mate. This can help prevent dogs from getting lost and going missing, and therefore, reduce the risk of them being stolen.
---
Sharing on social media?
Getting a new dog is an exciting time, and something we all want to share! However, be careful when posting pictures of your new dog on social media. Take the time to consider your privacy settings. Do you want these pictures to be public? Or would you prefer to only share them with your friends and family? Think about turning off your location on any pictures you do post.
---
Do you know where your dog has come from?
Many dogs are stolen for monetary gain, and pet thieves will try to sell them on. With the increasing demand for puppies during lockdown, don't be caught out.
When buying a puppy, it is a good idea to select a breeder from the Kennel Club Assured breeder list. This is a list of approved breeders so you can be confident that you'll be buying a puppy from a reputable home. As well as protecting against buying stolen dogs, by ensuring you choose to buy from a trusted breeder, you will also be reducing the risks of buying from a puppy farm or buying illegally imported dogs.
If something doesn't feel right, report it. Bringing a new dog home should be an exciting time, you don't want to find out further down the line that your beloved pooch belongs to another family. Similarly, by knowing what to look out for, you could help reunite a dog to their very worried owners.
---
What to do if your dog is stolen
If the worst should happen and you are a victim of dog theft it is important to act fast.
Report the theft to the police and make sure to get a crime reference number.
Report it to your local dog warden via the government website.
Spread the word! Contact your vet and local rescue centres to inform them that your dog is missing.
Use the power of social media. There are lots of community groups on social media sites like Facebook, plus specialist groups aimed at reuniting missing pets with their owners. Post recent pictures on these groups and ask people to share them to their timelines.
If you see your dog on a resale website, inform the police immediately.
The Dogs Trust have lots of helpful advice on how to utilise social media and what to do if your dog is taken.
---
Is your pet a Burgess pet? Join the Burgess Pet Club for exclusive offers and rewards.

---
If you found this interesting you may also like:
BEST BEHAVIOUR How to train your dog to make a polite hello.
HOW TO MAKE ON-LEAD WALKIES MORE OF AN ADVENTURE FOR YOUR DOG – Changing pace, the thrill of the niff, and training exercises are all ways to keep your dog entertained while on the lead.
THE COST OF OWNING A DOG DURING LOCKDOWN Owning a dog often comes with a lot of hidden costs that some pet owners are not prepared for.
NEW YEAR, NEW PET? What do you need to consider before taking the plunge and inviting a new four-legged member to join your family? What do you need to buy for a new puppy? How do you toilet train a puppy? When are puppy vaccinations needed? What about puppy training? What food should my puppy have? How much exercise should a puppy get? What should you think about when choosing a puppy? Find out with our comprehensive puppy checklist...
TAKING ON A RESCUE DOG Deciding to adopt a rescue dog means giving an unwanted animal a second chance at enjoying a safe and happy life as a family pet. And, while this can be an incredibly worthwhile and rewarding experience, it's not without its challenges.
Sources: pfma.org.uk/, gov.uk/, dogstrust.org.uk/, legislation.gov.uk/, woodgreen.org.uk/, thekennelclub.org.uk/