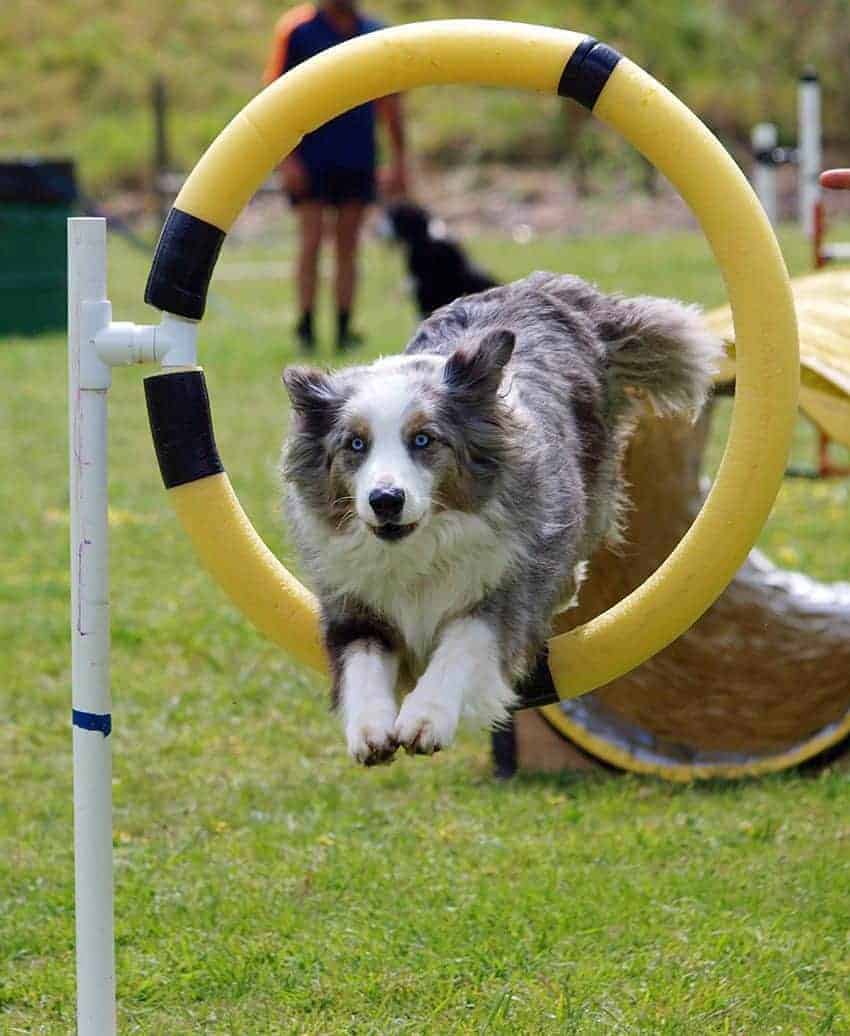 Are you and your dog good sports?
One of the many things that dogs and humans have in common is that we both benefit from physical activity. While going for a long country walk is one way to do it, there is nothing like a fun, teamworking activity to keep your dog fit, mentally stimulated and to build that special bond between you.
The key to finding the right activity that suits your particular canine-human partnership depends on several factors. For example, if you're keen on running and have a fit, athletic dog, Canicross could be the sport for you. If you enjoy dancing round the kitchen and your dog likes to join in, perhaps you should give Heelwork to Music a go. If your canine pal is sociable with boundless energy and you enjoy being part of team, Flyball may be just what you've been looking for…
Flyball – fast-paced fun for high energy dogs
Essentially a relay race for dogs, with a cheering crowd and quick-talking commentator, Flyball is a fast-paced thrill of a sport. With its origins in the USA, a Flyball meet feels as vibrant as a Super Bowl event and, since making its UK debut in 1990 at Crufts, has continued to rise in popularity. Flyball competitions consist of two teams racing against each other. The dogs take it in turns to jump over four hurdles in succession before triggering the Flyball box. A tennis ball is then released, which the dog must carry before returning over the hurdles to the start line allowing the next dog in the team to race. The first team to have its fourth dog across the finish line wins. If you have a sociable, endlessly energetic dog, why not give Flyball a try?
Find out more at the Kennel Club where you can also find a free, downloadable beginners' guide. To find your nearest club, visit Flyball UK
Muddy Dog challenge – an obstacle course with a difference
If getting down and dirty with your dog is your idea of fun then the Battersea Dogs and Cats Home's annual Muddy Dog Challenge is for you. With the first of four events starting this month in Nottingham, it's the UK's first obstacle course where humans and canines can compete together. You don't need to be super sporty to take part, although you should be fit enough to wade through mud, crawl under nets and walk over planks towards the finish line. Competitors, who raise money for Battersea by getting sponsored to take part, can scamper, jog or stroll a 2.5km or 5km course, having a ton of muddy fun in the process.
Find out more about this year's events in Nottingham, Windsor, Essex and Kent and how to take part at Muddy Dog Challenge
Competitive Obedience – for dogs who like to show what they can do
Does your dog sit, when you tell them to 'Sit'? 'Come' when you call them to 'and walk next to you when asked to 'Heel'? Then, perhaps they have what it takes for Competitive Obedience, a sport that started in the 1950s having developed from Working Trials. From basic commands to high-level competition, you can make this as serious or light-hearted as you wish – the idea is to publicly showcase the reward-based training you and your dog have achieved. The focus is on precision, quick and correct responses to signals and confident teamwork, with the relationship between dog and handler crucial for success. Most people start by attending Kennel Club registered dog training classes and then entering Exemption Shows that have open obedience classes. If you want to move up a level, your dog will need to be registered with the Kennel Club – rescue dogs and crossbreeds can sign up on the Obedience and Working Trials register. If you have a dog who loves learning new things and showing off what they can do, Competitive Obedience could be a rewarding experience for you both.
Find out more at Obedience UK
Heelwork to Music – for dogs who follow their owner's every move
Heelwork to Music (HTM) consists of participants devising routines of up to four minutes, set to music, and performing them with their dog. The steps originate from obedience training or freestyle – with routines that creatively interpret the music – or a combination of both. Originating in the USA, it hit the UK in the early 90s, pioneered by stars such as Mary Ray and brilliantly demonstrated to millions by Ashleigh and her dog Pudsey on Britain's Got Talent. it's an awe-inspiring sport to participate in and be a spectator of, with the bond between human and their dog apparent for all to see.
Find out more at the Kennel Club
Agility – for dogs who like to jump, weave and wow the crowd
Agility was first introduced to the UK at Crufts in 1978. It's fun, friendly and will keep you and your dog in tip-top shape. Agility showcases the handler's ability to train and direct their dog over and through different obstacle and is a great favourite with competitors and spectators alike. Your dog does not have to be a pedigree to take part, but it must be registered with the Kennel Club on either the Breed Register or the Activity Register. As well as the world-famous Agility competitions at Crufts, there are more than 300 licensed Agility shows held annually, as well as numerous sponsored events nationwide. All sorts of dogs, from 18 months and over, can take part, once they have been registered, officially measured and placed in the correct height category.
Find out more and how to find a club near you at the Kennel Club
Canicross – for humans and canines who live life in synch
If you enjoy a jog and have a dog with bags of energy, Canicross (or CaniX) could be for you. CaniX is all about getting out and about with your best friend and doing what they love most – running. It involves a bungee cord being attached at one end to the owner's waist, with the other end fixed to a padded harness around the dog. As all dogs love to run, almost any breed, large or small, can do CaniX. Tapping into their natural instinct means CaniX requires very little, if any, training. Being in such close proximity to your dog will encourage good behaviour, as you teach them to follow commands while running next to them. CaniX events are held across the country in the autumn, winter and spring (as summer's too hot for dogs to run during the day) and newbies can begin with a 2km course and build up to a 5km course. There are many friendly clubs to join around the country and events to take part in.
Find out more at CaniX UK
Field Trials – For sporting dogs to show what they were bred for
Sporting dogs have been around for centuries. Pointers, Setters, Spaniels and Retrievers were breeds developed for hunting and country pursuits. And, as much as they make adorable family pets, their instincts remain. So, for many Gundog owners today, it's a pleasure to see them do what they were originally bred for. Field Trials are designed to resemble a day in the field. If you have a love and understanding of the countryside and like to see dogs working as they were intended to, this friendly and relaxed sport could be for you.
Find out more at the Kennel Club
Sources: thekennelclub.org, flyball.org.uk, battersea.org.uk, obedienceuk.net, canix.co.uk