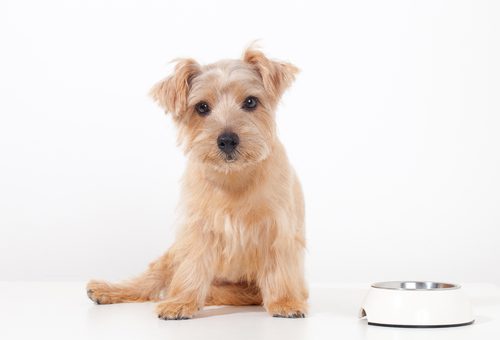 Fad diets – should dog owners be worried?
Once upon a time it was common practice to feed dogs the scraps from the table. Thankfully, things have moved on considerably and today, canine nutrition is a highly specialised science.
Canine nutrition experts painstakingly create food that provide dogs with all the vitamins, minerals, protein and carbohydrate they require, in exactly the right proportions. Yet, with ever more specialised variants on offer, such as grain free, along with the rise of 'raw' diets and even doggy recipes to make yourself at home, it's all a bit bewildering. What's really best for your pet?
Questions asked
In the USA, questions are being raised about the potential health effects of some of these 'fad' diets. Reported in The Pet Gazette, a recent investigation by the US Food and Drug Administration (FDA) suggested that there could be a link between heart disease and grain-free food. This research linked the condition with dogs who had a diet heavy in legumes and potatoes, ingredients that are often used as a substitute for grains such as wheat, barley, oats and rice. So, how worried should dog owners be?
Burgess in-house vet Dr Suzanne Moyes advises: "This research is inconclusive. Grain-free diets were developed for dogs with specific allergies. They provide a valuable source of well-balanced nutrition for those dogs who have a grain intolerance or a sensitive digestion." 
The trend for raw
Another growing trend is feeding a raw diet. So, what are the issues surrounding this? At the recent British Veterinary Nursing Association (BVNA) congress, there was universal agreement that homemade raw feeding can be dangerous, simply because it is so difficult to get it right in terms of nutrients and balance. It was also highlighted that handling raw meat products is riskier, so owners need to be careful when preparing the food. 
Dr Moyes comments: "Raw meat must also be handled safely as it can carry life-threatening pathogens such as Salmonella, E coli, Campylobacter, Listeria, Clostridium and norovirus. Pets eating infected meat can become ill themselves or shed pathogens into the environment for potential transmission and harm to others."
Calculating the nutrient content
What does the British Veterinary Association (BVA) have to say about all this? Essentially, be cautious of trends and always consult an expert: "As with human food, there are trends towards alternative diets and this should be discussed with a veterinary surgeon. Raw food and home cooked diets are increasingly popular but it can be time-consuming to prepare them as well as difficult to ensure that they are nutritionally balanced and safe, and that all risks are addressed."
"When it comes to making your own dog food, it is very, very difficult to achieve a nutritionally balanced diet with home prepared recipes"
Dr Moyes advises: "When it comes to making your own dog food, there has been research into this, and the reality is that it is very, very difficult to achieve a nutritionally balanced diet with home prepared recipes. It requires calculating the nutrient content of each foodstuff and comparing the overall content of dietary components, such as protein, fat, carbohydrate, vitamins and minerals, which is no easy task. Your vet can provide further advice."
The BVA adds: "We would always recommend that dog owners talk to their vets about different diet options. Good prepared dog foods are nutritionally balanced." 
Meeting the needs of your pet
The BVA's recommendation is echoed by Dr Moyes, who says: "The best way to ensure your dog has a nutritionally balanced diet that's suitable for their breed, level of activity or life stage is to opt for a complete food that has been created to most closely meet the needs of your pet. And, if you have any concerns about your dog's nutrition or dietary health, always consult your vet who will be able to provide you with expert nutrition advice."
---
From the classic Supadog recipe, to Sensitive, Breed Specific and Working Dog, to the new Paul O'Grady range, take a look at all the complete, nutritionally-balanced dog foods available from Burgess – there's one to suit every dog
---
If you found this interesting, you may also like:
Nutrition Q&A with our vet: What's the basis for creating wholesome and nutritious dog food? What's the difference between a complete food and a complementary one? What are the key nutrition challenges for different life stages? Find the answers here.
Sources: petgazette.biz, veterinaryrecord.bmj.com, theguardian.com