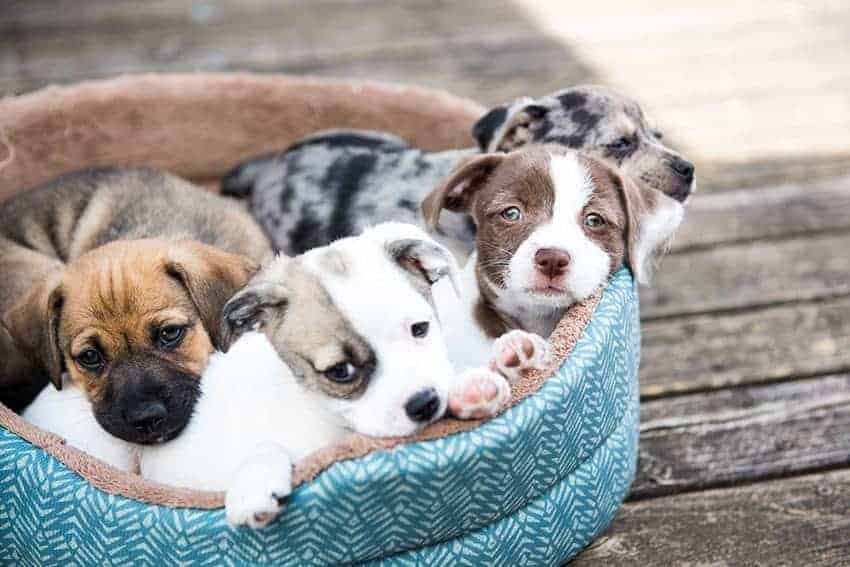 To breed or not to breed?
Who doesn't love a puppy or three? And wouldn't it be amazing to breed from your beloved canine friend so you can create a dynasty of dogs in their image…
While any dog lover would go misty-eyed at the idea of having lots of little ones nipping at their heels, the reality is that puppies are extremely hard work and becoming a breeder is a big decision that should not be taken lightly.
Burgess in-house Registered Veterinary Nurse Kären Smith advises: "If you are considering breeding from your bitch, there are an awful lot of things to think about. For example, how will you ensure the litter will be healthy? Can you afford all the pre-breeding health checks, inoculations and vet's bills if the whelping doesn't go according to plan? Will you have the time required to ensure young puppies are housetrained and socialised correctly? Are you sure you'll be able to find suitable homes for all the puppies and be willing to take them back if the homing isn't successful? Do you have enough canine know-how to advise new owners about all the aspects of caring for their puppies, including rearing, diet, training and health problems?"
Ready for a canine challenge?
Deciding to breed from your pet is undoubtedly a big step. However, if it's a canine challenge that you're still keen to undertake, Burgess Pet Care is here to help. Kären explains: "Our team of veterinary experts have pooled their extensive knowledge of dog health and nutrition to create a comprehensive online resource for anyone who's thinking of breeding. Burgess Breeders Club is for those who are new to breeding and have lots of questions about what's involved, or experienced breeders who may encounter issues they've not come across before. It's a friendly community of people who want nothing but the best for their dogs."
Burgess Breeders Club provides access to in-depth information on everything you'd expect to be covered – plus things you may not have thought of. You can find advice on when to breed your bitch, how to go about sourcing a suitable stud dog, essential health screening programmes and nutrition guidelines, vaccinations and socialisation, as well as tips on finding good homes for the puppies.
Kären continues: "It's easy to sign up and, once registered, you will receive a series of informative weekly emails to guide you through your bitch's pregnancy and aftercare, as well as correct rearing of the puppies, providing expert advice and reassurance throughout the entire process."
As a Burgess Breeders Club member, you'll receive:
Week by week updates on your dog's pregnancy
Expert advice on all aspects of dog breeding
Discounted food offers for your breeding bitch and puppies
A free puppy information pack for each puppy registered
Kären adds: "As a British family-owned company that been producing the finest quality foods for generations of pets, the Burgess Breeders Club is a natural progression for us. We're here to help anyone who wants to bring healthy, happy puppies into the world, while spreading the message of the importance of responsible dog breeding."
Like to find out more? Visit Burgess Breeders Club