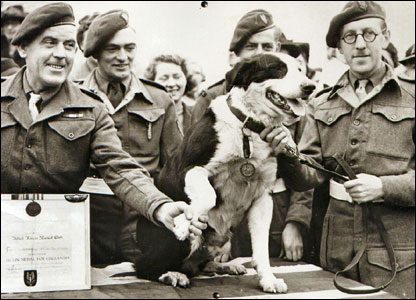 VE Day 75 – remembering animal heroes
Image: Rob the Collie, receiving his Dickin Medal for outstanding bravery in 1945.
On Friday 8 May 2020, Britain will be commemorating the 75th anniversary of VE Day (Victory in Europe) when, in 1945, the guns fell silent at the end of war in Europe and millions of people took to the streets to celebrate peace and to hope for the future. As well as remembering the amazing contribution of people during WW2, VE Day 75 is also a time to reflect on the courage and bravery of the animals that played their part in the conflict.
---
Due to the current coronavirus restrictions, planned VE Day 75 events and street parties due to take place on the bank holiday weekend of 8-10 May have had to be cancelled. But you can still take part by raising a glass at home. Find out more at VE Day 75 >> 
---
In wartime, the British, Commonwealth and Allied forces enlisted many millions of animals to serve alongside their armies. These animals were chosen for a variety of their natural instincts.
Intelligent and devoted
For example, the dog's innate qualities of intelligence and devotion were highly valued. Among their many duties, these faithful animals ran messages, laid telegraph wires, detected mines, dug out bomb victims and acted as guard or patrol dogs. Many battled on despite horrific wounds and in terrifying circumstances to the limit of their endurance, showing indomitable courage and supreme loyalty to their handlers.
More than 200,000 pigeons served Britain in World War II, saving thousands of lives by carrying vital messages, sometimes over long distances, when other methods of communication were impossible. Flying at the rate of a mile a minute from the front line, from behind enemy lines or from ships or aeroplanes, these gallant birds would struggle on through all weathers, even when severely wounded and exhausted, in order to carry their vital messages home.
There are also many inspiring stories of the great devotion and loyalty shown between horses, mules and donkeys and their handlers during some of the bloodiest conflicts of the 20th century.
---
PDSA Dickin Medal – the animals' Victoria Cross
During WW2 (1939-45), PDSA's founder, Maria Dickin CBE, was aware of the incredible bravery displayed by animals on active service and the Home Front. Inspired by the animals' devotion to man and duty, she introduced a special medal specifically for animals in war.
The PDSA Dickin Medal is the highest award any animal can receive while serving in military conflict. It's recognised worldwide as the animals' Victoria Cross. This large, bronze medallion bears the words 'For Gallantry' and 'We Also Serve' within a laurel wreath. The ribbon is striped green, dark brown and sky blue representing water, earth and air to symbolise the naval, land and air forces.
---
Animals in War Memorial 
"This monument is dedicated to all the animals that served and died alongside British and Allied forces in wars and campaigns throughout time."
Memorial inscription
The Animals in War Memorial, located outside Hyde Park, London, is a powerful and moving tribute, inspired by Animals in War, a book by Jilly Cooper. The memorial was unveiled by the Princess Royal in November 2004, on the 90th anniversary of the start of WW1. It was inspired by dogs, horses, pigeons, elephants, camels, oxen, bullocks, cats, canaries, even glow worms (used by soldiers to read maps in the dark) – creatures, great and small – who contributed their strength, their energy and their lives in times of war and conflict during the 20th century. 
---
Amazing stories of bravery and devotion to duty
Between 1943 and 1949, 54 animals received the PDSA Dickin Medal, including 32 pigeons, 18 dogs, 3 horses and 1 cat. Here are just some of their stories...
Rob, Collie: Awarded January 1945 (Pictured above)
The award citation reads: "Took part in landings during North African Campaign with an Infantry unit and later served with a Special Air Unit in Italy as patrol and guard on small detachments lying-up in enemy territory. His presence with these parties saved many of them from discovery and subsequent capture or destruction. Rob made over 20 parachute descents."
Brian, Alsatian: Awarded March 1947
"This patrol dog was attached to a Parachute Battalion of the 13th Battalion Airborne Division. He landed in Normandy with them and, having done the requisite number of jumps, became a fully-qualified Paratrooper."
Ricky – Welsh Collie: Awarded March 1947
"This dog was engaged in cleaning the verges of the canal bank at Nederweent, Holland. He found all the mines but, during the operation, one of them exploded. Ricky was wounded in the head but remained calm and kept at work. Had he become excited he would have been a danger to the rest of the section working nearby."
Peter – Collie: Awarded November 1945
"For locating victims trapped under blitzed buildings while serving with the Air Ministry attached to Civil Defence of London."
Rip, Dog: Awarded November 1945
A stray picked up by Civil Defence Squad at Poplar, London E14, went on to locate "many air-raid victims during the blitz of 1940."
Rex – Alsatian: Awarded April 1945
"For outstanding good work in the location of casualties in burning buildings. Undaunted by smouldering debris, thick smoke, intense heat and jets of water from fire hoses, this dog displayed uncanny intelligence and outstanding determination in his efforts to follow up any scent which led him to a trapped casualty."
GI Joe, Pigeon: Awarded August 1946
The award citation reads: "This bird is credited with making the most outstanding flight by a USA Army Pigeon in World War II. Making the 20-mile flight from British 10th Army HQ, in the same number of minutes, it brought a message which arrived just in time to save the lives of at least 100 Allied soldiers from being bombed by their own planes."
Scotch Lass, Pigeon: Awarded June 1945
"For bringing 38 microphotographs across the North Sea in good time although injured, while serving with the RAF in Holland in September 1944."
Princess, Pigeon: Awarded May 1946
"Sent on special mission to Crete, this pigeon returned to her loft (RAF Alexandria) having travelled about 500 miles mostly over sea, with most valuable information. One of the finest performances in the war record of the Pigeon Service."
Upstart, Police Horse: Awarded April 1947
The citation reads: "While on patrol duty in Bethnal Green, a flying bomb exploded within 75 yards, showering both horse and rider with broken glass and debris. Upstart was completely unperturbed and remained quietly on duty with his rider controlling traffic until the incident had been dealt with."
Regal, Police Horse: Awarded April 1947
"Was twice in burning stables caused by explosive incendiaries at Muswell Hill. Although receiving minor injuries, being covered by debris and close to the flames, this horse showed no signs of panic."
Simon, Cat: Awarded posthumously 1949
Simon, the ship's cat aboard HMS Amethyst during the Yangtze Incident of 1949, was awarded a posthumous PDSA Dickin Medal for his devotion to duty despite suffering terrible injuries when the British warship was shelled by the Chinese Communist forces. During the 101 days HMS Amethyst was held captive on the Yangtze River, Simon devoted his time to catching rodents that threatened the crew's dwindling rations. 
To read about more of the brave animals on the Roll Call of Honour, visit PDSA Dickin Medal >>
Sources: pdsa.org.uk, animalsinwar.org.uk, veday75.org
Image courtesy of Imperial War Museum Archive