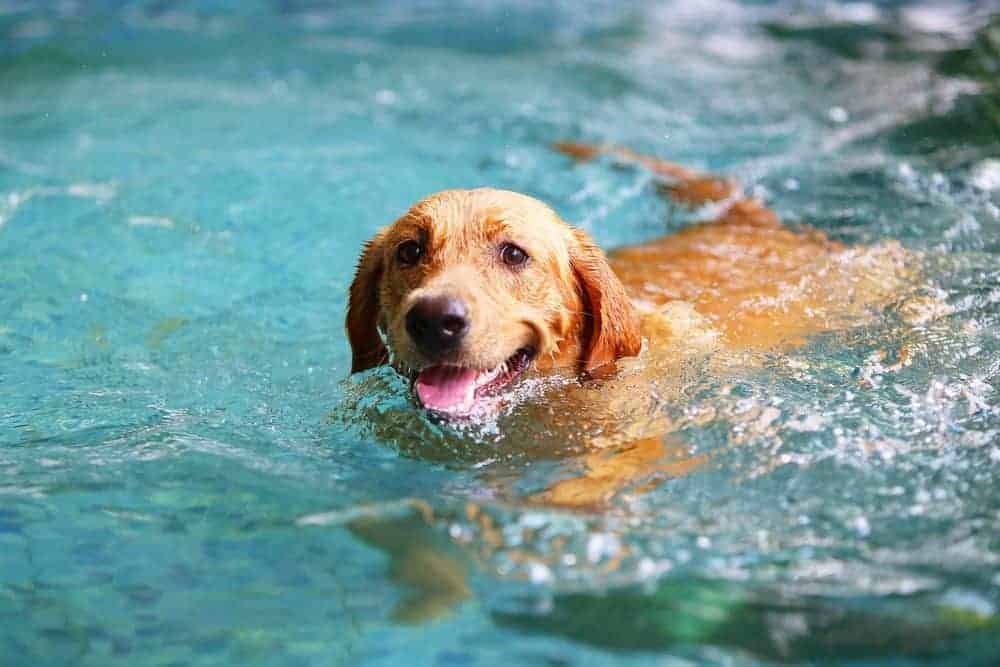 Wet and wild
Most dogs love splashing about in water and it's a great way to keep your canine chum cool on a hot summer's day. However, whether it's at the beach or along the riverbank, when it comes to water, it should always be a case of safety first.
Is your dog a natural swimmer?
While some breeds such as Labradors and Poodles are natural water dogs, some canines find swimming too much like hard work. Dogs with short legs such as Corgis, or flat-faced breeds such as Pugs or French Bulldogs, will likely prefer a gentle paddle in the shallows. It's essential to always let your dog take to the water at their own pace and never to push them to do anything they don't want to. If they decide that swimming's not for them then so be it.
---
Learning to doggy paddle
Even dogs with a natural water instinct need to learn how to swim. This should always be done in a positive, fun way. Animal charity PDSA recommends following these steps:
Take it slow and stick to a shallow area at first
Use toys and treats to make splashing in the shallows fun for your dog
Once your dog is more confident, encourage them out of their depth so they start paddling
Use your arm to support them under their stomach until they've got the hang of kicking with all four legs
After a few minutes, encourage your dog back to the shore so they know how to get out of the water when they're ready
Never leave your pet unattended around water, even if they're a strong swimmer
---
Choosing the right swimming spot
Setting up a paddling pool in your back garden is a good way to let your dog have a safe splash about – but if you and your canine chum are up for a bit of an adventure, there are plenty of locations to check out.
Lakeside living
Lakes are often calm and have plenty of safe, shallow areas for your dog to swim. Take care if there's anything in the water, such as big tree branches, that your dog could get caught on. Also be aware of other people using the water, such as windsurfers or boats. On large lakes, there may be designated swimming areas. Stick to these and check that dogs are welcome.
Down by the riverside
Shallow, slow moving rivers can be a safe place for your dog to take a dip. Check for any dangers in the water, such as fallen tree branches. Also ensure your dog's recall is first class – the last thing you want is to spot them scrambling up the opposite bank where you can't get them.
At the beach
Dog-friendly beaches can be exciting swimming spots, as long as sea conditions are safe. Here are our top beach safety tips:
Check the tide times, look out for warning flags (a white circle with a red line through it or a red flag means neither you nor your dog should swim) and the size of the waves. 
 
Sea breezes can make the weather feel deceptively cool, so ensure you protect your dog from heatstroke by making sure they have plenty of shade to sit in and fresh water to drink. Avoid visiting the beach during the hottest part of the day and head home if your dog has had enough.
 
Broken glass or sharp objects can be hidden in the sand or amongst pebbles. If your pet steps on them they could cut the pad on their foot. Having a first-aid kit to hand can keep the cut clean before you visit the vet. 
 
Some types of jellyfish can give a nasty sting to people and dogs, so check the water before swimming and don't let your dog sniff around any jellyfish washed up on the shore.
 
Swallowing sand can cause stomach problems for your dog as it can compact in their stomach and cause a blockage. Choose toys that pick up less sand – for example, a Frisbee will pick up less sand than a fuzzy tennis ball.
 
Don't let your dog munch on seaweed. Dried seaweed expands when it's eaten and seaweed stalks can cause a blockage in your dog's stomach. This is an emergency situation and your dog might need a serious operation to remove the stalk. 
 
Drinking seawater can give your dog a nasty bout of diarrhoea and in some cases may make them seriously ill. Stop them drinking from rock pools or puddles and always bring plenty of fresh water with you. If your dog's been in for a dip, give them a rinse with fresh water when you get home so they won't lick any salt from their fur.
 
If you're walking your dog on a cliff, stick close to the path and pay extra attention to signs warning of crumbling cliff edges. The RNLI  advises:

Keep your dog on a lead close to cliff edges 
If your dog goes into the water or get stuck in mud, don't go after them. Move to a place your dog can reach safely and call them – they will probably be able to get out by themselves
If you're worried, call 999 or 112 and ask for the Coastguard
---
No swimming
Avoid these places like the plague:
The water in canals is often stagnant which can be a health hazard for your dog. There are also often hazards lurking under the water, such as rubbish and debris.
 
While reservoirs look tempting, in reality, they're full of hidden dangers, with strong currents and hidden objects under the surface. Reservoirs are also usually very deep so the water is extremely cold, even on a hot day. Just as with humans, diving straight in can send your dogs's body into shock, causing them to gasp and swallow water.
 
Fast flowing water or flooded rivers are extremely hazardous. Currents can cause your dog to quickly get into trouble and struggle to reach the shore. Flood water is especially dangerous as it's often packed with debris, which can injure your dog.
 
Rough seas with big, crashing waves and strong currents put your dog in serious danger. Don't let them into the sea when it's rough, stormy, or when there are warnings against swimming.
---
Health hazards to be aware of
There are some nasty water-borne diseases and poisons that can affect your dog, although you can help keep them safe by picking safe swimming spots and staying up-to- date with their vaccinations.
Leptospirosis: Also called Weil's disease, this is an infection spread through rat urine and contaminated water. There's a vaccination to protect your dog against leptospirosis and make sure you keep on top of your dog's boosters and always avoid stagnant water and canals.
 
Blue-green algae: This highly toxic algae grows in stagnant water and lends a blue-green sheen to the surface. It's very poisonous to canines and just a small amount can make them seriously ill, causing liver failure. It's most common in non-flowing fresh water such as lakes and ponds during hot weather when there is less rainfall. Exposure to toxic blue-green algae is often fatal and can also cause long-term health problems in dogs that survive after drinking or swimming in contaminated water. Some types of blue-green algae can kill a dog in just 15 minutes to an hour after drinking contaminated water.

Dogs who have been swimming in water can get the algae caught in their fur and can ingest it while cleaning themselves, so always wash your dog off in fresh, clean water after any swim. If they start to vomit, drool, have diarrhoea, seizures or breathing difficulties, or seem disorientated, contact your vet immediately. While there is no antidote for the toxins produced by the blue-green algae bacteria, if caught early enough, your vet will likely try to make your dog sick and attempt to flush the toxins from the body before they take hold.
---
Are you up to a splashing great challenge for a good cause? Why not take part in the PDSA Big Doggy Paddle 2019? For a bucket-list experience, you can register to be rescued from the water by a powerful, fluffy lifesaver in the form of a Newfoundland dog. The event, which takes place in Bristol on 28 September, will be raising money to help PDSA's vets and vet nurses continue to care for the UK's most vulnerable pets. Find out more here
---
If you found this interesting, you may also like:
Dogs on tour
Our 10-point guide to making travelling in the car with your dog a positive, happy experience this summer
Summer first aid for pets
Fleas, ticks, stings and even snakebites... summer brings out all manner of creepy crawlies that can prove problematic for pets. Our in-house vet Dr Suzanne Moyes has some seasonal advice
Countryside call backs
The lure of the great outdoors with its enticing sights, sounds and smells can be just too distracting for some dogs. If you struggle with getting your canine chum to come when you call them, try our top dos and don'ts of recall
Are you going down to the woods today?
Here's what you need to know if you and your dog are going wild in the country…
Sources: pdsa.org.uk, webmd.com, bluecross.org.uk