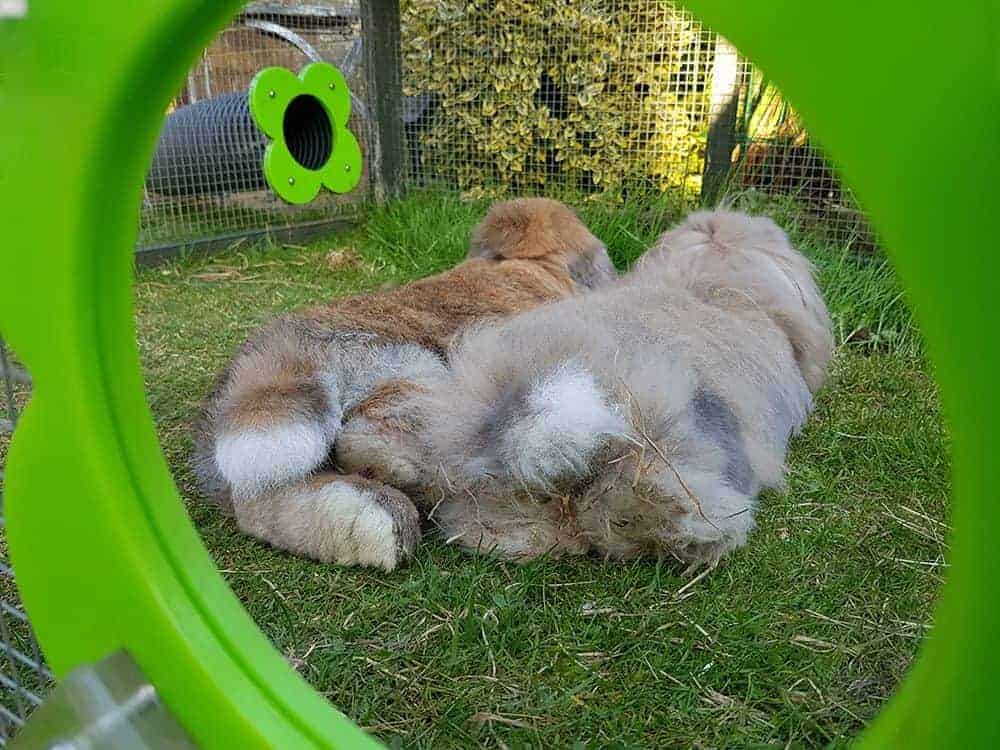 Give your rabbits the 'Runaround'
Rabbits kept in small hutches should be something consigned to the dim and distant past. We now know much more about what's required to keep these curious, intelligent animals in the best of health and providing them with space to run, jump, hop and hide is an essential part of their care. Let's start by looking at things from a rabbit's perspective…
What do rabbits want?
An exciting space where they can hop, run, jump, explore and forage and do all the things that come naturally to bunnies.
Constant access to safe hiding places where they can escape if they feel afraid, as well as platforms from which they can scan their environment for threats.
Things to do – tunnels to run through, toys to investigate and play with and plenty of fresh grass and feeding hay to graze on.
What do humans want?
A rabbit-proof area that ensures that everything that they can reach is safe for them, while allowing them plenty of space to play and explore.
The solution?
Introducing 'Runaround' – a connective rabbit run system that can attach any hutch to any run via a door and burrow pipe, which safely transports your pets out of their hutch and into the run. Layouts can be made to suit the size and shape of your garden. You can start by simply connecting your own hutch to your own run so your pets have the choice of being in or out. Then, add on Runaround tunnels to increase the distance your pets can travel, or go for a complete overland warren with den pipe digs, hutches and top boxes – all adding lots to do and making them the envy of all the bunnies in the neighbourhood!
Runaround was conceived by husband and wife team Paul and Caroline Lord. Caroline says: "After adopting an unwanted rabbit 10 years ago, we were inspired to think of better ways of keeping pet rabbits in a hutch. A wild rabbit would run about five miles a day and, without adequate exercise, the skeletal frame of a pet rabbit suffers. But we also need to ensure our pets are safe. We have spent the last eight years developing Runaround, planning and constructing runs and testing them in all weathers and against natural predators. We now have eight very happy rescue bunnies and three guinea pigs and continue to learn from our experience with them and try out new ideas. They are the perfect focus group!"
A BOOST FOR BUNNIES
This connective run system is also ideal for our unpredictable British weather as parts can be placed under natural shade in summer and it's easy to add extra cool covers, a cool brick or clay pipe or freezer blocks if it's especially hot. You can also create shelters for when it rains.
Caroline adds: "From a rabbit's point of view, Runaround offers a more natural way of life, providing constant access to fresh grass, which is so important to rabbit health and wellbeing, as well as the opportunity for exercise in a more interesting and enriching environment. It also greatly increases the pleasure of watching them. With Runaround, we feel we have made some headway in the freedom versus protection problem of keeping pet rabbits."
Runaround works just as well for guinea pigs – but remember, never keep the two species together as they have very different needs. Rabbits can also carry diseases which can be very harmful to guinea pigs.
To find out more visit RUNAROUND
WIN A RUNAROUND KIT FOR YOUR RABBITS WORTH £79!
This starter kit consists of two doors and a 12- foot pipe, allowing you to connect a run to a hutch or shed. It's easy to add to in the future to make it longer or to link mesh tunnels, runs, hay hutches and top boxes.
TO ENTER, simply answer this question: Around how many miles a day does the average wild rabbit run? EMAIL YOUR ANSWER TO: suzanne@burgesspetclub.com writing 'RUNAROUND' in the subject line by the closing date of 31 August 2017. The first correct answer selected at random will receive a RUNAROUND KIT.
Terms and conditions: The winner, selected at random after the closing date of 31 August 2017, will win a Runaround starter kit worth £79.99 including free delivery. The prize draw is only open to residents of the UK who are over 18 years old. Employees of Burgess Pet Food are not eligible to enter, nor are any subsidiaries, affiliates or suppliers of said organisations. Only one entry per person is permitted. The editor's decision is final. There is no cash alternative and no transfer or assignment of prizes will be permitted.