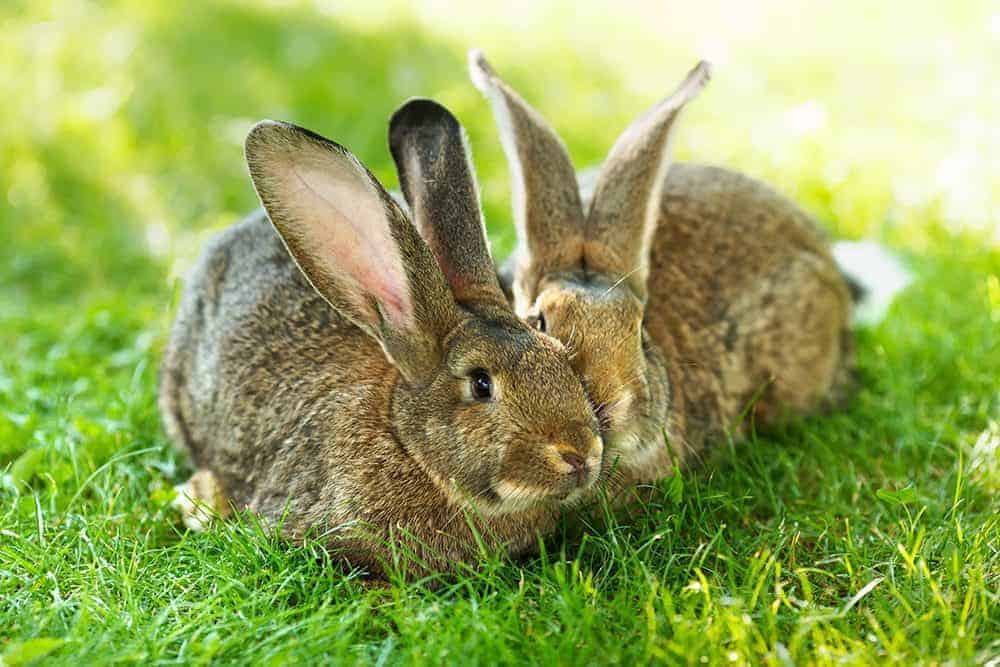 Keep calm and help out the UK's pet rabbits
After dogs and cats, the UK's most popular pets are rabbits – it's estimated there are around 0.9 million of them across the country. However, even though we're a nation of bunny lovers, many owners are not aware of what it takes to keep these intelligent, social creatures happy.
New research from Bristol University Vet School, featured on BBC Two's Trust Me, I'm a Vet, reveals that many pet rabbits are experiencing unnecessary long-term stress, which can affect their immune system and increase their risk of digestive problems and other illnesses. So, why are British pet rabbits so stressed? And what can bunny owners do to help?
How can you tell if your rabbit is stressed?
The signs to watch out for include:
Staying hunched up for long periods while awake
Not being active at dawn and dusk – which are a rabbit's favourite time of day and when they should be most animated
Gnawing at the wire of their hutch
Unusual aggression and a dislike of being handled
Not grooming or over-grooming
Hiding, or trying to run away
What can you do de-stress your rabbit?
Take a look at our four stress-busting strategies. Even introducing small changes such as better accommodation or an improved diet can make a real difference to your bunny's health and happiness.
---
Stress buster 1 – ditch the hutch
According to the Bristol Vet School research, a big part of the problem for pet rabbits is their accommodation, with around two thirds of them living in cramped hutches that are completely unsuitable for their needs. Healthy pet rabbits need to be able to behave just like their wild cousins, with homes that are big enough to run, jump, hop and stand up in. Their home should also include features – such as tunnels, lookout spots, digging areas and safe hiding places – that emulate their natural habitat and enable them to exhibit all their natural bunny behaviours.
Find out more about creating a five-star bunny home here >>
---
Stress buster 2 – get a bunny buddy
Rabbits hate being alone. Even though they can develop good relationships with humans, this highly social species needs the company of its own kind in order to be happy. However, introducing a new companion will take some work as it's essential that rabbits go through a careful bonding process before they can live together.
Find out more about bonding rabbits here >>
---
DID YOU KNOW?
When a rabbit is having fun, they run around at high speed,
pirouette, flick their head, or twist their head and body in
different directions. This is called binkying.
---
Stress buster 3 – provide the right diet
A rabbit's diet should consist of 85-90% of high quality feeding hay (not bedding hay) and grass as it's vital for their dental and digestive health as well as their emotional wellbeing.
Find out more about the importance of hay and grass to rabbits here >>
---
DID YOU KNOW?
Traditionally thought of as good pets for children, rabbits are
not easy to look after correctly and an adult must always be
responsible for overseeing their care.
---
Stress buster 4 – understand the importance of scent
For rabbits, scent is extremely important and is used to communicate and bond with other rabbits and to scent mark territory, objects and toys, which helps them feel safe and secure. Rabbits use chin secretions, urine and droppings to make their surroundings smell familiar and reassuring. This is why, when you clean out their home, you should always put some of the old bedding in with the new to keep stress levels down.
Pet Remedy – the natural way to de-stress and calm
For stressed rabbits who need some extra care, Pet Remedy, a clinically-proven, natural blend of valerian and vetiver, sweet basil and clary sage essential oils, can help.
Pet Remedy works with the pet's own natural calming mechanisms by mimicking GABA (gamma amino butyric acid), which is a natural calming agent present in all mammals, reptiles, and birds.
When a pet becomes stressed or anxious, the Pet Remedy actives help trick fired-up nerve cells into thinking they are getting a message from the brain to calm. This is why it starts to help instantly.
The award-winning Pet Remedy range includes a calming spray, calming wipes, plug diffuser and battery-operated atomiser, making it very easy to use.
Find out more about Pet Remedy here >>
---
"I strongly recommend this product to anyone with rabbits. It's great for use at many different stressful times like bonding, holidays, house guests, fireworks and vet visits."
Jo Hinde, Facebook
---
IT'S COMPETITION TIME
We have 5 x £100 of Pet Remedy vouchers to be won!
TO ENTER, simply answer this question: What do rabbits use scent for?
EMAIL YOUR ANSWER TO: suzanne@burgesspetclub.com writing 'PET REMEDY' in the subject line by the closing date of 30 November 2017. The first five correct answers selected at random will each receive £100 worth of vouchers to spend on Pet Remedy products.
Terms and conditions: The five winners, selected at random after the closing date of 30 November 2017, will each win £100 worth of vouchers to spend on Pet Remedy products. The prize draw is only open to residents of the UK who are over 18 years old. Employees of Burgess Pet Food and Pet Remedy are not eligible to enter, nor are any subsidiaries, affiliates or suppliers of said organisations. Only one entry per person is permitted. The editor's decision is final. There is no cash alternative and no transfer or assignment of prizes will be permitted.
---
Would you like to help more of Britain's pet rabbits?
If so, why not spread the word! Share this information with your rabbit-loving friends so that their pets have everything they need to be healthy, happy bunnies. You can also find lots more tips and advice on caring for your rabbits on social media.
Facebook.com/rabbitawarenessweek
Twitter: @rabbitawareness
Website: rabbitawarenessweek
Sources: pfma.org.uk, BBC Two's Trust Me, I'm a Vet, rspca.org.uk, pets4homes.co.uk