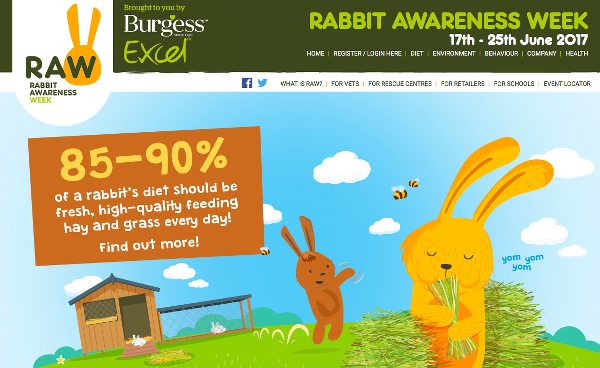 Rabbit Awareness Week 2017 dates announced
Now in it's 11th year, Rabbit Awareness Week (RAW) will take place between 17th & 25th June and is being organised by Burgess Pet Care in partnership with:
This year's campaign is encouraging rabbit owners to ensure they meet the essential nutritional needs of their pet rabbits, and are highlighting this with #HoptoHay.
There are estimated to be around 1.5 million rabbits in the UK, and sadly, many of their owners don't have a full and detailed understanding of the welfare needs of their pets. Too many owners fail to appreciate how much fibre they need as part of their daily intake. The PDSA found evidence in it's PAW Welfare Report in 2016 that 24%% of pet owners still provide their rabbits with muesli diets, and 52% of rabbits live alone and in a hutch.
Download the PDSA Welfare Report from 2016
The RAW campaign will help educate pet owners on the key differences between feeding hay and bedding hay, as well as promoting the five welfare needs of all animals.
The five welfare needs
Environment – the need for a suitable safe environment
Diet – the need for a suitable diet
Behaviour – the need to be able to express normal behavior
Companionship – the need to live with, or apart from, other animals
Health – the need to be protected from pain, suffering, injury and disease
Find out more about the 5-welfare needs
Key nutritional needs
At Burgess Pet Care we believe it's vital rabbit owners understand the key nutritional needs of their pets. Rabbits must have constant access to fresh feeding hay and clean water to replicate their natural diet in the wild. Without the correct amount of fresh feeding hay and grass, rabbits are at risk of severe dental and digestive issues. We look forward to continuing the hard work we do with our partners to ensure more rabbit owners know the differences between feeding hay and bedding hay, and the importance of a hay-led diet to support the dental, digestive and emotional health of their rabbits.
Veterinary Professionals identify the Number 1 issue
In the PAW Report, veterinary professionals identified inappropriate diet as the number one issue that needs addressing in rabbits.
The good news though is that with your help, last year's RAW campaign helped reach more than one million rabbit owners and was supported by the involvement of more than 4,000 veterinary practices and retailers as well as some of the UK's leading charities.
Have you signed up for RAW?
Have you signed up to help with Rabbit Awareness Week? There are lots of resources on our RAW website, so take a look and join us.
Register your interest in RAW – don't forget to sign up. We'll be sending out RAW packs to help you from mid-May until the beginning of June.