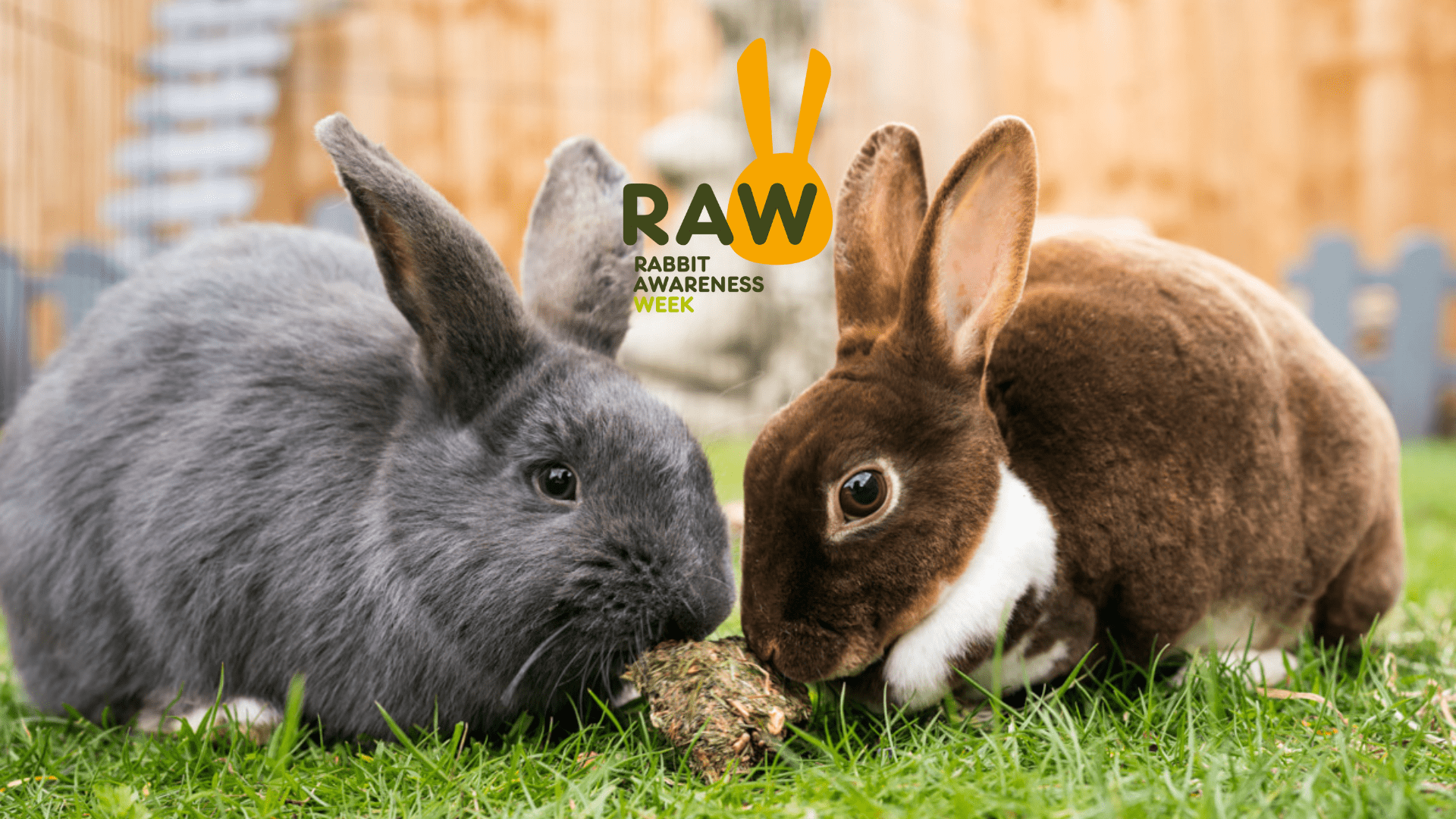 What is Rabbit Awareness Week? Your questions, answered!
Rabbit Awareness Week is a week dedicated to the welfare of rabbits. Every year we join together to focus on a particular aspect of rabbit welfare. Discover more about RAW, and how you can get involved…
Who runs Rabbit Awareness Week?
RAW is led by us here at Burgess Excel along with our charity partners:
Rabbit Welfare Association and Fund

Blue Cross

RSPCA

PDSA

Woodgreen Pets Charity
Where does Rabbit Awareness Week take place?
Rabbit Awareness Week takes place online over on the RAW social channels
In the run up to RAW and throughout the week, we'll be posting lots of great content all about rabbit welfare. We also work closely with veterinary practices, who may be running special events for Rabbit Awareness Week. Check out your local veterinary practice's social media pages to find out if they're running anything for this year's RAW. 
How can I get involved in Rabbit Awareness Week?
Follow us on social media to stay up to date with all the action! Our Facebook and Instagram pages are the best place to find lots of important information to share with family and friends. 
You can also get involved by downloading a free Rabbit Awareness Week pack. These are available closer to the RAW dates, but you can register for a RAW pack reminder over on the website. You'll get an email when they're ready to download. 
Can retailers get involved with RAW?
Yes! Retailers can get involved with Rabbit Awareness Week. At RAW, we want to spread the word far and wide about great rabbit care. Retailers can download a retailer RAW pack which contains free resources designed to support you and your customers. 
Register for a reminder for your retailer RAW pack.
I'm from a veterinary practice, how can we get involved?
We make specialist vet RAW packs which are free to download for those working in the veterinary profession. In these packs you'll find resources to share with your colleagues and clients, including Rabbit Health MOT resources, RWAF Vaccination Flow Chart, as well as a variety of posters for your waiting and consultation rooms. 
RAW 2022 packs will be ready soon. Register for your reminder today.
How can rescue centres get involved with Rabbit Awareness Week?
Here at RAW, we strongly support the message "adopt, don't shop". The Good Practice Code for the Welfare of Rabbits estimates there are 67,000 rabbits in rescue centres across the UK. We want to support rescues and the good work they do! 
Rescue centres can get involved with RAW by downloading their exclusive RAW pack. Inside our free rescue centre pack there's lots great resources, including social media schedules for your social pages, posters for your rescue, and downloadable care guides to pass onto new owners. Register for a RAW pack reminder today and you'll receive an email as soon as they're ready to download.
Throughout Rabbit Awareness Week, we'll be posting lots of great content on our social media pages. We encourage everyone, retailers, rescues, veterinary practices, and owners, to help us spread the word by sharing this content with your followers. 
When is Rabbit Awareness Week 2022?
Rabbit Awareness Week will be taking place from 27 June to 1 July 2022. In the run up to RAW, you can find lots of great information over on the RAW website.
What is the Rabbit Awareness Week theme this year?
The theme for Rabbit Awareness Week 2022 is "Room for Rabbits". We will be talking all about the welfare need environment. Rabbits have five welfare needs. If each one is met, you're on track to owning happy, healthy rabbits. Our rabbits need a suitable environment to help them thrive. This involves:
Having enough space. Rabbits' enclosures should be at least 3m x 2m x 1m high - a hutch is not enough!

Giving constant access to their exercise area

Having lots of tasty feeding hay around their housing, as well as the right balance of fresh greens and nuggets

Constant access to fresh, clean drinking water

Having an enclosure with lots of great rabbit safe enrichment. Puzzle feeders, hay racks, tunnels and platforms - the possibilities are endless
This Rabbit Awareness Week, we will be discussing the basics of rabbit housing, indoor and outdoor set ups, how to change your rabbits' housing with the seasons, as well as great ways to create a brilliant bunny set up, at home! 
Is there a way I can get involved with rabbit welfare all year round?
Have you heard of the Rabbit Awareness Action Group? From the team that brought you RAW, we've come together for our year round rabbit welfare campaign. 
At RAAG we are committed to raising awareness for the five welfare needs of rabbits and supporting the Good Practice Code for the Welfare of Rabbits. Together, we want to make the Good Practice Code law in England, and we need your help. 
What is the Good Practice Code for the Welfare of Rabbits?
The Animal Welfare Act contains the five welfare needs of our pets. Dogs, cats, and horses also have codes of practice. The codes of practice outline how owners can meet each of the five welfare needs.
At the moment, rabbits do not have a code of practice. But this could change. We can change the law and make sure our pet rabbits are protected. 
You can read the Good Practice Code for the Welfare of Rabbits on the RAAG website.
How can I join the fight for rabbit welfare?
You can help us change the law in England. Together with all of the RAAG partners, we have written a letter of support. We're currently campaigning to secure enough signatures to be able to demonstrate to parliament the importance of this issue.
Sign our letter of support on the Rabbit Awareness Action Group website.