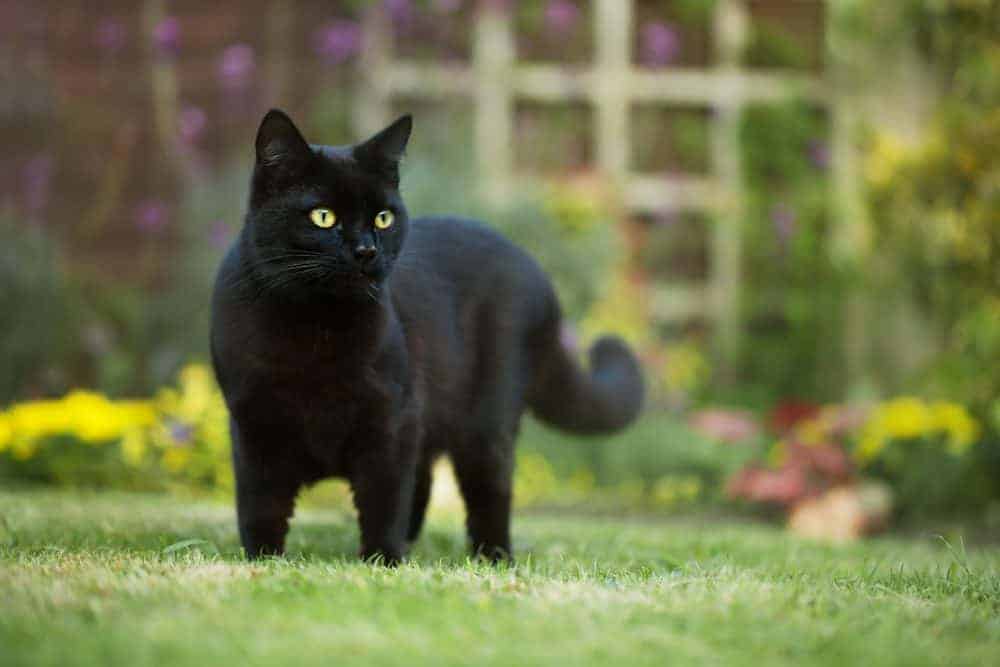 Back in black
Will a lucky black cat bring you happiness? According to people who've adopted a charcoal charmer, the answer is a resounding yes. To celebrate National Black Cat Day, we find out more...
How much does the colour of a cat's coat matter to you? It seems that slinky, sooty felines are not as popular as tabbies and tortoiseshells, which begs the question – why?
In fact, this was exactly why feline welfare charity, Cats Protection, created National Black Cat Day back in October 2011. When the campaign was launched, statistics revealed that black and black-and-white cats took, on average, seven days longer to find a home compared to cats of other colours – and the charity wanted to investigate why this was the case.
Superstitions and snapshots
This trend has also been experienced by other rescue charities, including Battersea – unwanted black cats make up 43% of all feline admissions across its three different sites in London, Kent and Windsor, compared to other single-coloured cats, such as ginger – and are trickier to find new homes for than any other colour. Could it be age old myths and superstitions are to blame? Or is the 'Instagram effect' the problem?
Rob Young, Head of Catteries at Battersea said: "We get cats of all shapes, sizes and colours here at Battersea and every single one of them has their own unique personality. Some people believe that black cats all look the same or that they do not look as good in photographs and will therefore overlook them in favour of a tabby or tortoiseshell. All cats deserve a second chance, and we hope that anyone planning to adopt will consider changing a black cat's luck and give it a loving home."
---
FELINE LUCKY? INVESTIGATING BLACK CAT MYTHS AND LEGENDS
Whether black cats are considered to be lucky or not varies and is attached to superstitions based in specific cultures, as feline welfare charity iCatCare reveals:
In Japan, a black cat crossing your path is a good omen and there is a black version of the famous Maneki-neko, or Lucky Cat, that is believed to ward off evil.
A traditional belief of fishermen is that black cats are lucky and will bring a sailor home from sea. Their families often kept them in the hope that it would bring the sailors back safely.
In Scotland, a black cat appearing on your doorstep is a sign that good luck is coming your way.
---
A change in fortunes
The great news is, a decade after National Black Cat Day was established to shine a light on the black and black-and-white cats who are regularly overlooked for adoption, things are looking up for these mini panthers.
Cats Protection states: "Our campaigning has now paid off! Black cats now find their forever homes 10 days quicker on average than they did 10 years ago, closing the gap between them and their more colourful counterparts. In fact, 44% of the cats we've rehomed over the last decade have been black or black-and-white, that's 65,000 monochrome moggies in happy new homes. Each year, we get huge numbers of cat-lovers engaging with our #BlackCatDay hashtag on social media and best of all, we get to see how beloved black cats and black-and-white cats have made a real impression on their owner's lives."
---
Here are some heart-warming real life black cat stories from Cats Protection...
SHADOW AND GAVIN
Shadow arrived just when Gavin Harvey from Glasgow needed her most, and now she has a permanent place in his heart...
"Shadow came into my life when I was really down. I came across her photo on the Cats Protection Facebook page and I wanted her from that day. She was deemed too old and unwanted, but I can tell you she isn't either of those things. She's the best thing to ever happen to me. Shadow has been a ray of sunshine in my life. She picks me up when I'm down and she makes me happy in every way. She's such a beautiful cat too with glossy black fur and bright yellow eyes. There's nothing I wouldn't do for her. I always say we saved each other. She was sad and I was sad and now we're happy together. I'll forever be grateful to Cats Protection for bringing her into my life."
---
ROSIE AND SUSIE
Key worker Susie Taylor from Dorset adopted Rosie in April 2020, during a particularly difficult time in her life.
"I was feeling very low and isolated as I had moved out of my home I lived in with my elderly mum, as I was so concerned that I would catch COVID-19 from my job as a health care assistant at Bournemouth Hospital. The ward I work on had become a COVID-positive-only ward for patients, and though we had PPE, staff unfortunately seem to be catching it a lot so I couldn't put my mum at risk. Rosie was so scared at first and spent her first week under my bed, but she loved the cat tower I'd bought her and started to spend her days on the top of it. I ended up getting COVID-19 and was ill for three weeks. Just having a cat with me made me feel better and helped me not to feel so isolated. I really feel Rosie helped me get better faster and got me out of a very low place. Rosie and I returned home to my mum in June and Rosie is now the most confident little cat. She loves the outside. I've had her neutered, chipped and insured so hopefully Rosie will now live her best life with us."
---
CLEO AND JACQUELINE
Adopting Cleo on impulse was Jacqueline Wilkinson from Croydon's best decision, as she has supported her through a broken arm, divorce, house move and a global pandemic.
"My ex-husband and I adopted Cleo in 2017 from Cats Protection's Mitcham Adoption Centre. It was somewhat of an impulse adoption. I'd always wanted a cat, but we really only called in to show our support to the new centre. Two visits and three days later, we brought her home with us. Since then, she has supported me through various illnesses and ailments. She never left my side when I broke my arm, as well as a divorce and moving house. Cleo has provided company, warmth and love over this time, as well as participating in my afternoon video meetings when I am working! I may well have gone mad without her. She is, like all cats, utterly crazy at times, jumping up walls and perching in the weirdest of places but I wouldn't change her for the world, and I absolutely wouldn't be without her."
---
SHARE THE BLACK CAT LOVE
If you've got a beautiful black cat, share their photo on social media with #BlackCatDay on 27 October and help Cats Protection celebrate a brilliant decade for monochrome moggies. You can find more information about National Black Cat Day here >>
---
Is your cat a Burgess Cat? Join the Burgess Pet Club exclusive offers and rewards.
---
If you found this interesting, you may also like:
FELINE BEHAVIOUR – STRANGE BUT TRUE Why does my cat rub around my legs, grab my hand when I tickle his tummy, drink from the tap and knock everything off my desk? Our mission is to solve some of the most puzzling feline mysteries…
THE CURIOUS TALE OF THE CAT IN THE NIGHT Cats are known for their love of napping, but when they're not snoozing, they can be extremely active. If your cat has decided that the wee small hours are the perfect time to play, what can you do?
DOES YOUR CAT RECOGNISE YOUR HAPPY FACE? Are cats simply self-absorbed creatures whose relationship with their human is primarily based around the dishing up of cat food? Or, as new research suggests, is there a high level of emotional intelligence going on behind those fabulously enigmatic feline eyes?
ARE YOU AND YOUR CAT MORE ALIKE THAN YOU THINK? It's long been suggested that people look like their dogs, but when it comes to cats, it seems to be more the case that humans and felines can share similar personality types, according to new research. So, if you have a grumpy Tabby cat, a super friendly Ragdoll cat, or fiendishly feisty Bengal cat, could this actually say more about you than your pet?
10 THINGS I HATE ABOUT YOU Some of the things that we humans do really aren't appreciated by our beloved pet cats.
DOES YOUR CAT KNOW THEIR NAME? Whatever name we choose to bestow upon our beloved pet cats, does it make any difference to them? Do they actually understand that they're called Alfie or Bella or even Archibald von Snugglemuffin? Research has recently begun to focus on the cat's ability to communicate with humans, with some fascinating results...
WHY SOME CATS AREN'T CUDDLY Some cats love to sit in a comfy lap for hours on end, but others shy away from too much physical contact. The reason for this behaviour lies in their solitary and independent nature…
GIRLS v BOYS – FELINE MYTHS AND MISCONCEPTIONS Do male and female cats act differently because of their gender? Are generalisations about laid back, lap-loving boys and aloof, independent girls simply myths – or is there any truth to them?
WHAT PERSONALITY TYPE IS YOUR CAT? Research by UK cat expert Dr Lauren Finka suggests that there are five main personality types. Do any of these sound like your feline friend?
GOT A CAT QUESTION? 'Why does my cat lick me?', 'Why does my cat bite me?', 'Why does my cat stare at me?" or want to know 'What's a female cat called?' or 'How long is a cat pregnant for?'. Whatever your cat-related questions, we've some interesting and informative answers – and you may see your favourite feline in a whole new light...