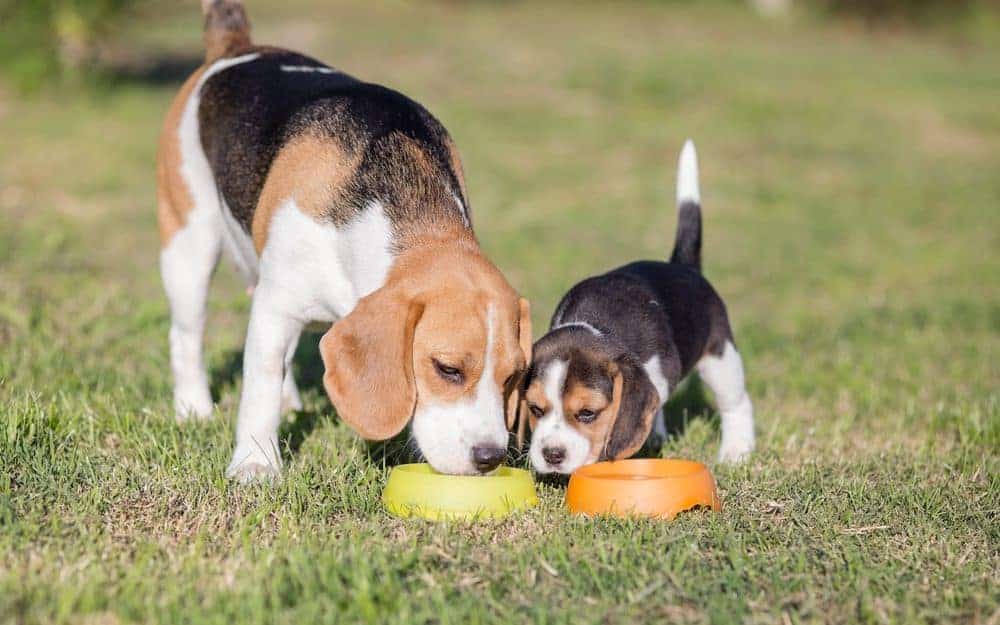 Feeding life stage foods
Over the past few decades, the science of pet nutrition has come a long way.  We now know much more about the significant role nutrition plays when it's tailored to the different stages of our pets' development, ensuring the optimum quality of life for the longest time possible.
For example, the introduction of correctly formulated commercially available pet food for puppies has seen a decrease in the amount of development disorders in young dogs caused by poor diets. Now, there are senior diets to support ageing pets and other variants such as light and hypoallergenic to meet specific needs. The great news is that these advances have had a positive effect on the health and longevity of our pets.
The optimum diet for your pet is one that supplies the correct number of calories and balance of nutrients for their size, life stage and lifestyle. This means calculating the nutrient content and dietary components such as protein, fat, carbohydrate and vitamins and minerals required. At Burgess, all our pet food is produced in line with FEDIAF (the European pet food industry federation) nutritional guidelines. These guidelines, which are based on many pieces of published research, help us to ensure all our foods meet detailed nutritional requirements.
---
DID YOU KNOW?
A dog is classed as older when it reaches eight years old. This is when greying of the muzzle and slowing down of the body begins. From aged 10, dogs are classed as senior and from aged 12, geriatric. How a dog ages depends on the breed and their life experience.
---
The particular requirements of every pet will change throughout their life. Puppies and kittens need extra energy and other nutrients to support rapid growth. As the growth phase slows, and if the pet is neutered, calorie intake needs to be reduced. In addition, adults can have very different needs, depending upon their lifestyle. An active working dog will burn up far more energy than a canine that enjoys a couple of strolls a day and lots of naps on the sofa and their diet needs to be adjusted to match.
---
DID YOU KNOW?
A cat is classed as senior between the ages of 10 to 14 years. Those aged 15+ are classed as geriatric. The first two years of a cat's life is calculated at 24 human years, and every year after that is equivalent to four years.
---
Lifetime milestones
Kitten and puppyhood
It's been estimated that puppies and kittens grow at roughly 15 times the rate of a human baby and so need a diet that is high in energy, as well as being boosted with extra minerals and vitamins. Their stomachs are relatively small and their jaws less powerful, so they need to eat a highly digestible, good quality diet, little and often.
Burgess Supadog Finest Puppy Chicken contains 28% protein for young, growing muscles, calcium for your puppy's growing bones and teeth and natural antioxidants to help developing immune system. Smaller nuggets are specially created for little mouths and teeth.
Sensitive Puppy Turkey & Rice  is created for those puppies with sensitive digestions, with a recipe that's free from the usual ingredients that can upset your dog's stomach.
Burgess Kitten Chicken has a unique recipe that contains a balance of highly digestible proteins to help build muscle, calcium to support developing bones and teeth and nucleotides, which help support growing bodies and are vital for the development of the gut and immune system.
---
Neutering
Most pet dogs and cats are neutered when they are young adults. Neutering both males and females tends to slow their metabolic rate, so that they use the food that they take in more efficiently. As their growth period comes to an end, it's important to ensure neutered dogs or cats are fed a complete, balanced adult food, in the correct amounts to meet their nutrition needs, but guarding against obesity. 'Light' diets can help those pets who find maintaining their weight a bit of a challenge.
Burgess Supadog Finest Adult Light Chicken is specially created for overweight adult dogs. It contains L-Carnitine to help reduce, and then maintain your pet's weight at the correct level. With added glucosamine for optimal joint mobility, two prebiotics to aid the body's natural defences and linseed, zinc and biotin for coats, skin and fur.
---
Adulthood
Providing your pet with a nutritionally balanced, complete diet will help keep them in tip top condition during the prime of their life.
Burgess Supadog Adult Dog Beef is naturally rich in protein for good muscle development and maintenance, with essential fatty acids to help nourish the coat and maintain healthy eyes, natural antioxidants to support the immune system, added calcium for healthy bones and teeth and crunchy cooked cereals for energy, vitality and healthy gums.
Burgess Adult Cat Chicken and Duck contains elevated levels of protein to support obligate carnivores, taurine for a healthy heart and essential fatty acids for a healthy skin and shiny coat. We also add natural antioxidants to help support your cat's immune system and natural prebiotics for a healthy gut.
 
---
Senior pets
Many older pets develop specific conditions, such as arthritis – some of which can be eased by diet. Food designed for older pets will generally be boosted with higher levels of antioxidants, such as vitamins C and E to support the immune system, and supplements such as glucosamine and fatty acids to help joint mobility.
Protein levels will generally be restricted, since the kidneys of many older dogs and cats are unable to cope with a high protein diet, but enough good quality protein must be provided to keep their body tissues in good repair. Older dogs often become more sedentary and tend to put on weight, so most canine senior diets have mildly restricted calorie levels to prevent obesity. Conversely, older cats absorb food less efficiently and tend to lose weight, so senior feline diets tend to have a higher calorie content than a normal adult food.
Burgess Mature Dog Chicken helps ease the effects of ageing, helping mobility, gum health and maintaining a healthy body. With added glucosamine for optimal joint mobility, beet pulp to aid healthy digestion and natural antioxidants to support the immune system.
Burgess Mature Cat with Turkey and Cranberry is specially designed to support your cat into its senior years and includes highly digestible proteins to help maintain strong muscles, natural antioxidants to support the immune system and glucosamine to support healthy joints.
---
If you are at all unsure about the best way of feeding your pet or have any concerns about specific nutritional requirements at different times of their life, ask your veterinary practice for advice.
Find out more about how we create tasty, nutritionally balanced recipes your dog will love here
Sources: pmfa.org.uk, battersea.org.uk, planetpet.eu