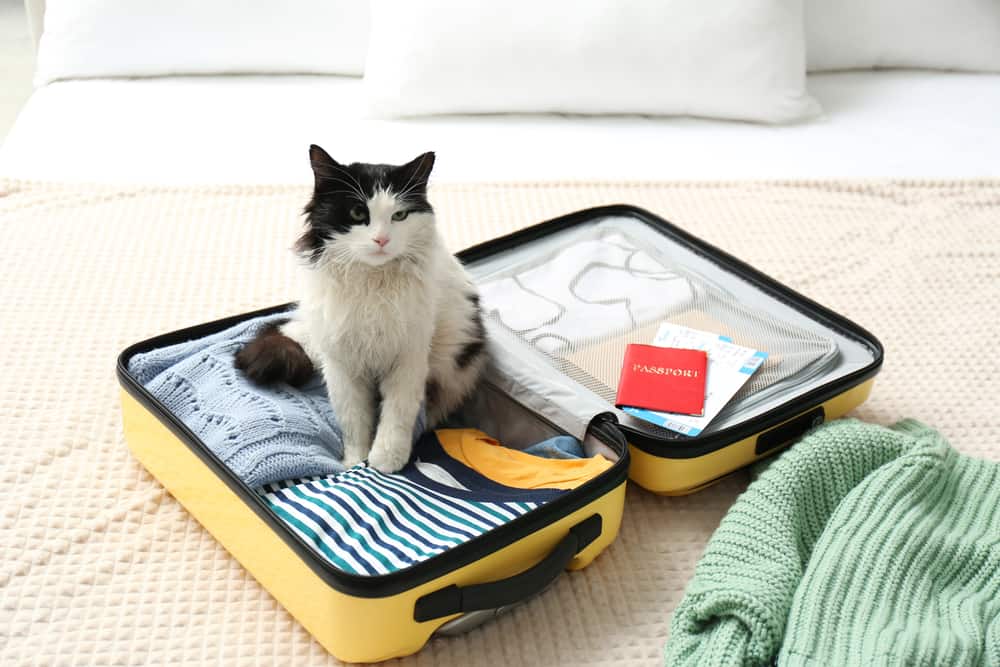 Holiday care for pets – what are the options?
If you're going away on a much-awaited holiday, you want to know that your pets are being well looked after so you don't spend your vacation worrying about them. So, what are the options? From buddying up with pet-owning friends to share holiday care duties, to a traditional boarding kennels or cattery, or even hiring a pet sitter to look after your four-legged friends in the comfort of their own home – how do you decide what's best for your pets?
Before you weigh up the pros and cons of potential pet care options, follow these essential DOs and DON'Ts:
DO go by recommendations from other pet-owning friends or your vet
DON'T pick a kennels, a cattery or a pet sitter at random from the internet
DO visit or meet them before you book your pet in
DO make sure your pets are microchipped and have all the correct vaccinations and parasite protection
DON'T leave booking until the last minute. The best establishments and sitters quickly run out of places
DO think carefully about what will suit your pet best. A healthy, confident dog will likely cope fine in a well-run boarding kennels, whereas an elderly or anxious pet may prefer to stay in familiar surroundings, so a pet sitting service may be more suitable
DO arrange for short 'test-run' visits prior to a longer stay so that you pet is familiar with the place and people who will be looking after them. They will be much more likely to go off happily with these friendly carers who they've already spent time with and settle in quicker
---
Kennels, catteries and pet hotels
In traditional boarding kennels or catteries, pets are kept in a kennel, which should have a heated indoor area and accessible outdoor run. Some establishments will advertise themselves as 'pet hotels' and may offer more luxurious extras such as an individual room for your pet or comfier bedding.
The important thing is to visit potential places in person before you book your pet in. Veterinary charity PDSA advises: "Don't rely on websites and ask friends or your vet for recommendations. Make sure to check the business you are using is licensed by the local council too and in England check the 'star rating' on the local authority's Animal Welfare Licence  – we recommend looking for a five-star rating."
Liza Smith, who runs The Pet Studio dog kennels in Congresbury, near Bristol, understands how important it is for her human customers to know that their canine guests will feel happy and content while they're away. She says: "We work hard to ensure that visiting us feels like a holiday rather than a prison sentence! We exercise and socialise our guests three times a day in our own field – which means loads of fun and games with the other dogs (for nervous dogs we can walk them alone if preferred) and plenty of exercise and fuss. Throughout the day our guests receive plenty of human attention, games and love, just as they would at home. At bedtime, they are settled down with a yummy treat and a cuddle."
When choosing a cattery, as well as ensuring it's a place that your feline friend will be well cared for by fellow cat lovers, there are some practical things to look out for too. Cats Protection recommends checking that cats can't escape – double doors or a 'safety corridor' prevent escape artists from doing a disappearing act – as well as ensuring that your cat will be kept separately from other feline guests and there's space between the pens so cats can't go nose-to-nose with each other.
Finding a suitable holiday home for small furries such as rabbits and guinea pigs may take a little more research – your vet may be able to offer some suggestions. Some local rescues offer holiday boarding, such as Rabbit Residence Rescue, based near Royston, Hertfordshire, which has a range of holiday accommodation options suitable for outdoor and indoor rabbits, buns with mobility issues and guinea pigs too.
---
Home from home boarding
'Home from home' boarding, provides your pet with the opportunity to stay in a home, rather than a kennel, where they'll be treated like part of the family. This can be a good solution for pets who need a little extra care or who find staying in a kennel environment stressful. Franchises such as Wagging Tails offer home from home boarding for dogs in several locations across the UK.
Rhian Sexton, who runs the Cardiff branch, says: "All of our carers are experienced past dog owners who either no longer have dogs of their own or have one dog who enjoys the company of visiting dogs and have all been vetted, interviewed and assessed. I would happily board my Labradoodle Daisy with each of them. I match each owner's dogs with the most suitable dog carer and insist on a 'sniffing out meeting' taking place at the carers home before the board. I always aim to place dogs back with the same carer for subsequent holidays as the dogs and carers build a strong bond."
---
Pet sitters
Lots of pets find going into kennels or catteries quite stressful, much preferring to stay in their own home where they feel safe and secure. Cats, being territorial creatures, are often better off if they can stay in a familiar environment, so a pet sitter could be a good choice.
Cats Protection advises: "All cats differ, but the home-bods or more nervous ones likely prefer to stay where they are less stressed – at home. In these circumstances, a reliable home sitter is probably the best option for your four-legged friend."
Organisations such as Rover provide pet sitters who have been reviewed and approved for dogs, cats and small furries. You can browse profiles of nearby sitters and schedule a meet and greet before you sign up.
---
Buddy up with pet-owning friends
If you have a close dog-walking friend or family member and your canines are best pals, it's worth asking if they'd consider looking after your dog at their home and you'll return the favour while they're on their holidays. If you have a cat who'd be much happier staying in their own home, a friendly, feline-loving neighbour may be happy to spend time each day playing games and giving them attention along with their food and fresh water.
The same arrangement could also work with small pets such as rabbits, guinea pigs and ferrets. For small furries with portable accommodation (such as hamsters) a nearby friend may be happy to care for your pets in their home. The main thing with an informal arrangement like this is to ensure your pets will be looked after by someone you know really well who you can trust implicitly to care for them properly. If either party has any reservations, it may be best to book your pet in with a professional organisation.
---
How to prepare your pet for their time away from you
Medication: If your pet has to take regular medication, make sure you have enough to cover the time you're away. Speak to the person who's looking after your pet and leave written instructions for them to follow. They'll need to know what medication to give and when (for example, morning, evening, before food, after food) and the best way to get your pet to take it. Make sure that the person looking after them is confident giving the medication and knows what to do if there are any problems or side effects seen.
Contact details: Make sure the person looking after your pet has your vet's contact details in case of emergencies. They'll also need your contact details for while you're away. Find out what their protocol is if they can't reach you and need to take your pet to a vet and make sure this fits in with your wishes.
Food and exercise: A sudden change in your pet's diet can give them an upset stomach. Provide more than enough of your pet's usual food to cover the time you'll be away. Leave written instructions about how much food should be given and when, and how much exercise your pet usually gets.
Toys, blankets and bedding: Favourite toys and blankets which smell of home can help your pet to settle into their temporary home. For rabbits and small animals, some used, unsoiled nesting material will help them feel comfortable in an unfamiliar place.
The short goodbye: Try not to show negative emotions when leaving your pet – they can pick up on this and will also feel anxious. Avoid unnecessary eye contact and conversation and make goodbyes short, sweet and fuss-free.
When you get home or collect your pet: Be calm. Reuniting with your pet should be a happy moment, but not too exuberant, to minimise stress. Some animals exhibit different behaviour after arriving home, such as unexplained marking of territory, being quieter than usual for a couple of days, or even ignoring you! Don't make a fuss but allow your pet to re-adjust to their home environment in their own time, gently easing them back into their normal daily routine.
---
USEFUL CONTACTS
---
Is your dog a Burgess dog? Your cat a Burgess cat? Your small pets Burgess small pets? Join the Burgess Pet Club for exclusive offers and rewards.
You can also sign up to the Excel Bunny Base – a safe Facebook community for rabbit guardians that are looking for advice and friendly discussions from likeminded owners – and there are lots of cute bunny photos and videos! Also join us on Instagram.
Or why not join the Excel Squeak Squad on Facebook? Find advice and enjoy friendly discussions with likeminded guinea pig owners. You can also join Berry & Bramble, our special G-force guinea pigs, on weekly missions and fun competitions.
---
If you found this interesting, you may also like:
WATCH OUT FOR THESE SPRINGTIME HAZARDS If you want to avoid a pet emergency this spring, it's important to take a closer look at some springtime hazards that vets would like pet owners to be aware of.
VACCINATIONS – VITAL FOR US AND OUR PETS Find out how vaccinations work, what dog vaccinations, cat vaccinations, rabbit vaccinations and ferret vaccinations protect against, when your pets should be vaccinated and lots more essential information...
THE TIME TO NEUTER YOUR CAT IS NOW Is your cat neutered? If not, what's holding you back? Neutering is a simple operation that will not only stop unwanted pregnancies, but also benefit your favourite feline's overall health and wellbeing. What's more, leading feline welfare charities stress that getting your cat neutered before they can breed is an essential part of responsible cat ownership.
PROTECT AND PREVENT Raising awareness of the deadly Rabbit Viral Haemorrhagic Disease 2 (RVHD2) and asking all rabbit owners to make sure their pets are vaccinated against this and other fatal diseases.
FLEAS – HOW TO EVICT THESE ITCHY, UNINVITED GUESTS How can you tell if your pet has fleas? What do fleas look like? Why do fleas love our cosy homes so much? Can fleas live on humans? What's the difference between dog fleas and cat fleas? How long do fleas live? How serious a health risk are fleas? And, most importantly, what do you have to do to get rid of fleas?
HOW TO PROTECT YOUR GUINEAS AND BUNNIES FROM PESKY PARASITES When it comes to protecting our gorgeous small pets from mites, fleas, flies, ticks and mosquitoes – and any other irritating and unwelcome pests – a four-pronged attack is the best approach.
RABBITS AND GUINEA PIGS – IS INDOORS OR OUTDOORS BEST? Is the outdoor life better for bunnies and guinea pigs, or will these small pets have a more enriching time if they're kept indoors?
7 TOP TIPS FOR CREATING A PET-SAFE GARDEN Your garden should be a safe place that both you and your pets can enjoy together. However, from poisonous plants and toxic chemicals to mouldy food in compost heaps, there are all sorts of potential dangers that responsible pet owners need to be aware of.
5 WAYS TO GET THE WHOLE FAMILY INVOLVED IN PET CARE From being involved in looking after a pet and learning a sense of responsibility, to fun activities you can all do together, we've 5 IDEAS to get all the family involved.
HAVING A BARBECUE? MAKE SURE IT'S A SIZZLING SUCCESS WITHOUT ANY PET MISHAPS Veterinary charity PDSA warns: "All those tempting treats and glowing grills can be a danger for our much-loved pets. Heatstroke and burns. Bin raids and broken glass. There are a lot of potential dangers for pet owners to bear in mind."