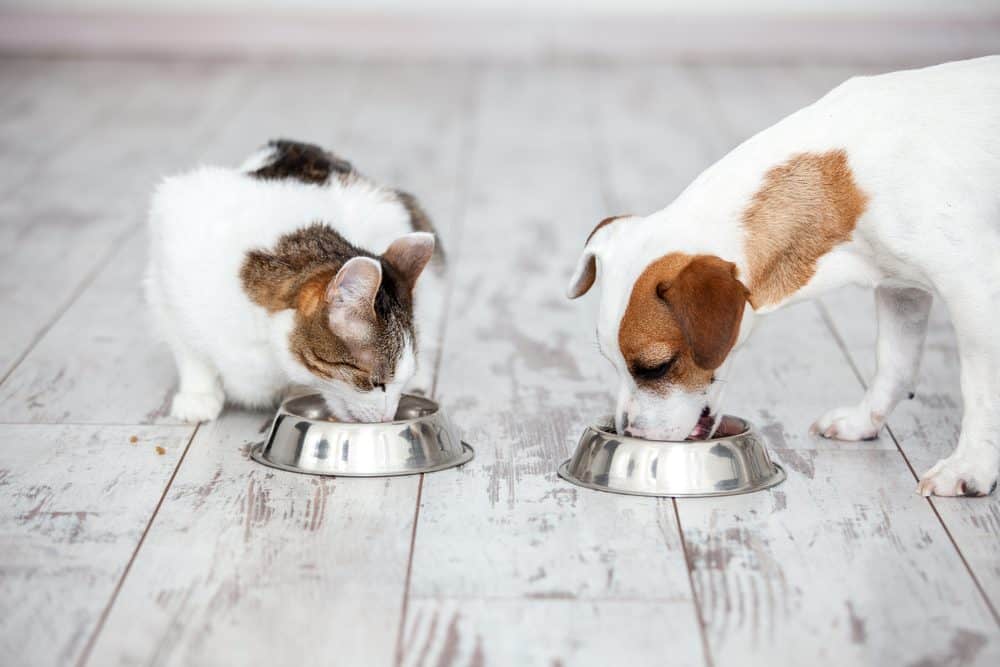 What's on the label? Here's some food for thought…
Wanting to know more about the food we eat is a much bigger deal today than it was in the past, with more and more of us wanting to know about food provenance – where it's from and how it's produced. But have you ever wondered about your pet's food? What does the ingredients list on the packaging actually mean? And why does your dog's or cat's complete food contain things such as 'crude ash'? 
According to the Pet Food Manufacturers' Association (PFMA), The law requires that the labelling on pet food must contain certain key pieces of information. This includes a list of ingredients (referred to on the label as 'composition'), additives and a nutrition analysis (referred to as 'analytical constituents') along with feeding guidelines.
Composition
Most pet foods are made from a recipe using several ingredients, which will be listed under 'composition' in descending order of weight. They can be indicated using category names, which are laid down by industry regulations, such as 'meat and animal derivatives', 'cereals', 'derivatives of vegetable origin'. Alternatively, ingredients can be listed by their own individual names. When an ingredient is used that does not fall into any of the prescribed categories, its individual name must be listed. If particular attention is drawn to a specific ingredient – for example, 'with chicken' – the percentage of that component must also be listed.
Analytical constituents
The percentage of the following must be listed: 
% of crude proteins
% of crude oils and fats
% of crude fibre 
% of moisture in the product when it exceeds 14%
% of crude ash. Alternative phrases are 'incinerated residue' or 'inorganic matter'. While this sounds rather daunting, it simply refers to the mineral content of the pet food and is determined chemically during the production process. 
---
DID YOU KNOW?
At Burgess, all our pet food is produced in line with FEDIAF (the European pet food industry federation) nutritional guidelines, which are based on many pieces of published research, and help us to ensure all our foods meet the detailed nutritional requirements of dogs and cats and small animals.
---
Additives 
Additives which can be used in pet foods may include vitamins, flavours, preservatives, antioxidants and colours. All additives must go through rigorous safety and efficacy tests before they can be used in pet food, which is strictly governed by EU legislation. If preservatives, antioxidants or colourants have been added to the product, this should be declared on the label. If you, as a pet owner, have any queries regarding additives, you should contact the manufacturer responsible, quoting the batch number. 
Vitamins
If Vitamins A and D are added to the product, their presence and level has to be declared. The added quantity should be listed under 'additives'. Manufacturers may also include the total amount guaranteed at the end of shelf life under 'analytical constituents'. 
Direction and description
The wording of this must state:
Whether the product is complete or complementary. Complete means that the product contains all the nutrients a pet needs to support its daily life when fed as directed. A complementary food means that other food must be added in order to provide nutritional balance.
The species for which the product is intended
Directions for use/feeding instructions
'Best before' date 
This date indicates the minimum storage life of the product. The month and year must be shown. 
Batch number
A batch number or the date of manufacture must be given to ensure the product is traceable. 
Need more information?
We hope you've found this useful, but if you have any questions or comments about Burgess Pet Care and any of our ranges, or would like some nutrition advice for your pets, we're always happy to hear from you. 
You can call us any time between 9am and 5pm on +44 (0)1405 862241. 

Alternatively fill in the online form via this link
For more general information on pet food ingredients, visit: pfma.org.uk
---
If you found this interesting, you may also like:
Dog nutrition Q&A with our vet
For your dog, it's not just a case of you are what you eat, it's more about what your human feeds you…
Feeding life stage foods
Meeting the nutritional needs of our pets at different stages of their lives provides real benefits, as our in-house vet Dr Suzanne Moyes explains
How to get your pet in shape
Over 60% of vets say obesity is the biggest health and welfare concern for UK pets. Our in-house vet Dr Suzanne Moyes is on hand with some brilliant fat-busting tips, astonishing facts and useful on-line tools
Source: pfma.org.uk