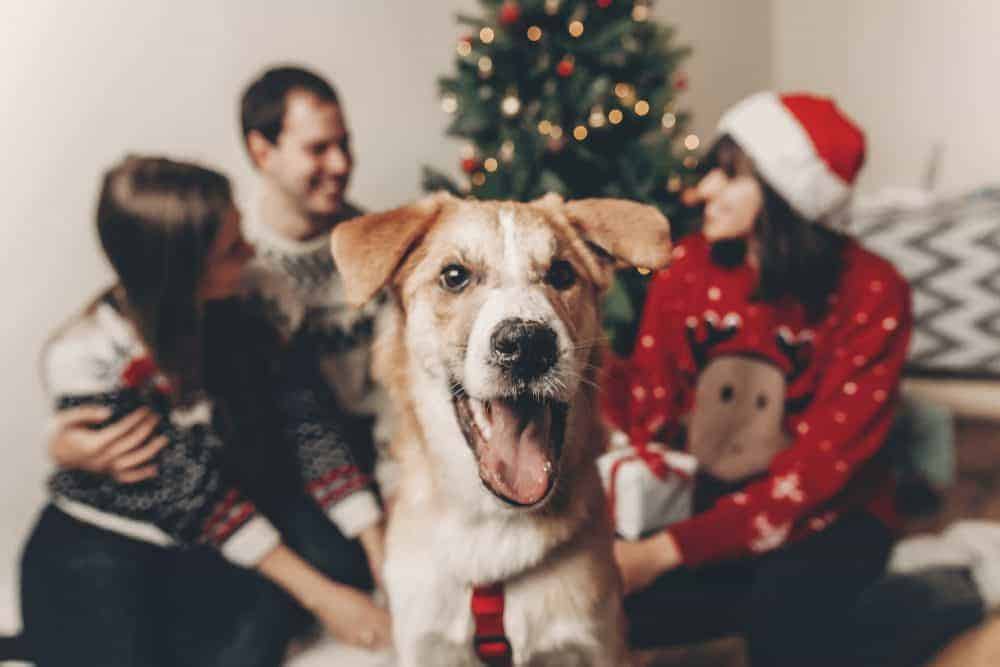 Brighten up the festive season with these cute and colourful pet Christmas gifts
What's going to be in your pet's Christmas stocking this year? As well as treating your furry friends to extra special pet Christmas presents, why not spread some much-needed seasonal cheer by buying them from animal charities and small businesses...
All your devoted dog wants for Christmas
Enjoy a festive game of chase and fetch with this jolly Rubber Belly Santa Dog Toy – tough and durable with a chewy mix of plush material and rubber. Energetic ball-chasers will also love this festive three-ball gift set Dog Ball Gift Set with three balls in different textures.
And, after all the excitement, your four-legged pal can enjoy a snooze on a super-comfy personalised dog bed, crafted from luxury orthopaedic memory foam and made to order by a dog-loving family company.
---
It's beginning to look a lot like Christmas for your favourite fussy feline
If your cat feels left out when you're busy tapping away on your laptop, why not get one just for them? This eco-friendly Cat Scratch Laptop features an irresistibly scratchy cardboard keyboard for plenty of claw-exercising fun.
Playful cats will be captivated by this intriguing Tower of Tracks cat toy. With a sturdy construction designed to stand up to vigorous play, there are three levels with three balls that spin and roll and non-skid pads on the base. For felines who love batting a ball around, this Catit Rollling Treat Ball will be a hit. Simply fill with dry food and watch the paw-patting fun begin.
If your favourite feline goes crazy for catnip, they'll love rolling around with this realistic Fish Cat Toy with Catnip. Or why not get them their very own personalised Catnip Toy Stocking? Handmade from red felt embroidered in a charming Scandi style, this little stocking is fully lined and filled with premium Canadian catnip. 
---
Santa Claus is coming to town for your bunny chums
Your bunnies can dine in luxury with a personalised rabbit pet bowl – available in pink and blue and hand painted before being glazed and fired with a hardwearing food safe glaze. Or how about some super cute Hay Bags, handmade from cotton in a range of patterns. Simply hang up so your buns can stretch and reach for some tasty long-stem feeding hay in style. Or why not get them a sturdy but stylish Digging Box? Use child safe play sand or shredded paper and your bunnies can burrow to their heart's content.
Time for some foraging fun? You buns will love seeking out their favourite food and treats tucked inside this Tokihut Foraging Mat. With its cute veggies design, and fleecy finish, it will satisfy your pets' curiosity and keep them entertained as they hunt for the goodies. And, although you shouldn't feed rabbits carrots (as this is a vegetable they wouldn't naturally eat and isn't suitable for their digestion) how about a Seagrass Carrot? Stuffed with orchard grass hay, willow sticks, crunchy rattan cane, and seagrass rope, this jumbo carrot-style chew toy will keep your buns busy for ages!
Coats in need of a groom? This Two-in-One Brush and Massager removes downy undercoat and, used in gentle circular strokes, provides a gentle massage to soothe and relieve tension.
---
Christmas time is here for your gorgeous guinea pigs
As guineas love to forage and hide, why not get them a Hay Rack and Tunnel Feeder combo? Hand built from solid, unpainted pine, there are no nails, screws or sharp edges, just add hay for hours of safe chewing and peeking out fun.
The HayPigs Circus Treat Ball is great to add entertainment and fun to your little ones' day. Fill it with nuggets then let your little ones discover how to get at their treats, which usually involves them rolling the ball about with their noses until the treats drop out. You could even go the whole hog and treat your piggies to the complete HayPigs Circus Set, which includes a tilting tunnel, hay hopper, fleece hidey hut and much more!
And you just have to treat each of your piggies to their very own Cuddle Cup Bed made from super soft fleece. it's the ultimate in piggy cuddle comfort.
---
Rockin' around the Christmas tree with your frisky ferrets
The crinkling, crackling noise this Ferret Crackle Tunnel makes is simply Irresistible to ferret ears. Perfect for rolling around in, chasing through, hiding stash in and jumping on. Add an extra element of fun with a cute and fluffy Jittery Critter – just pull the tail and watch it jiggle about – the perfect moving target.
Or how about a Red Octopus in the Stars toy? Made from cotton and fleece, there are five sleeves to run and wriggle through – two which rustle – plus the head makes for a great sleeping spot. For an extra challenge, how about a Small Animal KONG? Made from natural rubber that can withstand plenty of chew action, this makes a great cage companion, cleans teeth and gums and provides plenty of activity for clever little ferrets who like to pat and play to get their food nuggets to drop out.
And when it's time for a long, long ferret nap, this fleece and fabric Bunkbed Hammock will be a hit with your slinky, sleepy friends.
---
It's the most wonderful time of the year for your loyal and loving rats
Your rodent chums will enjoy checking out this sturdy Eco Platform with a fence and two ramps, crafted from applewood, willow and birch. Or how about an exciting Wooden Maze to figure out? Made with an open base and two Perspex roof sections that allow you to watch your intrepid explorers as they investigate the tunnels. The roof sections include breathing holes plus decorative markings showing the start/end and the correct path through the maze – just in case your super smart rats can read! Simply sprinkle some yummy rat nuggets around the tunnels and watch the maze running begin. 
Curious rats can explore in comfort in this Bounce Back Tunnel, handcrafted in fleece and fabric. The bounce back support means the tunnel always keeps its shape, even after it's been investigated by your rat pack, who will likely stop inside for a snooze. And, as it's Christmas, how about adding a Christmas Vine toy to their cage? This 20inch long vine is made with three layers of polar fleece (in seasonal red, white and green) and an eyelet at each end, with two hooks to hang it for cosy, climbing fun.
---
Have yourself a merry little Christmas with your chilled-out chinchillas or devoted degus
For chewing fun, how about some Pick & Mix Chew Toys made from palm leaves, vine, wood, paper, loofa and meadow hay, providing plenty of different textures to enjoy. You can choose four that you feel suit your small furries best, such as hearts, cupcakes or stacks.
Both chins and degus love shredding stuff, so stock up on Coconut Leaf Twists and Banana Leaf Balls wrapped in seagrass string. For double the fun, choose a Kaytee Chinchilla Lava Ledge that attaches to a wire cage with chew proof brackets. Made of pumice, it is completely safe to chew and promotes clean and healthy teeth, plus, as it's a ledge it also encourages natural jumping exercise – something that chins excel at. 
After playtime and some dinner, when it comes to nap time (something that chinchillas take very seriously) what better place to cuddle up than a Double Door Cube Hammock Bed, available in a whole array of cute patterns.
---
A wonderful Christmastime with your happy hamsters, mischievous mice or jolly gerbils
With the smallest furries, you can't go wrong with a Gnawing Tunnel or two – perfect as a hide-away, something to scramble through and over, to snooze in or just chew to pieces. Add a Hanging Log made from a sturdy piece of hazel to scamper across, and a Bolted Balance Bridge to navigate. Some Mini Stars scattered around will provide some chewing fun for tiny pets, which are great for their teeth as well as adding enrichment. The smallest furries will also love a Chew Chew Box, which features a mixed selection including apple sticks, millet and a mixed seeds hanging treat. Or how about a super stylish Hamster House, with two storeys, ladder and climbing wall? The perfect abode to nibble away on some tasty nuggets that have been carefully stashed away.
Please note: Items are subject to availability. If stocks of any items featured have run out in the busy shopping days before Christmas, remember there's always birthdays and Easter!
---
Is your pet a Burgess pet? Join the Burgess Pet Club for exclusive offers and rewards.
---
If you found this interesting, you may also like:
THE PET PARENTS' GUIDE TO CHRISTMAS It's beginning to look a lot like Christmas... and while every pet parent wants their four-legged family members to feel part of the celebrations, there are plenty of festive perils to watch out for. Check out our comprehensive Yuletide guide to ensure that your furry friends stay healthy and happy this Christmas.
FESTIVE FILM STAR ANIMALS The festive season is a time to cuddle up on the sofa with our pets and watch some favourite family movies. So why not have a go at our fun quiz about some of the best-loved animal stars on film. Answers at the end – but no peeking!