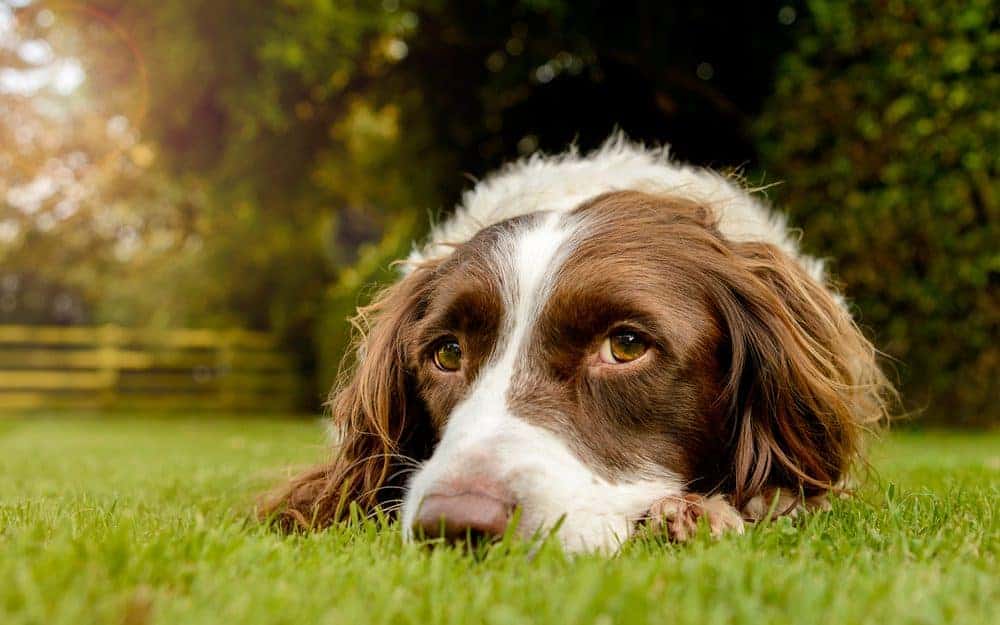 Create a garden that benefits your dog
Although walking the dog is allowed during this period of lockdown, the restrictions mean that many of our four-legged friends' favourite activities – playing with their mates in the park, going off for exciting day trips etc – are not currently on the agenda. That's why, if you have outdoor space, it's well worth considering how you can give it some extra dog appeal.
Take inspiration from dog rehoming centres, such as Dogs Trust, Battersea and Bath Cats & Dogs Home, which have all created sensory and enrichment gardens to reduce stress and keep curious canines mentally and physically stimulated.
Rehoming charity Battersea says: "Plain patches of grass aren't the most exciting places for dogs. They benefit greatly from enriching and stimulating natural environments, just like we do. A bit of dog-friendly landscaping can help decrease boredom and encourage natural behaviours."
---
BEST PLANTS FOR A SENSORY DOG GARDEN
Birch, catnip, lavender, marigold, meadowsweet, rosemary, valerian, lemon balm, wheat grass and willow.
---
Something for every dog
At Bath Cats & Dogs Home, volunteers and local businesses, led by Steve Hill, Head of Behaviour and Welfare, turned a normal paddock into something special with the concept of inspiring a dog's five senses. The area includes something for every dog – a raised platform and kennel, water feature for paddling, a bamboo forest, a cave and a sand pit (with children's sand, not coarse builders' sand) for digging fun. There are also more than 20 different textured surfaces for dogs to explore. Herbs, such as catnip, hops, yarrow, St John's wort and valerian have been planted, which are reported to have positive affects for dogs. Speaking to the BBC, Steve Hill said: "The sensory garden is designed to offer something to every dog, to encourage them to become more confident in their surroundings and to reduce stress."
Exciting areas to forage and explore
Dogs Trust unveiled its first dog friendly garden at RHS Hampton Court Flower Show in 2016 – it's since been installed at the charity's Harefield rehoming centre. The Dogs Trust veterinary team worked with designer and dog lover Paul Hervey-Brooks, to design a beautiful, enriching and safe garden for dogs and their human friends to enjoy together. This space provides exciting areas to forage and explore, with two water features, a digging area, large trees to provide shelter, sniffer tracks and a pavilion.
---
A SPLASH OF COLOUR
Battersea advises: "Dogs can't see the same spectrum of colours like us, but they are able to see blues and yellows. Pansies commonly come in these colours, are safe for dogs and grown all year round, so planting them can provide a bit of visual stimulation."
---
How to make your garden more canine compatible
Here are some of top tips from Dogs Trust:
Keep your dog safe with secure garden borders. Judge the height based on your dog's breed and temperament and consider the regulations affecting your property. Also regularly check for any gaps that your dog can wriggle through.
 
Features that offer different heights can give dogs vantage points to enjoy. Railways sleepers, steps and small benches can all be used to create versatility.
 
A variety of textures in your garden can provide extra sensory stimulation – this could be non-toxic sand, grass, wood chippings or gravel, all of which provide interesting places to hide dog toys and treats and for your dog to explore.
 
If your dog loves to dig to uncover things, create a fun area for your dog to show off their digging prowess and praise them for using this spot.
 
Shallow water features make for another playful environment whilst also providing a cooling off spot on hot summer days. 
 
Choose non-toxic plants. Certain plants and flowers can be harmful to dogs due to the toxins if eaten. These include chrysanthemums, daffodil bulbs, larkspur, foxgloves, hydrangea, acorns, tomato plants and green fruits, wisteria and yew. Dogs Trust has a list of toxic substances in the home and garden which are poisonous to your dog which can be found here.
 
A quiet retreat or spot in which to shelter and use at their leisure can help your dog to feel safe.
Remember that gardens can harbour unwanted friends such as slugs and ticks so ensure your dog's flea, tick and worming treatments are up to date. Seek advice from your vet to discuss the best options for your dog.
---
Please note, that due to coronavirus restrictions, veterinary practices are abiding by set protocols, in line with national guidelines from the British Veterinary Association and the Government. Urgent cases and emergencies will still be treated – but check with your local practice about the procedures they have in place to keep people, as well as animals, safe.
---
If you found this interesting, you may also like: 
THE GAME'S AFOOT! Are your pets suffering from cabin fever? We've lots of ideas for indoor games and activities to help keep boredom at bay – and to spark your imagination to think up even more of your own
BECOME A DOG COMMUNICATION EXPERT Spending more time with your canine chum? It's the perfect opportunity to learn more about what they're trying to tell you. 
SCRATCH AND SNIFF? When you take your dog out for a walk, do you allow them time to follow their nose and enjoy lots of sniffing activity? Find out why having a good sniff is super important to your canine pal – and how it can even help address behaviour issues and improve recall...
GIVE THE DOG A CHOICE How much of a say does your dog have when it comes to choosing what they do? Canine experts believe that giving dogs more opportunities to make a choice makes them happier. We find out more...
GARDEN DESIGNS FOR YOUR CAT Providing your favourite feline with an entrancing outdoor space that they'll want to spend lots of time in will help to keep them safely out of mischief...
HOW TO RABBIT-PROOF YOUR GARDEN Rabbits love to run and roam about your garden, but a determined bunny with digging on their mind can quickly make their escape. Keep them safe with our top tips
Sources: dogstrust.org.uk, yourdog.co.uk, battersea.org, bbc.co.uk