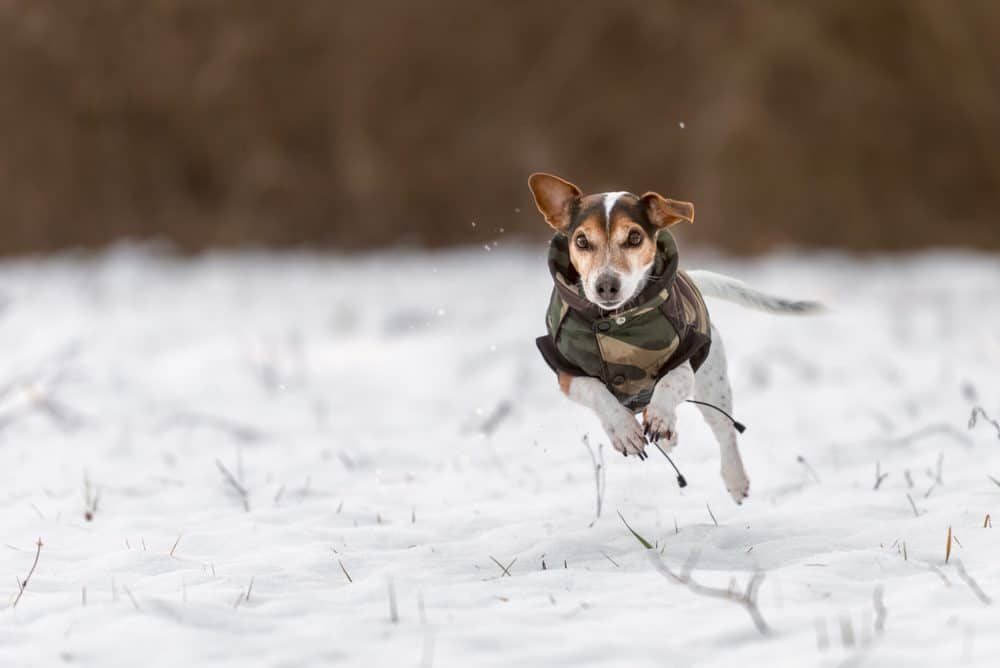 Get your dog togged up for winter
Animal charity PDSA always has plenty of good advice for pets and their owners – not least of which concerns after-dark winter walkies. The charity states: "During the winter months you should consider using high visibility jackets, hi-vis or LED collars and leads to be seen and keep safe."
We couldn't agree more, and with this in mind, we take a look at the latest hi-tech canine gear to help your dog stay warm, dry and visible this winter.
---
Jackets and neckerchiefs
LED Dog Jacket
With only eight hours of daylight in mid-winter, walkies in the dark are generally a daily routine for dog owners and it's really important that your pet can be seen. This LED Dog Jacket combines high visibility with a soft, warm coat and is a multi-tasking must-have. Concealed within the white piping of the jacket are battery operated bright white LEDs. The jacket is made from sturdy, waterproof fabric with a fleecy inner that can be easily removed for washing.
Ultra-Brite Neckerchief
Also known as 'Spot the Dog' because there's no way you can miss your canine chum when they're wearing it, this hi-vis neckerchief is stunningly bright when your dog blends into the background. It also has reflective tape for added visibility at night. Designed by Equafleece, this comfy neck warmer is made from water repellent, breathable fleece and comes in a whole range of sizes in either Fluorescent Yellow or Blaze Orange.
---
TOP TIP – WINTER WARMERS
Although they come fully equipped with a fur coat, many dogs feel the cold as much as we do. Puppiesand short-haired dogs – such as Chihuahuas, Greyhounds, Dobermans and Staffordshire Bull Terriers – are most vulnerable and should be kitted out with a cosy winter coat. For longer-haired dogs, keep up your grooming regime – matted fur won't insulate as well against snow and wintry rain.
---
Orbiloc Dog Dual Safety Light
For extra visibility, you can't go wrong with the ultimate in winter dog lights – the Orbiloc Safety Light. This advanced technology design features a super bright light that can be seen in a 270° arc of your dog's position. What's more, the light is so strong that it's actually visible for 5km. Available with an accessory pack that enables easy and secure attachment to your dog's collar or harness in seconds.
---
Collars and leads
Leuchtie LED Light Collar
If you have an active, outdoorsy dog and you're after a really robust, durable and reliable light up collar that's 100% waterproof, then the Leuchtie could be just what you need. Designed in Germany, where it's used by Search and Rescue dogs, the multiple superflux LEDs ensure your dog is visible from all angles and from hundreds of metres away. Thanks to its solid, extra bright light, powered by ordinary AAA batteries, it's ideal for dogs with long coats. Just slip over your dog's head and it will activate via a motion sensor, so there are no fiddly switches to deal with. 
Adjustable LED Flashing Dog Collar
If you don't need an all-singing, all-dancing light-up collar, but just want something for your dog to wear for their evening walk around the block, then an adjustable LED flashing dog collar could fit the bill. With three different flash settings and a robust metal loop for lead attachment, and available in a range of sizes and colours, this colourful accessory should see you and your canine companion safely through the winter. 
Night Dawg Light Up Dog Lead
Featuring flashing or glowing illumination, the Night Dawg illuminated dog lead will help you and your furry friend be seen, be safe and look pretty cool to boot. Featuring 18 inches of illumination from the handle using a clever light-conductive polymer, the Night Dawg dog lead can stretch a battery out to last 150 hours of constant use and comes with a battery supplied and fitted.
---
Toys
Catch and Flash Dog Ball
If you've lost count of the number of tennis balls you've mislaid playing fetch in low light then it could be time to invest in a Catch and Flash Dog Ball. High bounce for maximum fun, this sturdy ball flashes with multi-coloured lights on impact. 
---
TOP TIP – IT'S SNOW JOKE
Snow can be disorientating and affect animals' sense of smell, so always make sure your dog's microchip is up to date and that they're wearing an ID tag in case they get lost. There may also be sharp objects, such as broken glass or rusty metal, lurking in snowdrifts, which can cause nasty injuries. Keep your dog away from frozen ponds and lakes – thin ice may break under a dog's weight. And always wipe your dog's paws after every walk – de-icing chemicals can be toxic and salt will irritate any cracks or cuts.
---
Pet tracker
Tractive GPS Pet Tracker
If your dog has a tendency to disappear among the trees or deep into the undergrowth, tracking them down in darkness can be tricky. That's where some hi-tech help can come in handy. Tractive Dog is suitable for pets 4.5kg and over and is just under 30g, with an ergonomic shape to sit comfortably on your dog's neck and easy rubber attachments for different collar widths and sizes. It has a battery life of two to five days (depending on use and mobile signal) and takes under three hours to fully recharge, The Tractive GPS DOG tracker is 100% waterproof and allows you to keep tabs on your dog's whereabouts by showing their exact location in real time with unlimited range via the free Tractive GPS app.
Please note: Items are subject to availability. Prices are a guide and subject to change.
---
If you found this interesting, you may also like:
WHAT DOES WINTER DO TO YOUR DOG'S PAWS?
Ensure your hound has happy feet by following our winter paw care guide
WISE UP TO WINTER COLDS AND FLU
If you get the sniffles this winter and your pets seem under the weather, you may wonder if cats, dogs and other pets can get coughs and colds just like humans? Our in-house vet Dr Suzanne Moyes has some seasonal advice
ARE YOUR PETS DOWN IN THE DUMPS?
The short, chilly days of winter take their toll on humans – and the same can be true for our pets. Find out how to boost the feel good factor for your four-legged friends...