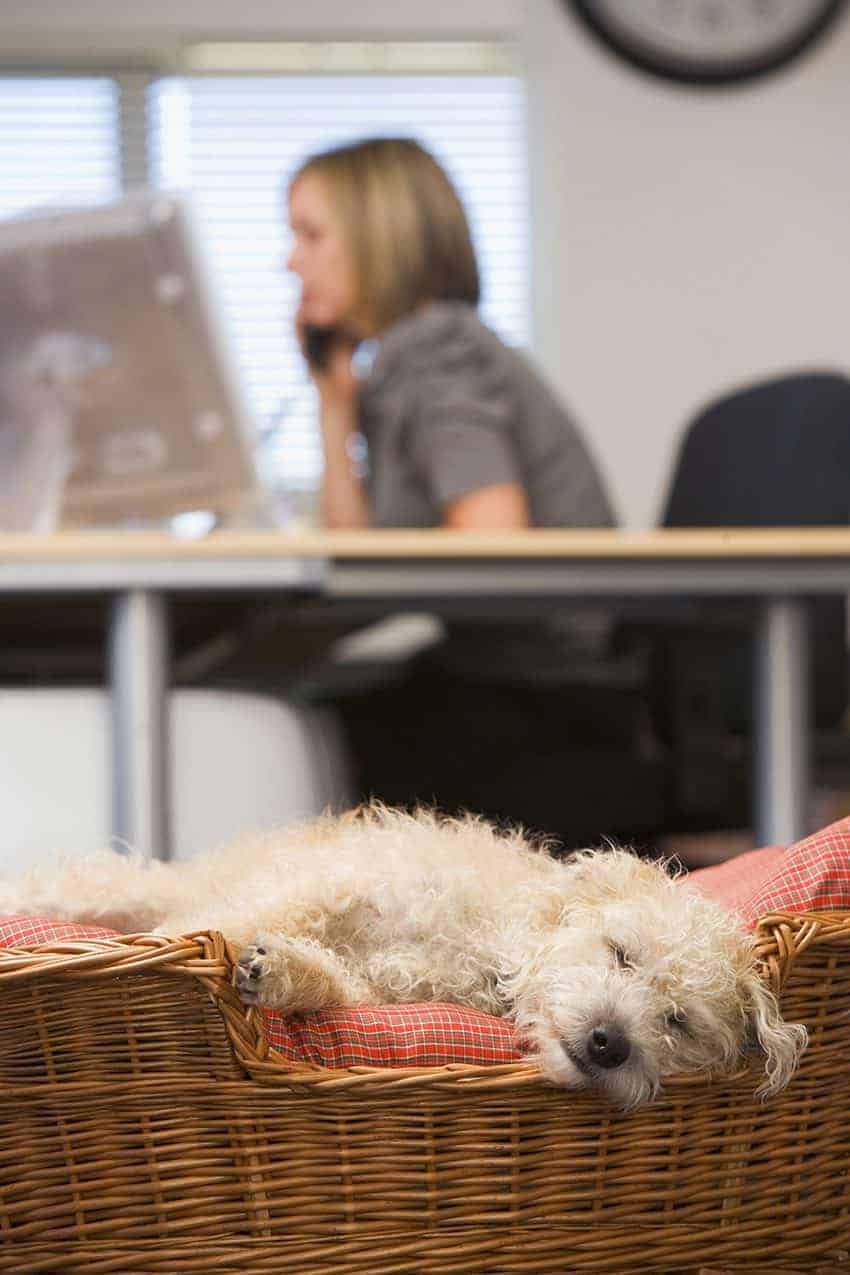 It's Bring Your Dog to Work Day!
Friday 23 June 2017 is national Bring Your Dog to Work Day, an annual nationwide event that raises money for charities dedicated to making a difference to the welfare of dogs. If your boss needs a little persuading that having a canine in the office is a good idea, then it might be worth reminding them of the benefits having a dog around the place can bring – not to mention the fact that your workplace would be in good company.
Dog-friendly organisations include Google, Ben & Jerry's, and Amazon – which even has dog biscuits available at the front desk and dog-friendly water fountains across its Seattle campus. Build-a-Bear Workshop claims that one of the reasons it has been named one of Fortune magazine's 100 Best Companies to Work For, for three consecutive years, is because of its dog-friendly workplace policy. In the UK, dogs are welcome at various businesses, including Next Model Management and Pets at Home, where 77% of colleagues in the support office own pets and the average day sees 20 canines trotting through the doors.
Good work
Dogs at work can provide a welcome boost to lots of situations. Not only are they natural stress busters – a major contributor to employee absenteeism, low morale and loss of productivity – they can also promote collaboration and team building. Central Michigan University conducted a study in 2010 which discovered that groups with a dog present as they worked together trusted their team members more. Scientists even measured that warm fuzzy feeling the study participants reported – when you pet a dog or gaze into their eyes, your body's level of oxytocin, a special 'trust hormone,' increases.
However, if you're thinking about taking your dog to the office for the day, it's vital that it works for your dog too. Does your canine companion have the right personality to be a 'dog with a job'? Here are the essential things to consider if you'd like to take your dog to work for the day.
Code of conduct
The workplace dog needs to be calm and well-mannered around both people and other dogs – a dog that is unsettled and anxious isn't only distracting for colleagues, it's a sign the animal is not happy with the arrangement.
Dress code
Make sure your canine companion is clean and fragrant, insured, up to date with his vaccinations and parasite control, and microchipped. He should also wear a collar with an ID tag.
Office supplies
Provide your dog with a comfortable area to rest with his own bed, toys and water bowl. Be prepared just in case there's an accident and take an emergency kit with poop bags, disinfectant spray, wipes, kitchen towel and an air freshener.
Rules and regulations
Arrange some simple 'dog rules' with your boss that outline where dogs are allowed and where they are not. Different employers may have different regulations. Amazon, for example, requires that the dog must remain on a lead unless he is behind a baby gate or in an office with a closed door. Be aware of colleagues that may have allergies or cynophobia – a fear of dogs.
Lunch break
Lunch is no longer a time for just sitting around at a desk with a sandwich – come rain or shine the workplace dog needs to get out in the fresh air for a comfort break and some exercise, which is also an added health benefit for humans. Why not invite some of your colleagues to come with you so they can see how much fun being a dog owner can be?
Find out more: bringyourdogtoworkday.co.uk
Dogs and workplace stress – the facts
A study by Virginia Commonwealth University, published in the International Journal of Workplace Health Management, found that dogs in the workplace may buffer the impact of stress for their owners and make the job more satisfying for those with whom they come into contact. When monitored throughout the day, average stress level scores fell by 11% among workers who had brought their dogs to work, while they increased 70% for those who did not. Principal investigator Randolph T Barker PhD (yes, really) commented: "Pet presence may serve as a low-cost, wellness intervention readily available to many organizations and may enhance organizational satisfaction and perceptions of support."
Sources: news.vcu.edu, humanesociety.org, today.com, reed.co.uk, bringyourdogtoworkday.co.uk, pets4homes.co.uk