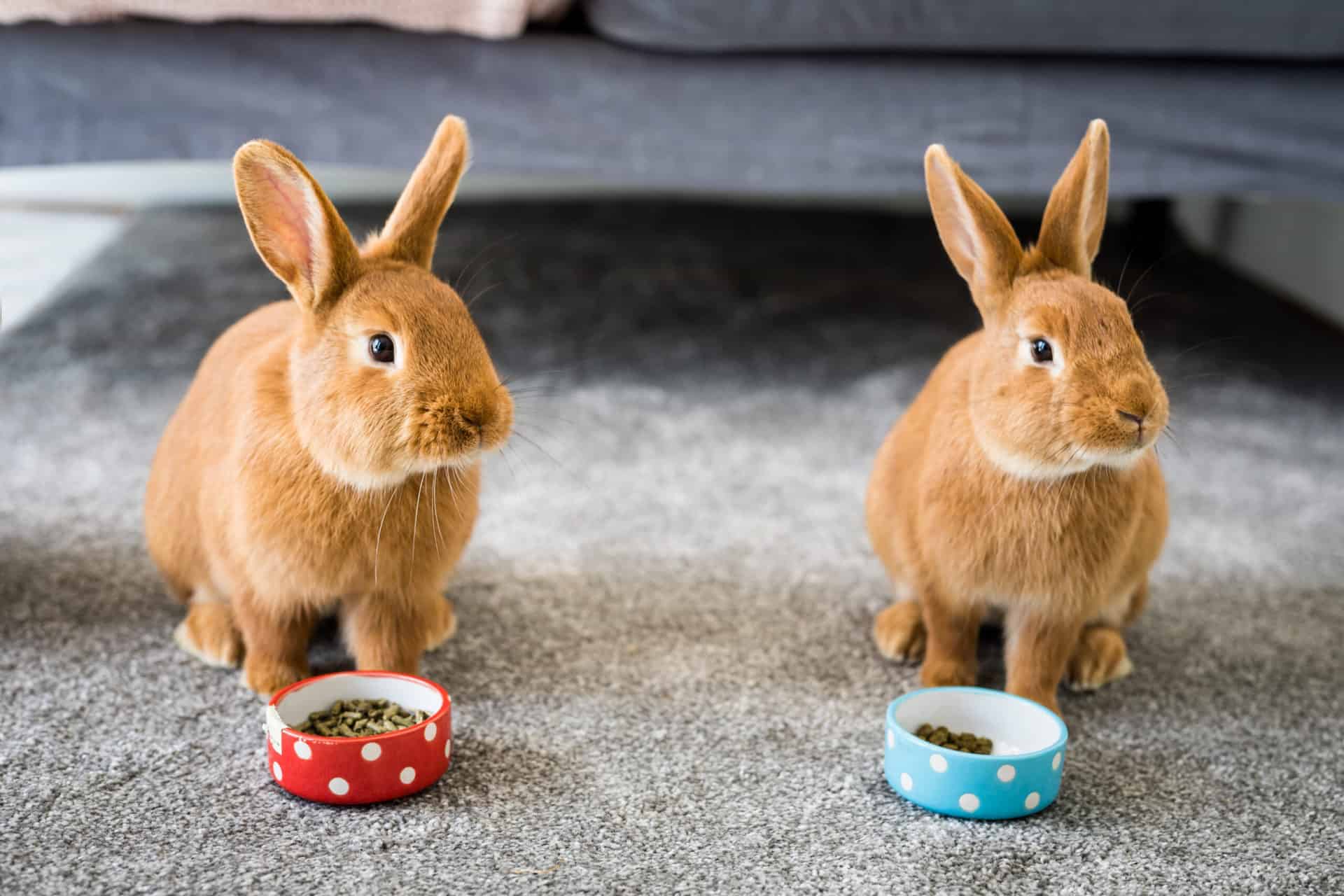 Nutritious nuggets – why they're the best choice for our small pets
Muesli-style foods may seem like a healthy option for small pets, but this is actually not the case. Find out why nuggets are the best option when it comes to feeding your small furries...
One of the most important campaigns that Burgess Pet Care has been involved in is the Move Away from Muesli initiative, which featured in a previous Rabbit Awareness Week – the annual event which aims to educate rabbit owners on all aspects of their care.
Muesli has the reputation of being a healthy, nutritious food for humans and the same approach has been used when marketing muesli-type foods for small pets. Unfortunately, the opposite is true. While pet owners may think they're buying a heallthy mix of tasty nibbles, feeding a muesli mix to small pets such as rabbits, guinea pigs and chinchillas, can result in all sorts of health problems. Research undertaken by The University of Edinburgh reveals that muesli-based diets encourage selective feeding, where small pets eat some (high starch/sugar) components of the muesli diet, while rejecting the more fibrous pellets.
---
Better for bunnies
RWAF – the Rabbit Welfare Association & Fund – says that rabbit mixes that look like muesli are popular with owners "because they look more 'interesting' as they are brightly coloured. However, they can encourage selective feeding, particularly if given in large quantities, and we don't recommend them. Pellets are bite-sized nuggets. Each mouthful is the same which helps ensure rabbits eat a balanced diet. They don't look as nice as muesli, but they are much better for your rabbits."
---
Why selective feeding is a problem
RWAF also advises: "The primary reason we don't recommend muesli-type 'rabbit mix', is because of the risk of selective feeding. If rabbits are given a large portion of muesli type food, they can select the bits they like the most and leave the rest – much like a child eating too many sweets and not wanting his dinner. This means they won't be getting all the nutrition they need. And if you keep two rabbits, it's impossible to be sure they are not each eating different bits of the mix. Two years of research at the Royal (Dick) School of Veterinary Studies linked muesli style foods to life-threatening dental and digestive problems in rabbits."
---
Know your small animal nuggets
To discourage selective feeding, the RWAF recommends a good quality pelleted or extruded feed rather than a muesli-type mix. In extruded foods, the ingredients are mixed, cooked and 'extruded' (squeezed or forced out). This means they have all the important advantages of pellets but taste nicer, and the more advanced brands contain the long-strand fibre similar to hay. Burgess Excel Nuggets for rabbits, guinea pigs and chinchillas are high in fibre and rich in nutrients, providing your pets with the very best diet.
---
For rabbits, guinea pigs and chinchillas, fibre is the most important part of their diet and is essential for their gut and dental health – and there are some rather intriguing reasons behind this >>
---
Choosing the right treats for your rabbits
It's always nice to give our much-loved pets a treat – but it's important to choose things that are good for them – and make sure we don't give them too many! RWAF says: "If we eat too many treats such as crisps or cakes then we're likely to suffer from heart problems, obesity and tooth decay. The same goes for rabbits – but they can also develop more serious problems that are quick to develop. Too many sweet and starchy treats can be very dangerous for the sensitive population of bacteria in the gut, leading to fatal digestive upsets. Stick to healthy treats, and keep them varied. For example, fresh coriander, a chunk of broccoli or a piece of mange tout will be greatly enjoyed by your rabbits. Many of the treats that are marketed for rabbits (eg milk-based yoghurt drops; sticks of sweetened cereals) should be avoided."
Burgess Excel nutritious small pet treats are baked with love and perfect for hand feeding. There are also tasty forage mixes, which are great for sprinkling through your small pets' hay to encourage their natural foraging behaviour. With no added sugar or artificial colours or flavours, they're naturally healthy too.
---
LOVE BUNNIES? For all the latest news on Rabbit Awareness Week 2022, which will be taking place between 27 June – 1 July, and to download a FREE PACK containing lots of great resources for you to share with family and friends sign up here >>
---
Follow the 5-point feeding plan for fibrevores
The best way to ensure your rabbits, guinea pigs, chinchillas and degus – which we at Burgess call 'fibrevores' because fibre is the most important part of their diet – get all the nutrition and fibre they need is by following the 5-point Excel Feeding Plan.
Good quality FEEDING HAY or FRESH GRASS should make up 85-90% of your fibrevores' diet. Burgess Excel Feeding Hays are made from dust-extracted, fresh Timothy hay, meadow hay and barn-dried grass. 100% natural, they're great sources of beneficial fibre to help maintain gut and dental health. There's also a great range to choose from so you can mix and match to see what your small furries like best – from Green Harvest Hay, the extra green, first cut meadow feeding hay, or our tasty Hedgerow Herbs variety, to classic favourites such as Hay with Dandelion and Marigold and Long Stem Feeding Hay.
Supplement this with a small portion of EXCEL NUGGETS for RABBITS, GUINEA PIGS or CHINCHILLAS, which have been specifically formulated to ensure that your small pets get all the vitamins and minerals they need.
Add the occasional EXCEL NATURE TREAT. You can feed these by hand to help with bonding and training. You can also spread them around your pets' housing to keep them occupied by encouraging their natural foraging behaviour. Bunnies will love munching on a Forage & Feast Bar with Rose, guinea pigs will have fun nibbling on Fruity Feasts, made with tasty banana and blueberry, and chinchillas will adore snacking on some Luscious Leaves, a delicious mix of dried, green leaves, or Wildflower Forage.
Plus a small handful of FRESH GREENS daily. For rabbits try broccoli, fennel, parsley and rocket. For guinea pigs, dish out half a curly kale leaf or a couple of dandelion leaves. For chinchillas, try a small cube of carrot, celery or sweet potato.
Plenty of FRESH WATER.
---
Find out what fresh foods are safe for our rabbits, guinea pigs and chinchillas to eat and what foods are harmful and should be avoided at all costs >>
---
WANT ALL BUNNIES TO HAVE THE BEST LIFE POSSIBLE? Along with the annual Rabbit Awareness Week, the Rabbit Awareness Action Group (RAAG) has now been established to ensure a greater understanding of rabbits' health and welfare requirements. RAAG is asking for all rabbit supporters to sign up to the first Good Practice Code for the Welfare of Rabbits in England. Add your voice by signing our letter >>
---
Let's get social...
Sign up to the Excel Bunny Base – a safe Facebook community for rabbit guardians that are looking for advice and friendly discussions from likeminded owners – and there are lots of cute bunny photos and videos! Also join us on Instagram.
Or why not become part of the Excel Squeak Squad on Facebook? Join Berry & Bramble, our special G-force guinea pigs, on weekly missions and fun competitions.
CARE MORE Find lots of useful advice on caring for your rabbits, guinea pigs, chinchillas, rats, hamsters, gerbils and ferrets from Burgess, the pet experts.
---
Are your small pets Burgess small pets?  Join the Burgess Pet Club for exclusive offers and rewards.
---
Did you know that 92% of UK vets recommend our Burgess Excel small pets range?
All our small pets nuggets, feeding hay and healthy treats for your rabbits, chinchillas, ferrets, rats, hamster, gerbils and guinea pigs are made using only the finest quality ingredients. For rabbits, you'll find varieties to suit buns of all ages, from junior, to mature, as well as nuggets for indoor rabbits and a light recipe for rabbits who need to slim down. For guinea pigs, as well as a choice of yummy Nuggets with Mint or Blackcurrant & Oregano, there's also a variety specially for indoor guinea pigs.
---
WHY WE'VE GOT HAY FEVER! For lots of small furries, every day should be a hay day! And not any old hay will do – always opt for high-quality feeding hay to help your small pets stay healthy and happy – and now you can Subscribe and Save 10%!
---
If you found this interesting, you may also like:
WATCH OUT FOR THESE SPRINGTIME HAZARDS If you want to avoid a pet emergency this spring, it's important to take a closer look at some springtime hazards that vets would like pet owners to be aware of.
7 TOP TIPS FOR CREATING A PET-SAFE GARDEN Your garden should be a safe place that both you and your pets can enjoy together. However, from poisonous plants and toxic chemicals to mouldy food in compost heaps, there are all sorts of potential dangers that responsible pet owners need to be aware of.
AND SO, TO SLEEP... Are hamsters nocturnal? Do guinea pigs spend more time awake or asleep? Do chinchillas sleep upside down? Do rats only come out at night? Some of our small pets' sleeping habits seem a little odd to us, but there are some very good reasons why their snoozing patterns are different to ours, which are really rather fascinating...
A BUNNY IS NOT JUST FOR EASTER It's a common misconception that rabbits are easy to care for pets that don't need much to keep them happy. In fact, nothing could be further from the truth.
RABBITS AND GUINEA PIGS – IS INDOORS OR OUTDOORS BEST? Is the outdoor life better for bunnies and guinea pigs, or will these small pets have a more enriching time if they're kept indoors?
WILD AT HEART Inside every pampered small pet is the desire to exhibit their innate, hardwired, natural behaviours which reveal their wild origins. It's the reason why bunnies want to dig and burrow, guinea pigs like to keep a watchful eye on what's going on from a safe hiding place, hamsters stuff food in their cheek pouches and chinchillas prefer to sleep hunched up. Find out more about the natural and fascinating behaviours of some of our favourite small furries.
BIG IDEAS FOR SMALL PETS As well as providing the right nutrition, suitable accommodation and company of their own kind (apart from Syrian/Golden hamsters who prefer to go solo – for other pets, same sex or neutered pairs or small groups are recommended) enrichment is just as important for our small pets. We've put together some exciting enrichment ideas to make life fun and fulfilling for your small pets...
WHY DOES MY RABBIT...? If you're a bunny lover, you'll probably have many rabbit-related questions you'd like some answers to. For example, why does my rabbit bite me? Why does my rabbit thump? Why does my rabbit nose-nudge me? Why does my rabbit chuck stuff about? Keep reading to discover a whole warren full of fascinating answers...
GUINEA PIG Q&A Are guinea pigs good pets for children? How long do guinea pigs live? What do guinea pigs like to do? What should you feed guinea pigs? How can you tell if your guinea pigs are happy? We've all the answers to these questions and more, which will help explain why these chatty little rodents deserve their status as one of the most popular pets.
CHINCHILLA Q&A With their beautiful soft fur and gentle ways, chinchillas are exceptionally appealing pets. But before you consider taking on these long-lived rodents, it's vital you find out as much as possible about these active, agile and fragile animals so you can provide them with all the things they need to live their best chin lives.
MAKING HAY-TIME PLAYTIME FOR BUNNIES Rabbits need to eat their own body size in hay every day to stay healthy. Our in-house vet Dr Suzanne Moyes advises on how to help your bunnies munch their way through their daily ration by making hay-time a fun experience.