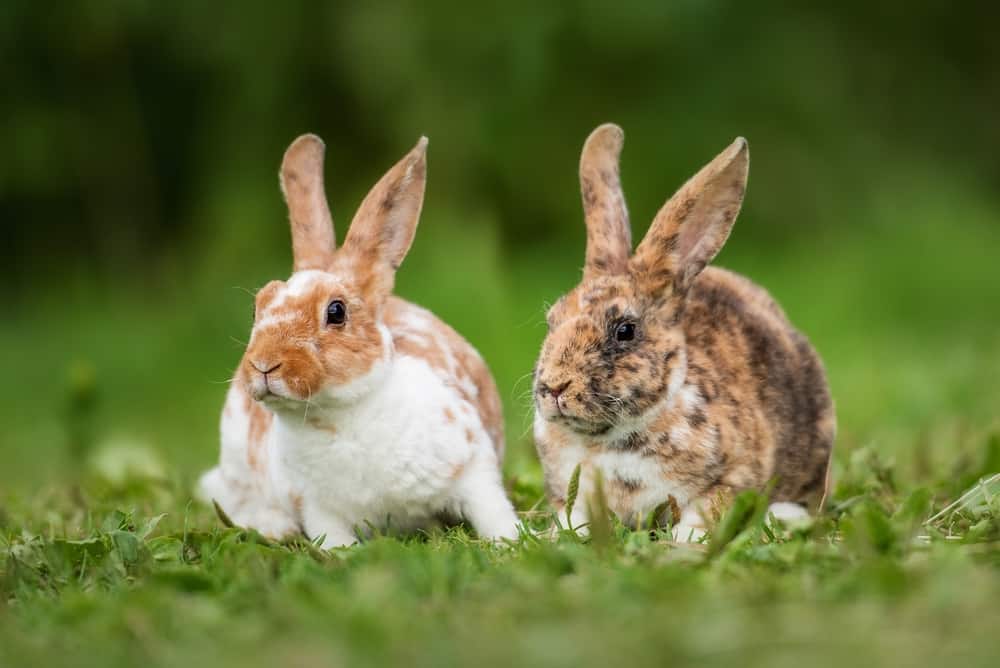 Small furries need a second chance too
As well as taking on a rescue dog or adopting a cat from an animal sanctuary, did you know that there are lots of small furries in rescue centres around the country that are looking for loving homes?
The pandemic not only saw a rise in 'lockdown puppies' – other pets have also become increasingly popular – particularly rabbits. What's more, the vast uptick in rabbit sales has sadly been amplified by a surge in new rabbit breeders, 'cashing in' to meet the demand.
Vet Times reported in March 2021 that sales of rabbits surpassed those of cats and dogs during lockdown, with an increase of 212% on the previous year. According to the data, which is based on a sample of more than 80,000 pet insurance policies, this figure far exceeds the increases seen in puppies (55%) or kittens (58%), during the preceding 12 months.
And, while many people still believe that rabbits are cheap and easy to care for, once they've taken them on as pets, they find the reality is very different. Animal welfare charity PDSA estimates that the average monthly cost for a pair of rabbits is £70, which tots up to at least £6,500 - £9,000 over their lifetimes.
---
Abandoned and unwanted
The UK's largest rabbit welfare charity, The Rabbit Welfare Association & Fund (RWAF), states that misinformation and misunderstanding over the complexity and cost of rabbit care is one of the primary reasons why thousands of rabbits are abandoned each year.
Bristol Rabbit Rescue had a total of 34 requests to surrender rabbits in October 2021 compared to the previous October, showing a percentage increase of 262% in unwanted pet rabbits. Wendy Lloyd of the charity reveals that "we had 24 requests in one day alone. We are a small rescue and are getting requests almost daily."
Cinzia Delegate, Co-Founder of Little Furries Rabbit Rescue in Stanmore, North London, adds: "The number of stray and dumped rabbits is the worst we have ever experienced. It is out of control and unmanageable. Sadly, we feel the recent pet sales have contributed to the spiralling effect of the situation, an influx of unwanted rabbits being discarded on the streets or through any means possible through social and sales channels."
---
It's a common misconception that rabbits are easy to care for and don't need much to keep them happy. In fact, nothing could be further from the truth >>
---
The rise of unregulated rabbit breeders and the spike in abandoned pet rabbits is of great concern to RWAF and rescue centres nationwide, especially as inadequate housing continues to be sold and incorrect care advice given. There's also the issue of raising the profile of rescue pets, such as rabbits, to champion them as being a better choice than buying from pet stores or online from unscrupulous breeders.
"There is a misconception that rescue rabbits are 'damaged goods', and so new owners prefer to get new rabbits from shops and breeders, but this simply isn't true," says Rae Walters, Director of RWAF. "Rescue rabbits are not damaged – most have been simply abandoned and are in need of a loving home. The issue is the constant supply on demand for 'new rabbits', so rabbit breeders will continue to breed rabbits like it's going out of fashion, intensifying the problem just to line their pockets with zero concern for animal welfare."
---
LOVE BUNNIES? For all the latest news on Rabbit Awareness Week 2022, which will be taking place between 27 June – 1 July, and to download a FREE PACK containing lots of great resources for you to share with family and friends sign up here >>
---
Adopt don't shop
RWAF's Adopt Don't Shop campaign urges anyone who is serious about wanting pet rabbits to adopt from a rabbit rescue charity to help prevent this supply on demand, resolve overcrowding in rescue centres, and give abandoned a second chance at a happy life.
The welfare charity also urges people to do their research first to make sure they understand the five fundamental rabbit welfare requirements and establish if these very special pets are not only right for them, but they themselves are right for rabbits too.
---
Rabbits have long been considered as the perfect pets for kids. However, rabbits have a range of needs that are beyond the capability of young children, and the person responsible for their health and wellbeing should always be an adult. Find out if you're ready for rabbits >>
---
Ensuring the welfare of animals is protected by law, under the Animal Welfare Act 2006, which sets out 5 basic welfare needs:
---
Find your perfect small pet match
And it's not just rabbits who are in need of loving forever homes, charities such as Wood Green, RSPCA, Blue Cross and local rescue groups have all sorts of small pets looking for a second chance – from rabbits to guinea pigs, ferrets, mice, hamsters, rats, gerbils, chinchillas and degus.
What's more, the benefits of rescuing a small animal are just like those for dogs and cats. Rescue centres will go out of their way to match you with just the right sort of small furry friend. RSPCA states: "What's important is matching you, and your family, with the right animal, which will be based on their needs, and yours. Rehoming a pet is all about ensuring you're matched with the perfect pet for you, so that you and your new pet can have a fantastic life together."
Plus, rescue charities will provide you with lots of support to help you become a five-star small pet owner. For example, Wood Green provides free, expert pet advice on the phone and online, plus workshops, classes, outreach support and more. The charity states: "We have the expertise to give each pet the support they need, both physically and emotionally, paving the way to their forever home.
If you adopt a pet from Blue Cross, not only will you be giving an abandoned or unwanted animal the chance of a happy future, but you'll also find there are other benefits too. All animals that come to Blue Cross are fully assessed and are:
Vaccinated, microchipped, wormed and neutered (if suitable – not all species are neutered)
Examined by a vet and treated as needed
Given a tailor-made training plan depending on their needs
The charity states: "We'll work hard to find a pet that's the right match for you and your lifestyle so that you have a happy future together. Our tailor-made rehoming looks at each case individually to help you find the right pet. We don't have any fixed rules about what makes the perfect home because we know every pet and their needs are different. When you take your new pet home, that's not the end of the journey for us. We offer you ongoing advice when you need some support."
---
WANT ALL BUNNIES TO HAVE THE BEST LIFE POSSIBLE? Along with the annual Rabbit Awareness Week, the Rabbit Awareness Action Group (RAAG) has now been established to ensure a greater understanding of rabbits' health and welfare requirements. RAAG is asking for all rabbit supporters to sign up to the first Good Practice Code for the Welfare of Rabbits in England. Add your voice by signing our letter >>
---
Let's get social...
Sign up to the Excel Bunny Base – a safe Facebook community for rabbit guardians that are looking for advice and friendly discussions from likeminded owners – and there are lots of cute bunny photos and videos! Also join us on Instagram.
Or why not become part of the Excel Squeak Squad on Facebook? Join Berry & Bramble, our special G-force guinea pigs, on weekly missions and fun competitions.
CARE MORE Find lots of useful advice on caring for your rabbits, guinea pigs, chinchillas, rats, hamsters, gerbils and ferrets from Burgess, the pet experts.
---
Are your small pets Burgess small pets?  Join the Burgess Pet Club for exclusive offers and rewards.
---
Did you know that 92% of UK vets recommend our Burgess Excel small pets range?
All our small pets nuggets, feeding hay and healthy treats for your rabbits, chinchillas, ferrets, rats, hamster, gerbils and guinea pigs are made using only the finest quality ingredients. For rabbits, you'll find varieties to suit buns of all ages, from junior, to mature, as well as nuggets for indoor rabbits and a light recipe for rabbits who need to slim down. For guinea pigs, as well as a choice of yummy Nuggets with Mint or Blackcurrant & Oregano, there's also a variety specially for indoor guinea pigs.
---
If you found this interesting, you may also like:
HURRAH FOR RODENTS! BUT WHICH SMALL PET IS RIGHT FOR YOU? Before you take the plunge into the fascinating world of small furries, it's essential to think about how the relationship is going to work. For example – do you want a pet that enjoys being handled? Do you want a pet that's awake during the day? Do you want a pet who'll enjoy learning tricks? Find out as much as you can, and you'll be well on the way to creating the perfect small pet partnership.
GUINEA PIG Q&A Are guinea pigs good pets for children? How long do guinea pigs live? What do guinea pigs like to do? What should you feed guinea pigs? How can you tell if your guinea pigs are happy? We've all the answers to these questions and more, which will help explain why these chatty little rodents deserve their status as one of the most popular pets.
JOIN THE RAT PACK The thought of rats as pets may not be everyone's cup of cocoa, yet these clean, clever creatures possess lots of loveable qualities and make superstar animal companions…
NOT ALL HAMSTERS ARE THE SAME Did you know that there are five main types of hamster that are kept as pets in the UK? Each has their own distinct personality and, contrary to popular belief, not all hamsters hanker after solo living.
ASTONISHING GERBIL FACTS Find out everything you've ever wanted to know about these friendly, curious, tunnelling experts who, despite their small size, are simply bursting with character...
DEGU Q&A Where do degus come from? When did they first become pets? What do degus eat? How sociable are degus? What do degus like to do? We've all the degu details you need to help you become the perfect pet parent to these intelligent, curious, and endearingly entertaining members of your family.
WHY MICE ARE REALLY RATHER NICE Pet mice are epic explorers and there's hours of fun to be had watching them as they nimbly scale ropes, pause and scent the air, nibble on tasty treats that they hold delicately in their front paws and dash recklessly through tunnels.
CHINCHILLA Q&A With their beautiful soft fur and gentle ways, chinchillas are exceptionally appealing pets. But before you consider taking on these long-lived rodents, it's vital you find out as much as possible about these active, agile and fragile animals so you can provide them with all the things they need to live their best chin lives.
FERRETS AS PETS – TAKE A FASCINATING GLIMPSE INTO THE WORLD OF SLINKY WRIGGLERS Ever wondered what ferrets like to do best? Want to find out more about their behaviour, habits, how they communicate as well as what ferrets eat? 
WATCH OUT FOR THESE SPRINGTIME HAZARDS If you want to avoid a pet emergency this spring, it's important to take a closer look at some springtime hazards that vets would like pet owners to be aware of.
7 TOP TIPS FOR CREATING A PET-SAFE GARDEN Your garden should be a safe place that both you and your pets can enjoy together. However, from poisonous plants and toxic chemicals to mouldy food in compost heaps, there are all sorts of potential dangers that responsible pet owners need to be aware of.
AND SO, TO SLEEP... Are hamsters nocturnal? Do guinea pigs spend more time awake or asleep? Do chinchillas sleep upside down? Do rats only come out at night? Some of our small pets' sleeping habits seem a little odd to us, but there are some very good reasons why their snoozing patterns are different to ours, which are really rather fascinating...
RABBITS AND GUINEA PIGS – IS INDOORS OR OUTDOORS BEST? Is the outdoor life better for bunnies and guinea pigs, or will these small pets have a more enriching time if they're kept indoors?
WILD AT HEART Inside every pampered small pet is the desire to exhibit their innate, hardwired, natural behaviours which reveal their wild origins. It's the reason why bunnies want to dig and burrow, guinea pigs like to keep a watchful eye on what's going on from a safe hiding place, hamsters stuff food in their cheek pouches and chinchillas prefer to sleep hunched up. Find out more about the natural and fascinating behaviours of some of our favourite small furries.
BIG IDEAS FOR SMALL PETS As well as providing the right nutrition, suitable accommodation and company of their own kind (apart from Syrian/Golden hamsters who prefer to go solo – for other pets, same sex or neutered pairs or small groups are recommended) enrichment is just as important for our small pets. We've put together some exciting enrichment ideas to make life fun and fulfilling for your small pets...