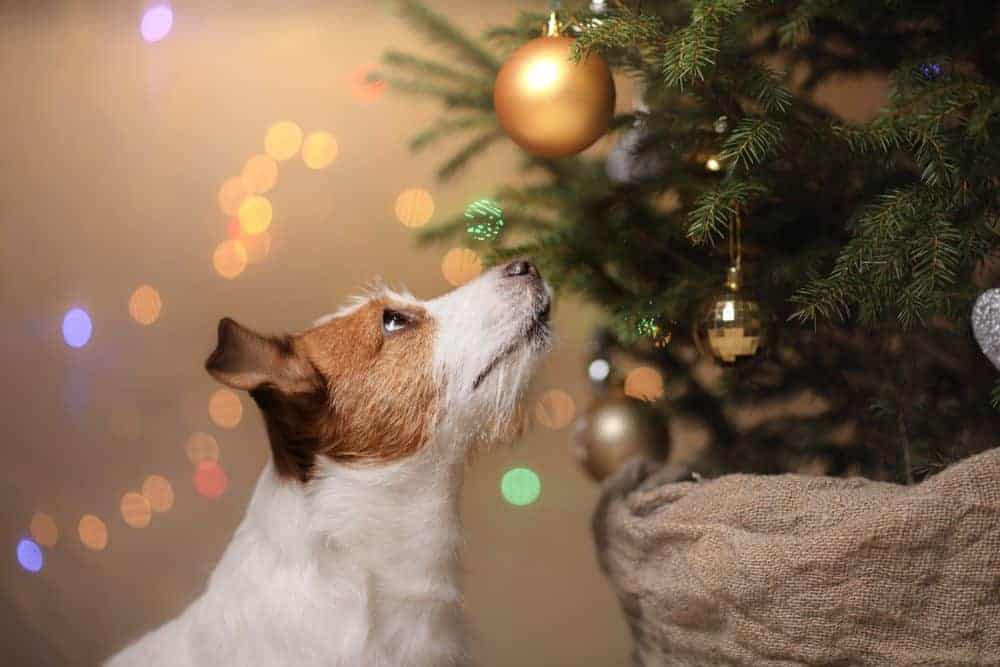 All I want for Christmas is…
For your canine chum
Plubber Stick
Dogs love to chase and carry sticks – but this is not something to be encouraged as shards of splintery wood can cause all sorts of nasty injuries. A much better alternative is the Plubber Stick – a durable toss and fetch toy with a plush outer and rubber inner, designed in the shape of a stick – for hours of safe fetch and carry fun.
Retreat Eco-Wellness Dog Duvet Bed
For the ultimate in dog sleeping spots, doesn't your canine companion deserve this award-winning, Danish-designed dog slumber bed? It comprises a sustainable dog duvet in a stylish feather print design, filled with 100% recycled memory foam to mould to your dog. The memory foam offers optimum comfort for elderly or infirm dogs but can help any dogs who may need extra support, including larger breeds or those with joint problems. 
---
For your favourite feline
Tune Chaser Mouse
With a motion activated sound chip that reacts to the slightest touch, this catnip-infused mouse toy is designed to satisfy your cat's natural stalk and pounce instincts and will keep them endlessly entertained.
Radiator Bed
Sun-loving cats are experts at seeking out warm spots for endless cat naps – in fact, felines spend around two-thirds of every day sleeping. During the winter, why not provide them with their own special snug space with a Radiator Bed? Designed to fit standard radiators, it provides your cat with the purrfect place to perch and snooze, while observing the household's comings and goings in ultimate cosy comfort.
---
For your bestest bunnies
Rabbit hay feeder
Burgess in-house vet, Dr Suzanne Moyes, advises: "Around 85-90% of a rabbit's diet should be high quality feeding hay and grass – that's equal to their own body size in hay every day!" Ensure your bunnies enjoy their tasty hay in style with this hand-stitched clip on hay bag. Simply fill with hay using the top opening and your buns can enjoy pulling it out and munching it to their hearts' content. 
Trixie Snack Cube
Rabbits are smart little animals who enjoy a bit of a challenge – so why not stimulate those inquisitive bunny brains with the Trixie Snack Cube feeding game? This wooden game contains three cubes in a holder that you can fill with your small pet's favourite snack. A sisal rope is attached to the cubes, which your pets can use to pull the cubes from the holder, thereby getting their paws on the tasty goodies inside. Won't your bunnies feel proud of themselves!
Price: £10.02
Available from Amazon
---
For your gorgeous guinea pigs
Guinea Pig Pigloo 
Every piggy deserves a Pigloo! Pigloos are a great place for your guinea pigs to snuggle and snooze while feeling safe, warm and comfortable. Handmade in the UK, each Pigloo is made from a durable cotton outer, a layer of wadding and a hard-wearing fleece inner. Concealed boning is used around the entrance to ensure that it remains open during use. They're roomy enough for two who like to share, but you might like to get one for each of your piggies to enjoy some individual cosy 'me' time.
Happy Pet Willow Tube
As prey animals, guinea pigs naturally run for cover and like to observe the world from a safe hiding place while munching on some hay. So how about a Willow Tube or two to dart into? Made from 100% natural materials, it'll be your piggies' go-to place, until they've chewed it all up!
---
For your fun-loving ferrets
Treat Ball
Ferrets love to play – especially when there are yummy treats involved. Combine both with this interactive treat dispenser. Simply place some of your ferrets' favourite nuggets inside, adjust the dispenser opening so that the goodies are dispensed as the ball tumbles around.
Coco Rosie Harness Set
If your ferrets enjoy going for a walk with you, then you need a failsafe harness that will stop even the most expert escapologists from wriggling loose. As well as being undeniably stylish, the Coco Rosie Harness Set is specially designed to fit the unique anatomy of your ferrets (available in Petite or Medium/Large) and is made from nylon webbing with quick release clips for easy on and off action and even has a small bell.
---
For your loyal rat pack
Play Tunnel
This supersize Play Tunnel is made from crinkly fabric wrapped around a collapsible wireframe – and is just waiting for your rats to run through. It's also machine washable and even folds flat for storage. 
Log Burrow
The Log Burrow is the perfect place for a rat nap – as well as a bit of gnawing action to keep those teeth in tip-top condition. Place this hideaway in your pets' home with a few tempting nuggets leading the way to it and watch them nibble it and make a cosy little den inside.
---
For your chilled-out chinchillas or devoted degus
Chew Pack
Degus and chinchillas both love to chew and carry stuff, so what better present than a luxury chew pack? Made from natural, untreated wood, coir and seagrass, there's a selection of interesting items to investigate including balls, wreaths, stars and sticks.
Bolted Bead Bridge
Curious chinchillas and agile degus love to climb, so why not add a chunky hazel and pine bridge to their accommodation? Dot a few treats along it to encourage them to try it out. As well as a great way to maximise space for your pets to explore in their cage space, this accessory – which can be safely bolted on – is also good to gnaw on.
---
For your happy hamsters, mischievous mice or genial gerbils
Woodlands Pickles Cottage
This small, wooden home is ideal for house-proud hamsters, mice and gerbils and is a great addition to your small pets' environment. As well as a cosy place to sleep, it's a super den to hide and store tasty treats. As it's made from natural wood, this little cottage is perfect to nibble on – allowing your pets to make their mark on their new home – as well as keeping those ever-growing rodent teeth in good shape.
Small Pet Hammock
When you've had a busy time foraging and playing and it's time for a nap, how about 40 winks in your very own hammock? Handmade in soft material on one side and plain calico on the other, each one is unique. How could your small pets resist a snooze in one of these?
Price £3.59
Available from Etsy
Please note: Items are subject to availability. Prices are a guide and subject to change.
---
If you found this interesting, you may also like:
HOW TO TELL IF YOU HAVE A HAPPY PET
Wheek-wheeking, bruxing, dooking, chirping, binkying, popcorning – there are all sorts of ways our pets tell us they're feeling good, once you know what to look for...
ARE YOUR PETS DOWN IN THE DUMPS?
The short, chilly days of winter take their toll on humans – and the same can be true for our pets. Find out how to boost the feelgood factor for your four-legged friends...
WISE UP TO WINTER COLDS AND FLU
During the winter, it's not only us humans that can feel a little under par, thanks to the range of seasonal cold and flu viruses that do the rounds. Our pets can also be susceptible to a range of unpleasant illnesses and infections