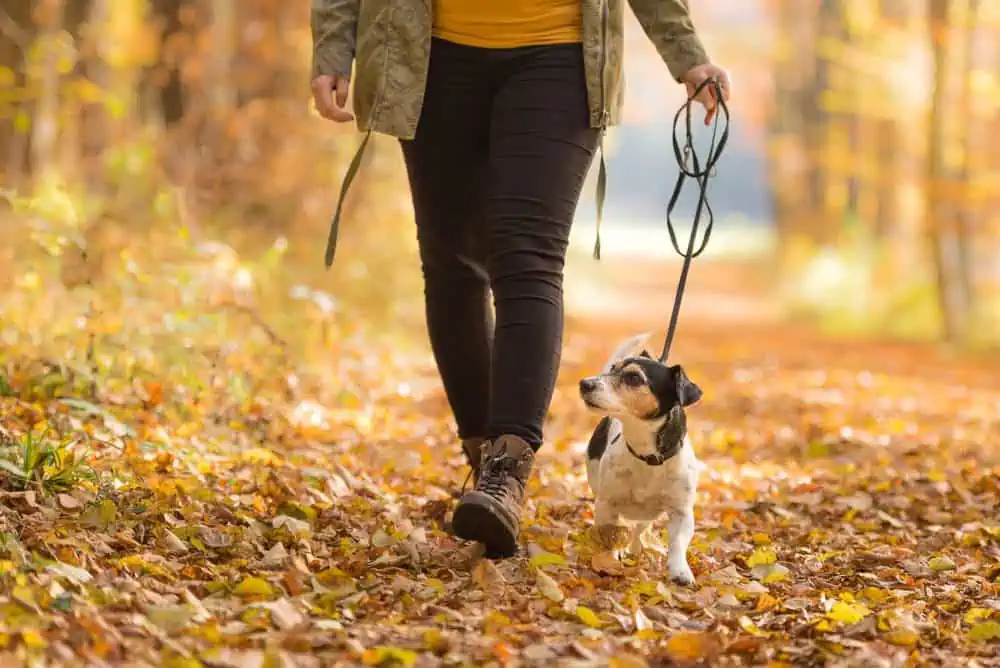 How much exercise does your dog actually need?
Not getting enough exercise is a real problem for dogs. Not only can a lack of walkies cause health issues, such as obesity, it can also lead to behavioural problems. Under-exercised canines can show their frustration by chewing, over grooming, excessive barking or even toileting in the house. 
---
DID YOU KNOW?
The 2019 PDSA Animal Wellbeing (PAW) report revealed that 1.3 million dogs in the UK aren't walked every day
---
While all dogs need daily exercise, how much depends on their breed, age, health and even their personality. This is also something that requires some serious consideration if you're thinking about adding four paws and a waggy tail to your family. Could you manage to fit in two or more hours a day of exercise that a Golden Retriever, Border Collie or Springer Spaniel requires? Would your lifestyle be more suited to a breed that's comfortable with 30 minutes a day – such as a Miniature Dachshund, King Charles Spaniel or Pomeranian? 
Also bear in mind that even dogs of the same breed may have different requirements – one dog might enjoy endless country walks, while another prefers playing games in the park. 
As a guide, animal charity PDSA has created a chart which outlines the minimum recommended amounts for different breeds. Here are some of the highlights:
---
The endurance athletes – 2 hours + per day
Alaskan Malamute
Border Collie
Boxer
Dalmatian
English Springer Spaniel
German Shepherd
Golden Retriever
Labrador Retriever 
Samoyed
Siberian Husky
Weimaraner
---
The mid-range specialists – 1 hour + per day
Bassett Hound
Border Terrier
Bull Terrier
Cairn Terrier
Cocker Spaniel
Dogue de Bordeaux
English Bulldog
Lhasa Apso
Miniature/Toy Poodle
Miniature Schnauzer
Pug
Saint Bernard
Shetland Sheepdog
Shih Tzu
Staffordshire Bull Terrier
Tibetan Terrier
West Highland Terrier
Whippet
---
The gentle joggers – 30 minutes + per day
Bichon Frise
Chihuahua
King Charles Spaniel
Maltese
Miniature Dachshund
Miniature Pinscher
Papillion
Pekingese
Pomeranian
Yorkshire Terrier
---
The PDSA also has some top exercise tips:
You don't have to do it all in one go, in fact it's better to split activity time into several shorter sessions over the day.
 
Vary your route to keep your walks interesting and exciting.
 
As well as at least one walk daily, also mix in plenty of playtime and training into your dog's regular routine.
 
Don't rush your dog on walks and always allow them to stop and have a good sniff around – this is important for their mental health. Find out why having a good sniff is super important to your canine pal – and how it can even help address behaviour issues and improve recall here
 
Dogs should also be able to spend some off-lead time in a secure area. If this is your garden, make sure it's a good size for your breed (large breeds need big gardens) and is dog-proof.
 
Don't throw sticks for your dog to chase – they can splinter and injure your dog's mouth and throat.
 
If you throw a ball, make sure it's not small enough for your dog to swallow.
 
Always make sure your dog is wearing a collar and tag and that their microchip details are up to date.
 
Don't forget to take some poop bags and a selection of treats with you. Treats are very handy for recall, reassurance or distraction if your dog is upset by something while you're out.
Burgess in-house vet, Dr Suzanne Moyes, advises: "Throughout their life, dogs need different amounts of exercise. A puppy won't be able to do a two-hour walk and, as your dog ages, you'll find they may not be able to keep up with you as they once did. If your canine companion is still full of energy when you get home, it's a good indication that they need more exercise. Dogs that struggle on walks or aren't keen to go out may require less – or it could be that there's an underlying health issue to needs to be addressed. The best idea is to always check with your vet that your exercise routine is suitable for your dog."
---
If you found this interesting, you may also like:
ARE YOU AND YOUR DOG GOOD SPORTS?
From Muddy Dog obstacle races to Flyball, Canicross and even Competitive Obedience – there are all sorts of canine-human activities to suit all sorts of dogs – and their owners of course…
IS TOO MUCH BALL THROWING STRESSING OUT YOUR DOG?
A game of fetch with a favourite ball is a much-enjoyed pastime for many canines and can be a great way to ensure they are getting plenty of exercise. But, could too much ball chasing and catching be a bad thing?
IS TAKING YOUR DOG FOR A WALK A TUG OF WAR?
Pulling on the lead is a behaviour that many dog owners grapple with on a daily basis. But with training, patience and plenty of encouragement, every dog can learn to walk nicely on the lead
BRUSH UP ON YOUR DOG PARK ETIQUETTE
Fun in the park means good times for groups of sociable dogs. However, like any social activity, it's important to know the basic rules of etiquette to ensure everyone stays safe and has an enjoyable experience
ARE BALL FLINGERS BAD NEWS FOR DOGS?
Canine arthritis expert believes that continually running after a ball thrown by a flinger can cause long-term health problems
TAILOR YOUR TRAINING TO YOUR DOG'S PERSONALITY
When it comes to teaching your dog new stuff, it's never a case of one size fits all. Canine behaviour experts agree that tailoring your approach by understanding the way your dog learns is key to success
HOW TO TEACH YOUR DOG THAT IT'S CHILL OUT TIME
Are you struggling to find your dog's off button? While some canines are natural couch potatoes, others need a little encouragement to learn to settle down and be calm. Our expert step-by-step training plan can help