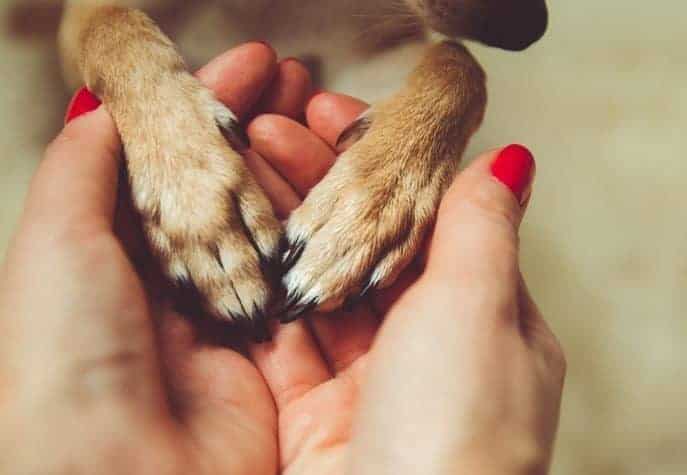 Love is in the air this Valentine's Day
February is not just about Valentine's Day – it's also the month when animal fans celebrate National Love Your Pet Day – which are two great reasons to show your pets just how much you love them...
As well as treating your pets to their very own Valentine's Day gifts on 14 February (more of that below), in honour of Love Your Pet Day, why not take some time to learn more your furry companions to help them live their happiest, healthiest lives? After all, our pets give so much to us – and, recently, we've needed their companionship more than ever. During the global pandemic, pet animals have provided invaluable support to their human guardians.
"Many people have turned to their pets for support," says Dr Rebekah Fox from Warwick's Department of Sociology. "A recent survey by the Waltham foundation found that 86% of respondents felt they had bonded more with their animals since being in lockdown, whilst 60% thought their pet had helped them maintain a regular routine and 43% said that their animal had reduced their anxiety. This positive effect may be especially important for people living alone or shielding. For those working from home, 58% said that their companion animal had boosted their productivity and motivation, whilst 12% revealed they spoke to their pet about their workload or colleagues."
Pets are part of the family
Dr Fox also points to the fact that pet animals have become an increasingly important part of everyday human identities and lives in recent years. She reveals: "Over 41% of UK households own at least one pet and there are now over nine million dogs and more than seven million cats living in the UK. Ownership has doubled since the 1960s. Studies show that during the late 20th and early 21st centuries our attitudes towards pet animals have also changed. New forms of post-modern relationships have emerged that have transformed 'pets' into 'companion animals' and 'owners' into 'caretakers'. Companion animals are increasingly integrated in the home, with many people regarding them as established members of the family."
---
Get involved in #nationalloveyourpetday  
On 20 February (and every day) show your pets how much you appreciate them. Bring them a special treat, take them on an extra-long walk or give them more attention. Other ideas include:
Check that their vaccinations are up to date.


Give them a few extra strokes with the brush while grooming.


Play their favourite game or bring out their best toy.


Inspect their toys to make sure they're in good shape. Throw out any broken toys.


Wash or change their bedding, even if it's not their laundry day. Let them fluff it up just the way they like it.


Whatever you decide to do, spoil and appreciate your pets!


Look out for #nationalloveyourpetday on social media.
---
Genevieve Rajewski, senior writer at Tufts University, USA, and editor of Cummings Veterinary Medicine, says: "Pets are serving as our companions in coping, from suburban kitties taking over 'office' chairs and keyboards to rural dogs hunkering down at home." This instinct to turn to our pets during the current pandemic is supported by science, adds Megan Mueller, co-director of Tufts Institute for Human-Animal Interaction and a researcher studying how pets help people. She states: "Pets provide non-judgmental emotional support and studies show that contact with pets help reduces stress and anxiety, particularly when you are experiencing a stressful situation. Research also has shown that animals help older adults cope better with social isolation—that is, being physically separated from others—and with loneliness."
---
Doing our very best for our pets
As our companion animals do so much for us, it makes perfect sense that we should make sure we're doing all we can to help them live happy, healthy lives. Here are just a few ideas:
Re-evaluate your pets' feeding plan
For dogs and cats, life stage foods can play an important role in helping them maintain good health throughout different stages of their life. Recipes are nutritionally balanced to meet specific needs – for example, puppies require a little more protein to support their growing muscles. Older dogs benefit from added glucosamine for optimal joint mobility. Neutered cats require fewer calories, as their body has less work to do. So, as your pet goes through life, take time to check they're getting the most suitable nutrition. 
Small pets should always be given food that's specially formulated for them. Never feed rabbit pellets to guinea pigs as piggies require food that's high in Vitamin C as they don't have the ability to make their own. Rats need a range of essential amino acids, fatty acids, vitamins and minerals from their diet that they cannot produce themselves – food designed for guinea pigs or hamsters won't meet rats' nutritional needs. For rabbits and guinea pigs, high quality feeding hay should form the bulk of their diet. If you have small pets, It's well worth checking out the Burgess Excel Feeding Plan. This is a simple five-step guide to help owners understand the high levels of beneficial fibre required by small animals to maintain dental, digestive and emotional health using a combination of feeding hay, nuggets, snacks, fresh greens and fresh water.
Could your pets' environment do with a makeover?
Do your pets have accommodation and resources that provides them with everything they need? For dogs, that means a comfy bed in a quiet space that's all their own. For cats, this means scratching posts and places up high where they can perch and observe the world. For small pets, it means plenty of space to exercise in, toys and tunnels to explore and snug sleeping areas. Research ways you can add a few home improvements so that your pets have more opportunities to exhibit their natural behaviours. 
For example, hamsters will love a multi-level cage with different platforms to explore and wire sides to allow them to climb around the bars. Chinchillas will enjoy having lots of shelves at different heights to provide climbing and jumping opportunities and a shallow 'bath' filled with chinchilla dust, which they'll use to keep their fur clean. Degus love to dig – it's a powerful, natural instinct for them and also great exercise – so supply a deep layer of bedding on their cage floor for them to tunnel into.
The more you find out about your pets the more fun it becomes thinking of ways to enrich their lives. You can find lots of useful advice and helpful tips on the Burgess blog. 
Make a regular grooming date
Not only does daily or weekly grooming keep your pets looking their best, it's also a brilliant opportunity to give them some special one-on-one attention and build your bond with them. Dogs and cats, of course, love attention from their human – but so do small pets. Regular grooming sessions with rabbits, guinea pigs, chinchillas  and ferrets helps them to build up trust in you. It's also a really good way to keep check of their health – taking a close look at coat, skin, ears, eyes, mouth and feet will help you spot if there's anything out of the ordinary that needs attention outside of your normal vet check appointments.
Brush up on your understanding of how animals communicate
While dogs may be the easiest pets to read, there are still postures and expressions that we humans sometimes get wrong. Cats, while notoriously poker-faced, give lots away via their body language. Small pets have lots of different ways of showing if they're happy, sad or scared. Learning about body language and vocalisations will open up a whole new world. After all, if you love your pets, wouldn't it be great to recognise when they're showing you that they love you back?
---
Heart to heart – perfect presents for best-loved pets
You know your pets best and what makes them especially happy, but here are a few Valentine's Day gift ideas to help you along...
For your fussy feline
For cats who love batting a ball around, this Catit Rolling Treat Ball will be a hit. Simply fill with dry food and watch the paw-patting fun begin.
For your bunny chums
How about some super cute Hay Bags, handmade from cotton in a range of patterns. Simply hang up so your buns can stretch and reach for some tasty long-stem feeding hay in style.
For your gorgeous guinea pigs
Treat your piggies to a HayPigs Circus Set, which includes a tilting tunnel, hay hopper, fleece hidey hut and much more!
For your frisky ferrets
How about a Red Octopus in the Stars toy? Made from cotton and fleece, there are five sleeves to run and wriggle through – two which rustle – plus the head makes for a great snoozing spot.
For your loyal and loving rats
Curious rats can explore in comfort in this Bounce Back Tunnel, handcrafted in fleece and fabric. The bounce back support means the tunnel always keeps its shape, even after it's been investigated by your rat pack, who will likely stop inside for a nap.
For your chilled-out chinchillas or dearest degus
Both chins and degus love shredding stuff, so stock up on Coconut Leaf Twists and Banana Leaf Balls wrapped in seagrass string. 
For your happy hamsters, mischievous mice or jolly gerbils
Some Mini Stars scattered around will provide some chewing fun for tiny pets, which are great for their teeth as well as adding enrichment. The smallest furries will also love a Chew Chew Box, which features a mixed selection including apple sticks, millet and a mixed seeds hanging treat. 
---
Is your pet a Burgess pet? Join the Burgess Pet Club for exclusive offers and rewards.
---
If you found this interesting, you may also like:
MY FURRY VALENTINE Dogs, cats, bunnies, guinea pigs, ferrets, chinchillas, gerbils, degus, hamsters or rats – whatever the size or the species, if you have a furry friend in your life, you know exactly how they can steal your heart. But why is this the case? Why do we unconditionally love creatures that need walking, feeding, grooming and cleaning out – and who don't even speak the same language as us?
YOU'RE MY BEST FRIEND Recent research has revealed that half of the UK sees their dog as their best friend, rather than a pet, which probably comes as no surprise to many a devoted dog owner...
WHY SOME CATS AREN'T CUDDLY Some cats love to sit in a comfy lap for hours on end, but others shy away from too much physical contact. The reason for this behaviour lies in their solitary and independent nature, but it doesn't mean they don't love us…
WHY PETS ARE SO GOOD FOR OUR MENTAL WELLBEING
The unconditional love and companionships pet animals provide can be a lifeline for people contending with mental health issues...
Sources: https://warwick.ac.uk, https://now.tufts.edu/