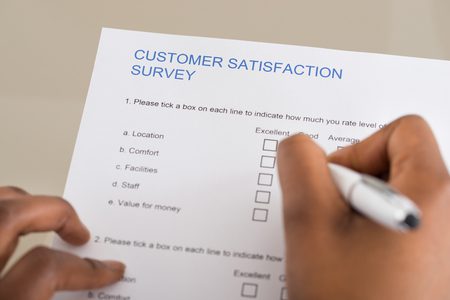 Client surveys – do you know what to ask?
What is a Client Satisfaction Survey?
A Client Satisfaction Survey is a carefully designed tool for measuring your clients' satisfaction with their experiences at your practice. It will help you retain clients and encourage them to tell others.
All good businesses will take the time to find out from their customers and clients if they are getting the service they expect. They can be excellent tools, but only if they're been thought through and carefully produced.
6 ways a survey can help
Help you improve – they can allow any miscommunications between your practice, staff and clients to be resolved.
Remove recurring errors – problems that keep appearing can be highlighted when several clients make the same comment. You'll be more likely to identify these and deal with the problem.
Identify key staff – surveys will often highlight the great team players, and may help identify those that need more guidance. They will allow you to praise and reward some, and provide help and support to others.
Identify missing services – your clients may tell you of other services that they would appreciate, hence allowing you opportunities to grow.
Help with marketing – you can use your survey results in a positive way to promote your practice on your website and social media.
Reassurance – surveys usually give you lots of reassurance that you are doing well.
Check our 12 top tips
Here are some tips we've collected to help determine whether your surveys are working.
1. Be prepared to act on your survey
A successful survey forms part of your plan to understand and improve your practice. Think about the kind of answers that you would give, and ask yourself if you would be prepared to take action. There is no point in asking lots of detailed questions about your staff, waiting room, appointments and parking if you are not prepared to do something about it if there appears to be a problem.
2. One question at a time
Don't ask multiple questions within the same question – for example don't ask if the reception team is friendly, efficient and polite. You should break these down into several questions instead.
3. Check your spelling and grammar
Make sure you proof read your questions and survey carefully, as silly errors will make you look unprofessional.
4. Avoid lengthy and jargon rich questions
"At our Veterinary practice we all understand the importance of great client service and patient care. It's for this reason we have become an accredited practice. Do you feel our vets and nurses provide good clinical and professional care to its clients?" – this question is far too long.
5. Moderate the survey length
Most of us would be happy to help a business by answering a few short questions, but we all put off if the survey is too long. 10 questions is about right, as any more than this will put many people off.
6. Offer an incentive
Entice your clients by giving away some prizes for entering. A "thank you" comment at the end, together with "you've been entered into a prize draw' will encourage more than you think.
7. Offer anonymity
You may like to know the name of the person completing the survey, but you may get more honest answering if the answers are made anonymous. Most of the online survey tools will allow this.
8. Use online tools
Tool such as SurveyMonkey can run the survey through your website. They are inexpensive and will give you detailed analysis of your questions with ease. You'll be able to run and produce reports that you can share with all your staff. However, they need planning and checking before submitting to your clients.
9. Add the survey to your website
Install the survey online so that you can poll your clients through your website. You'll reach a broad group of clients who can then check out more of your online resources, which will, in turn, boost your search engine optimization.
10. Send your survey in an email
Email marketing is a very efficient way of reaching all your clients every month, and will facilitate distributing your survey.
11. Provide comment boxes
Too frequently you will receive responses that describe your service as average, but you'll have no idea why. Be sure to include space in your survey for clients to explain why they feel your practice is not perfect.
12. Empower your team
More important than the survey itself is your plan to act on and improve the results. Negative survey answers can be used to explain a problem to your staff, but must be also used in a constructive way to allow for improvement. Empower your team and staff to be ready to make changes.