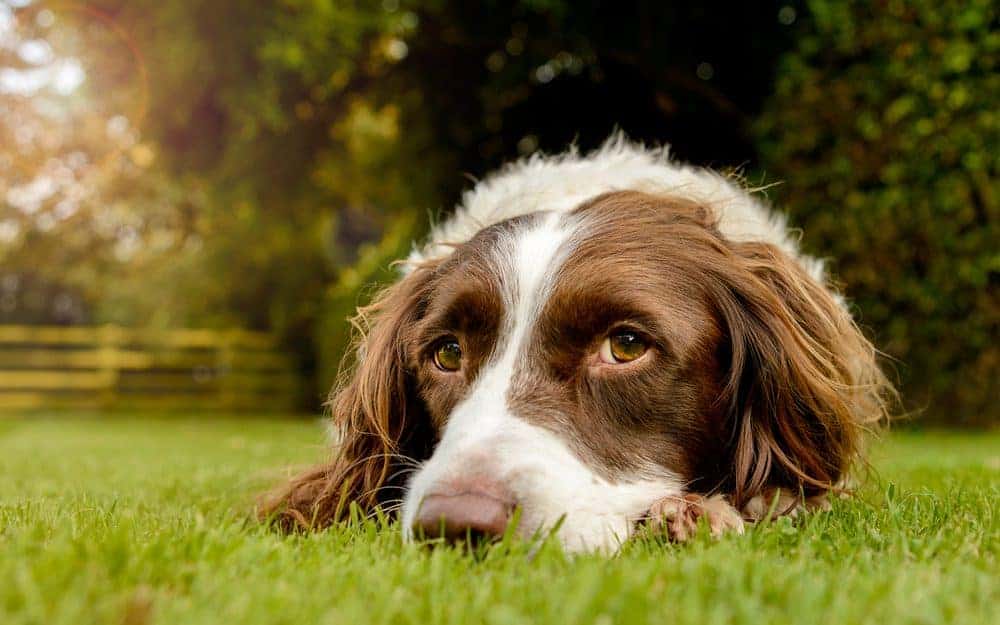 Sensitive dog food – could it be the right choice for your dog?
Do you have a dog with a sensitive stomach and are struggling to find a hypoallergenic dog food that suits your canine chum's delicate digestion? Read on to find out how the Burgess Sensitive complete dog food range could help...
---
Some dogs can suffer from digestive problems, with certain breeds, such as German Shepherds, being more sensitive to certain foods than others. While 'sensitive digestion' is not a medically defined condition, it's something that can affect some dogs to a greater or lesser extent. 
Burgess in-house vet Dr Suzanne Moyes advises: "If you think that your dog may have a sensitive digestion, it's important to ask your vet for advice, in case it's something more serious that's affecting them. It's also well worth switching their food to a hypoallergenic dog food variety (which means it's relatively unlikely to cause an allergic reaction) that has been specially developed for dogs with sensitivities."
How to tell if your dog has a sensitive digestion
Adrienne Farricelli, a certified dog trainer, behaviour consultant, former veterinarian assistant and author of Brain Training for Dogs has consulted with experts to identify the most common signs to look out for that could indicate your dog has a sensitive digestion or upset stomach:
Drooling, gulping and lip smacking due to an increase in saliva, which can happen when a dog feels nauseous
Vomiting and/or diarrhoea
Eating grass rather than food – some dogs will sometimes, but not always, eat some grass and then vomit
Licking surfaces such as carpets, floors, glass, windows, and sofas
Not being hungry when they usually would be – this could be nature's way of deciding that the stomach needs some rest
Gurgling stomach sounds – these can indicate increased motility of the stomach and intestines, often due to indigestion
Excessive burping
Flatulence – the excessive formation of gases in the stomach or intestine, often caused by indigestion
Restlessness – some dogs may lie down and change positions frequently
Tensing up – some dogs may tighten their belly muscles when touched because it hurts or start shaking
Adopting the 'prayer' position – with front legs stretched out and their bottom in the air in attempt to relieve pressure or pain in their abdomen 
Reluctance to move around, climb up stairs or jump on furniture – this may suggest your dog is suffering from abdominal discomfort
Changes in the way they interact with you – some dogs may become extra clingy, as if asking for help, while others may become distant and reclusive
---
What's the best food for dogs with a sensitive stomach?
Burgess Sensitive is a complete dog food that's hypoallergenic and made from simple, highly digestible proteins to keep your dog healthy on the inside and out. Our unique recipes are free from the usual ingredients that can upset your dog's stomach, making it ideal for those with a sensitive digestion. Free from artificial flavours and colours, and with no added preservatives, our Burgess Sensitive recipes feature:
Highly digestible protein (a choice of lamb, salmon or turkey) for good muscle formation and retention
Rice – a gentle carbohydrate which is a good source of energy
Beet pulp – an excellent source of dietary fibre for digestive health and good stool formation
Fish oil – a rich source of omega 3 fatty acids for a glossy coat and healthy skin
Lucerne – also known as alfalfa, which is a rich source of naturally occurring antioxidants
Taurine – an amino acid that supports a healthy heart
Burgess Sensitive is available in: Sensitive Adult Dog Lamb & Rice, Sensitive Adult Dog Salmon & Rice, Sensitive Adult Dog Turkey & Rice and Sensitive Puppy Turkey & Rice.
---
Paul O'Grady's 'No Nasties' dog food range is suitable for all dog breeds and crossbreeds and features hypoallergenic and grain-free varieties:
Paul O'Grady's Hypoallergenic Salmon and Rice – a complete and balanced food suitable for adult dogs made without the usual ingredients that are known to cause many intolerant reactions and suitable for all dogs, especially those with sensitive skin or digestion. This gentle recipe has been carefully formulated with salmon, a simple, highly digestible protein, for your dog's overall health and wellbeing. Also included are fish oils rich in Omega 3 fatty acids to help promote healthy skin and coat, yucca extract and beet pulp to help with stool formation and reduce odour, and calcium and vitamin D to support bone health. This tasty, hypoallergenic recipe is also available with turkey – Paul O'Grady's Hypoallergenic Turkey and Rice.
Paul O'Grady's Grain Free Chicken – made with chicken, a highly digestible protein which is full of essential nutrients, combined with naturally healthy country vegetables and tapioca, lentils and chickpeas. This recipe excludes the usual ingredients that are known to cause many intolerant reactions and is ideal for dogs with sensitive skin or digestion. There's no wheat, no maize, no beef, no soya, no eggs and no dairy.
---
TOP TIPS FOR SWITCHING DIETS
Make sure your dog always has plenty of fresh, clean water available and, if you are feeding a dry food, you'll find they'll need a little more.
When introducing a new food to your dog, you should do it gradually to avoid upsetting their digestion. Mix in the new food with the old over a period of 7 to 10 days until the new food completely replaces the old diet. 
---
Need more advice?
If you're at all unsure about the best way of feeding your pet or have any concerns about specific nutritional requirements, ask your local veterinary practice for advice. You can also call the Burgess team on 44 (0)0800 413 969 who'll be happy to help. They're available 9am-5pm, Monday to Friday.
---
Why choose Burgess Dog Food?
At Burgess, all our pet food is produced in line with FEDIAF (the European pet food industry federation) nutritional guidelines. These guidelines, which are based on many pieces of published research, helps us to calculate the nutrient content and dietary components such as protein, fat, carbohydrate and vitamins and minerals required to ensure all our foods meet the detailed nutritional requirements for the pets they are designed for.
You can buy Burgess Sensitive and Paul O'Grady's 'No Nasties' range online. Simply click on your Dog Food of choice and add it to your 'food bowl' and proceed to the checkout. You can even set up an account so we'll have your details to hand the next time you order. 
If you have any questions regarding our foods or your order, please call us on 44 (0)0800 413 969 before proceeding to the checkout. Our expert team is available to help, 9am-5pm, Monday to Friday.
Is your dog a Burgess dog? Join the Burgess Pet Club for exclusive offers and rewards.
---
If you found this interesting, you may also like:
A DOG'S DINNER? How much should you feed your dog? How many times a day should you feed them? Will feeding treats lead to obesity? What foods are dangerous to dogs? Our essential guide has all the answers... 
FOOD ALLERGIES UNDER INVESTIGATION What's the difference between a food allergy and food intolerance? And how can you tell if your dog or cat is suffering from one or the other?
COULD YOUR DOG BE ALLERGIC TO YOUR HOUSE?  From dust mites to household cleaners and even essential oil diffusers – there are all sorts of things in our homes that can trigger allergies in our canine chums. Plus, find out how you can minimise allergens in your home...
DOGS EAT GRASS – BUT WHY? Most canines enjoy snacking on some moist, munchable stems of grass from time to time, but why do they do it? Is it harmful? And do they really like the taste?
COULD PORTION CONTROL BE THE ANSWER TO PREVENTING OUR PETS GETTING TUBBY? A national survey conducted by Burgess and veterinary scales manufacturer Marsden reveals that not accurately measuring out our pets' food is contributing to a pet obesity epidemic
WHAT'S ON THE LABEL? HERE'S SOME FOOD FOR THOUGHT... Complete, complementary and crude ash? Have you ever wondered what the ingredients list on pet food packaging actually means? Find out with our essential guide...