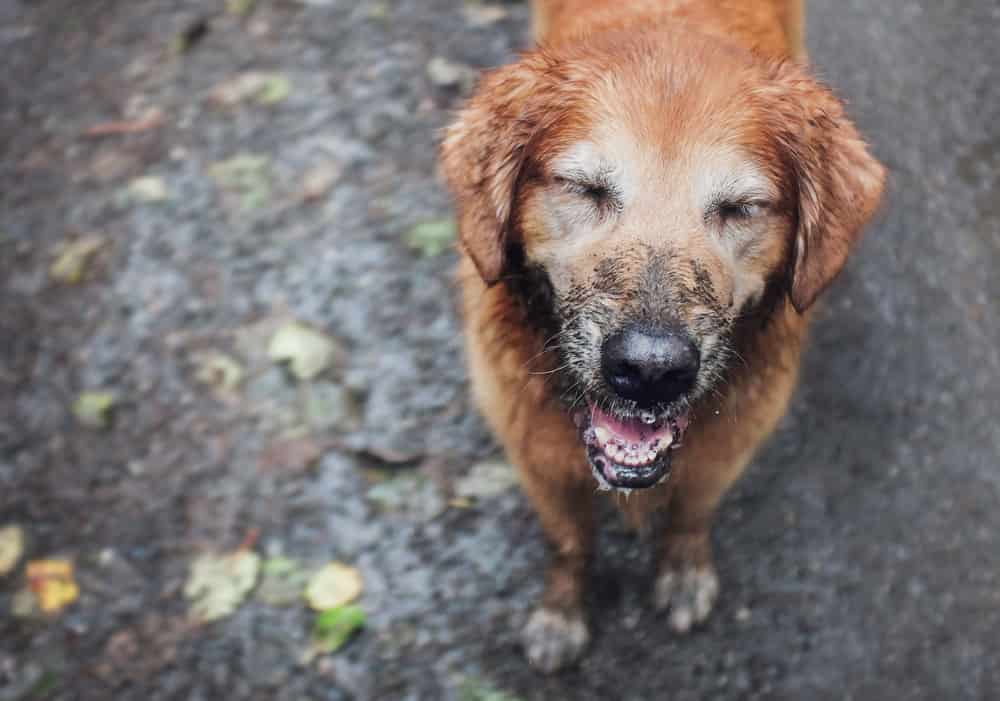 Wet days outdoors and muddy paws
Whatever the weather, your dog needs regular walks, which means soggy doggies, muddy paws and the 'alluring' aroma of wet dog permeating your home. However, by investing in a few clever pieces of kit, both you and your canine chum can get through the wettest days of winter with ease.
Torrential rain, snow, ice and freezing temperatures can take their toll on your four-legged friend, even with their ready-made fur coat and endless enthusiasm for the great outdoors.
It can be pretty tough on humans too. Muddy paws across the kitchen floor and streaks along the wall after the traditional doggy 'big wet shake' can be rather trying for even the most devoted dog owner.
What's required are a few innovative bits of kit. Here's our round-up of some of the best winter dog products around.
---
DOGS TRUST TOP TIP
Wearing a coat is a new experience for some dogs and requires training to get them used to it. But introduce it in a positive way, and your dog should enjoy wearing a coat for winters to come.
---
Waterproof and windproof dog jackets
Inspired by outdoor clothing, the Stormguard dog coat from Ancol, a British family business, is a great choice if you're looking for a warm and waterproof coat at a reasonable cost. Not only is the jacket waterproof, but it features a cosy fleece lining to keep your dog warm and dry and, as a bonus, has reflective edging tape for safety. With elasticated neck, leg straps and zippered harness slot for lead attachment, the jacket fits over your dog's head, and there's a chest-protector to help keep your dog clean and dry. Available in a choice of sizes and colours, prices start from around £19.
Style, comfort and practicality combine in the Polo Neck Dog Coat from Equafleece, a Devon-based company that's a pioneer in technical wear for dogs. This easy to put on coat is 100% rainproof, breathable, warm and washable. If also offers an alternative style of dog jacket, eliminating the front buckle for added comfort and offering a higher degree of neck protection. It's also cut deeper under the belly for increased coverage, guarding against the splashes of muddy walks. Fantastically water repellent, it may look wet on the outside, but your dog will be bone dry and toasty warm, even after being out for hours in torrential rain. The fleece wicks the dampness from your dog's skin and coat and then the body heat pushes it away. Follow the company's unique measuring guide and pick from a range of colours. Prices start from around £28.
The Kintails Rainfall Dog Coat is not only super stylish, but fit-for-purpose with the outer layer made from an innovative British waterproof waxed cotton, which is washable. Lined with a soft and cosy quilted cotton, your dog will be kept warm and dry on their walk, while looking incredibly on point. Easily adjustable, with Velcro and poppers around the chest, plus a longer length in the body for full protection, this coat is collar and harness friendly. Kintails is an independent brand that works only with UK-based manufacturers and craftsmen/women. Prices start at around £80.
---
DOGS TRUST TOP TIP
Make sure you wipe your dog's legs, feet and stomach after a walk, as grit from the roads and dampness from rain or snow can irritate their skin. 
---
Products for cleaning up muddy paws
Wet wipes for dogs are a quick and easy way to get rid of any dirt your dog picks up on their walks. Petkin PetWipes contain a natural cleanser which restores and nourishes your pets coat making it nice and soft, while being gentle enough for everyday use even around the eyes, ears and face – as well as muddy paws. These are also gentle on your pocket, with prices starting at around £2.50.
Handy to take with you on winter walks, this Portable Dog Paw Cleaner is perfect to avoid muddy paw marks all over your car. Simply pour in some water, pop in a paw and gently twist – the soft silicone bristles will carefully remove mud and grit. Then pat each paw dry with a towel. Job done – and a bargain at £9.99!
If you want the full dog cleaning monty, opt for the multi-award-winning Mud Daddy® – the innovative solution for cleaning, washing and rinsing dogs, boots, bikes… in fact anything that's dirty! Compact and totally mobile, its unique design uses water pressure rather than any type of motor, so it's completely silent (perfect for dogs) and requires no electricity. You can use warm or cold water and even mix in some pet-friendly antibacterial pre-wash to clean up those extra scruffy hounds. There's a whole range of Mud Daddy cleaning products (for your dog, your home and you) from this Newcastle-based company, with prices for washing devices starting at around £45.
---
DOGS TRUST TOP TIP
Regularly check your dog's leads, collars and harnesses. Make sure they're all functioning safely and won't get damaged by winter weather, as wet weather can cause metal clips to rust. It can be trickier to do up lead clips and carabiners and attach them to collars and harnesses when it's cold, so do this indoors if you can. 
---
Products for drying off damp doggies
Designed in conjunction with colleagues at the Groom Room, who are experts in the care of canine coats, this Microfibre Dog Towel from Pets at Home draws out moisture from your pet's coat, whilst the lightweight material makes it easy to tuck into a small bag. It also dries up to three times faster than an ordinary towel. A bargain at £10.
Wrap your soggy dog up in a Dog Drying Coat from the innovative team at Mud Daddy for an easy and effective way to quickly remove wetness from your dog's coat. Using premium-grade materials and only the best microfibre material that's been tested 'in the field' to ensure it offers maximum absorption and dirt removal, this cosy dog drying robe will keep your best four-legged friend warm and comfortable. It's also fully machine washable. With a range of sizes for all breeds – from tiny Terrier to large Labrador – each coat is big enough for your pet to lay down in, providing the ultimate in comfort. Prices start from £19.99.
If a dog drying coat isn't quite enough, how about a dog drying bag? The Pawdaw of London Dog Drying Bag was voted as a finalist for Product Innovation Award 2022 by the Pet Industry Federation. This super-absorbent microfibre doggy drying bag is made with thick, soft fabric – simply lay the open dry bag flat on the floor, Velcro the collar around your dog's neck, then zip it up around their body and let the drying bag do the hard work. Not only does it dry your dog, but it also removes dirt, mud and sand at the same time. Machine washable and available in five sizes, getting your dirty dog clean and dry couldn't be easier. Prices start at £39.99.
---
DOGS TRUST TOP TIP
If you're walking in the dark, it's important to make sure your dog is visible to other dog owners and people in cars, so it's wise to get a coat with high-visibility reflective features, or a flashing collar or light attachment.
---
Something tasty for every dog
Every dog deserves a first-class dinner after a wet and windy wintry walk. Burgess Pet Care is a British, family-owned company and all our dog foods are made in our own factory in the heart of Yorkshire. We use premium ingredients to ensure excellent quality and superior taste to help keep your dog happy and healthy – from puppy, to adult and senior.
We've also developed foods to meet the specific nutritional needs of sporting and working dogs, Greyhounds and Lurchers and dogs with sensitivities. And we're very proud of our Paul O'Grady's 'No Nasties' dog food range, which comes in Hypoallergenic and Grain Free varieties.
All Burgess dog food is a complete food. This means, whatever variety you choose for your dog, it will contain all the nutrients they need in the correct balance. By choosing Burgess dog food, you know you can feed your canine companion with complete confidence/ And, by signing up to Subscribe & Save, it's easier than ever to give them the top quality, tasty, nutritious food they deserve, every single mealtime. Simply:
Choose your pet's favourite Burgess Sensitive dog food and click on the Subscribe & Save 10% option
Decide how often you'd like your food delivered
Head to the checkout and complete as normal – then sit back and relax, knowing that your order will be delivered straight to your door!
---
Is your dog a Burgess dog? Join the Burgess Pet Club for exclusive offers and rewards.
CARE MORE Find out more about caring for your dog from Burgess, the pet experts. Training, nutrition, grooming and general care. It's all here >>
---
If you found this interesting, you may also like:
WINTER-WISE ADVICE FOR DOGS Want to take good care of your dog in winter? Here's how to help your canine chum get through this cold, dark season safely.
GET YOUR DOG TOGGED UP FOR WINTER From weatherproof light-up jackets to glow-in-the dark toys, here's how to make those cold, dark winter walkies much safer and a lot more fun...
WHAT DOES WINTER DO TO YOUR DOG'S PAWS? Ensure your hound has happy feet by following our winter paw care guide
WISE UP TO WINTER COLDS AND FLU If you get the sniffles this winter and your pets seem under the weather, you may wonder if cats, dogs and other pets can get coughs and colds just like humans? Our in-house vet Dr Suzanne Moyes has some seasonal advice
COSY TOES AND SNUGGLY NOSES As temperatures dip, our animal companions need our help to stay warm and toasty during the winter months.
ARE YOUR PETS DOWN IN THE DUMPS? The short, chilly days of winter take their toll on humans – and the same can be true for our pets. Find out how to boost the feelgood factor for your four-legged friends...
OPEN UP YOUR EYES TO YOUR DOG'S WORLD Are dogs colour blind? Do our canine companions really see the world in black and white? What's a dog's most important sense? Understanding how your four-pawed pal interprets the world through their five senses can help you provide them with the best, most enriching life.
DOG DAYS From puppy to adolescent, through to adult and senior, as your dog goes through different stages, their exercise and nutrition needs change. Find out how to help them stay happy and healthy every day of their lives...