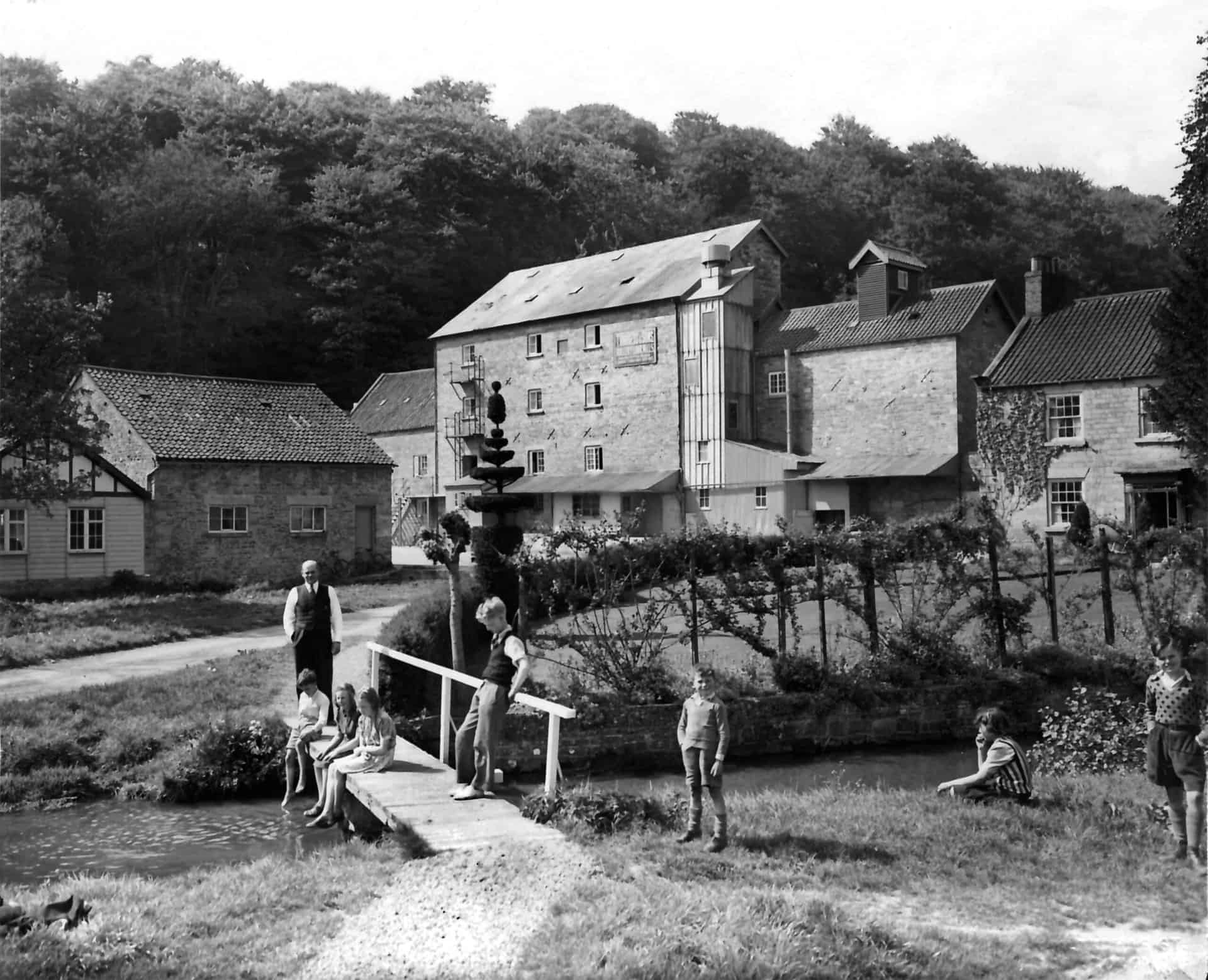 Made in Yorkshire!
Did you know that 1st August is Yorkshire Day? While this noble northern county is famous for giving the world Yorkshire puddings, stainless steel, Wensleydale cheese, the first ever football club (Sheffield FC) and the Brontë sisters, it's also the home of Burgess Pet Care – which itself has a rather interesting history. Find out more about the people who make your pets' favourite food...
Burgess Pet Care is a British, family-owned company and one of the UK's leading pet food manufacturers – and its story goes back more than 300 years.
The origins of Burgess can be traced back to 1649 operating from the watermill at Fountains Abbey, now owned by the National Trust. By 1790 the flour milling business moved to the mill at Kirkby Fleetham converting to steam power in the mid-19th century. In 1922 the business moved to Thornton-le-Dale on the edge of the North York Moors and this remains the Burgess HQ today, while animal feed production has been focused at Cherry Tree Mill in East Yorkshire since 1987
A rich heritage built in the heart of Yorkshire
Burgess in-house vet, Dr Suzanne Moyes, who joined the business in 2013 and uses her nutritional expertise to nurture happy, healthy dogs, cats and small animals, says: "Because Burgess Pet Care began in and remains in Yorkshire, we have developed strong working relationships with the local agricultural communities over the years. With a heritage of more than 300 years of working in the agricultural and food business, we know all our suppliers personally. We use locally sourced ingredients wherever possible and deliveries to Cherry Tree Mill are often made by tractor!"
An innovative approach to creating award-winning pet foods
Using the expertise and experience built over the centuries, today Burgess produces high-quality, award-winning pet foods – such as food specially created to support neutered cats – and has launched many innovations. These include the UK's first single component nugget for rabbits to prevent selective feeding, and the world's first food specifically formulated for indoor rabbits.
Dr Moyes adds: "We continually work with leaders in small animal welfare, behaviour and health to ensure we are at the forefront of small animal health and nutrition. This is why experts, from vets to rescue centres to animal behaviourists, recommend and trust our food."
A place where the health and wellbeing of pet animals is a priority
The health and wellbeing of animals is Burgess Pet Care's number one goal and the company's expert knowledge in animal nutrition helps it achieve this.
Dr Moyes says: "At Burgess Pet Care, as well as making healthy, nutritious pet food, we strongly believe in responsible pet ownership. We are dedicated to improving the health and welfare of animals through research and education. We worked with the University of Edinburgh on a ground-breaking study which highlighted the risks to rabbits' health associated with muesli style diets and selective feeding. We also invest in activities such as Rabbit Awareness Week (RAW), the UK's biggest and best rabbit welfare campaign."
In fact, Burgess Pet Care actively works with a number of leading organisations to help educate and raise awareness around animal welfare needs, as well as setting up initiatives to support animals in need. Recent highlights in the Burgess Pet Care timeline include:
1998 The Excel brand is born and the first single component extruded nuggets for rabbits is launched


2000s The Excel range is expanded to cater for rabbits at different life stages and the vet recommended Excel feeding plan is launched


2006 The first Rabbit Awareness Week (RAW) is launched by Burgess in collaboration with leading animal charities and vet bodies to educate rabbit owners and improve rabbit welfare


2104 A University of Edinburgh study highlights the risks associated with muesli style diets in rabbits. As a result, Burgess stops making any muesli products for rabbits and guinea pigs


2018 Burgess joins forces with animal lover Paul O'Grady to launch a new range of dog foods, including a No Nasties and Hypoallergenic range, to make Paul's mission to bring the best value, quality dog food to the masses possible


2019 Burgess launches its Greyhound & Lurcher takeover campaign, to raise awareness of rescue dogs needing homes and donates thousands of pounds worth of Burgess Supadog Greyhound and Lurcher food to rescue centres across the UK, and donates 20p from every sale to help care for these dogs


2020 Burgess launched its first ever UK Vet Awards and the Rabbit and Guinea Pig Facebook groups


2021 Building on the success of RAW, Burgess launches the first ever Guinea Pig Awareness Week (GPAW), endorsed by the British Veterinary Associationand British Small Animal Veterinary Association. Led by Burgess Pet Care, the Rabbit Awareness Action Group (RAAG) is established, with members comprising the RSPCA, Rabbit Welfare Association & Fund (RWAF), Wood Green, Blue Cross and PDSA, to continue to improve the lives of the UK's pet rabbits. Excel becomes the leading small animal brand in the UK


2022 Burgess launches Supadog Rich in Salmon, a complete food for adult dogs. Featured on the front of the pack is Jess, a two-year-old, rescued, Staffy Cross. For every bag sold, 20p is donated to dog rescues across the UK in the form of free food. RAAG asks for all rabbit supporters to sign up to the first Good Practice Code for the Welfare of Rabbits in England
---
Helping you to help your pets live their best lives
At Burgess Pet Care, we're focused on helping pets and pet people understand more about the importance of healthy nutrition and caring for their animal companions in the best way possible. Here are some of the ways we can help:
Got a question about caring for your pets or about the best way of feeding them? Ask our vet >>


Looking for helpful advice for your pets? We've lots of great tips to help you give your animals the best life on our pet care pages >>


Want to stay up to date with the latest news, trends and pet care advice? Head over to our Pet Talk blog >>
---
Ever wondered why 92% of vets recommend our Burgess Excel small pets range? It could be down to the exceptional care we take with our grass...
At Burgess, all our small pets nuggets, feeding hay and healthy treats are made using only the finest quality ingredients that meet our stringent specifications and homegrown grass that's exclusive to Burgess – no other pet food manufacturer has access to our grass!
Just some of the reasons why we're proud of our grass:
We have full traceability and know exactly which field each batch comes from and the date it was harvested.
The Estate works in partnership with the local wildlife trust and ensures that the grassland is managed to reduce environmental impact and positively encourage biodiversity. This includes over 140 miles of hedgerow, providing a home for a variety of flora and fauna including bird species such as linnets, whitethroats, yellow wagtails and blackbirds. Biodiversity is further encouraged by areas managed to encourage wild bird nesting.
The field margins have been enhanced with wildflowers and rare plants are encouraged, such as yellow-wort, autumn gentian, dyer's greenweed, clustered bellflower, pyramidal and man orchids, to encourage pollinating insects.
The grass is harvested when it's at its lushest to ensure the optimum level of nutrients and fibre, helping to ensure that Excel delivers all the goodness pet animals require.
To help reduce the impact on the environment, our grass is wilted (naturally dried) for 12 hours in the field, which reduces the energy required to dry it.
---
Is your dog a Burgess dog? Your cat a Burgess cat? Your small pets Burgess small pets? Join the Burgess Pet Club for exclusive offers and rewards.
By choosing Burgess and Burgess Excel pet foods, you know you can feed your pets with complete confidence And, by signing up to Subscribe & Save, it's easier than ever to give them the top quality, tasty, nutritious food they deserve, every single mealtime. Simply:
Choose your pet's favourite Burgess Sensitive dog food, Burgess Excel tasty feeding hay or selected Burgess Excel rabbit and guinea pig nuggets and click on the Subscribe & Save 10% option
Decide how often you'd like your food delivered
Head to the checkout and complete as normal – then sit back and relax, knowing that your order will be delivered straight to your door!
---
If you found this interesting, you may also like:
HELP YOUR PETS STAY SAFE ALL SUMMER LONG Our dogs, cats and small pets need extra support when the heat is on and we've lots of great advice to protect them from seasonal dangers – from what's the best way to help rabbits cool down to why you shouldn't leave your dog's toys in the garden. Find out how to play it safe this summer with our 21 hottest tips.
SMALL FURRIES NEED A SECOND CHANCE TOO As well as taking on a rescue dog or adopting a cat from an animal sanctuary, did you know that there are lots of small furries in rescue centres around the country that are looking for loving homes?
OUR PETS ARE SO LOYAL AND LOVING, LET'S GIVE IT RIGHT BACK AT THEM Whether your best furry pal is a dog, cat, rabbit, guinea pig, ferret, hamster, rat, gerbil or chinchilla, there's no doubt that when it comes to being a loving and loyal friend, our pets come out on top.
5 WAYS TO GET THE WHOLE FAMILY INVOLVED IN PET CARE From being involved in looking after a pet and learning a sense of responsibility, to fun activities you can all do together, we've 5 IDEAS to get all the family involved.
YOU'RE MY BEST FRIEND Which would you choose – a night out with your friends or night in on the sofa with your dog? If it's the latter, then you're not alone. More than half of pet owners admit they enjoy the company of their animals more than that of their human friends, according to a new poll.
ARE YOU AND YOUR CAT MORE ALIKE THAN YOU THINK? It's long been suggested that people look like their dogs, but when it comes to cats, it seems to be more the case that humans and felines can share similar personality types, according to new research. So, if you have a grumpy Tabby cat, a super friendly Ragdoll cat, or fiendishly feisty Bengal cat, could this actually say more about you than your pet?
WHICH SMALL PET IS RIGHT FOR YOU? From beautiful bunnies to delightful dwarf hamsters, small pets make good companions for animal lovers of all ages. However, there are lots of things to take into consideration before you take the plunge and become the proud owner of a small pet or two.
WANT TO GIVE YOUR CHILD THE BEST START IN LIFE? GET THEM A PET Children get more satisfaction from relationships with their pets and get on better with their animal companions than with their brothers or sisters, according to a new study.
NEW PETS ON THE BLOCK? When it comes to the enjoying the company of animals, we humans have forged bonds with other species for thousands of years. We delve into the fascinating history of some of our favourite pets...
ARE YOU A PET EXPERT? How clever is your dog? Why do cats groom so much? How high can chinchillas jump? What do you call a group of rats? Test your pet general knowledge with our fun and informative 12-question quiz. Answers at the end – but no peeking!
7 TOP TIPS FOR CREATING A PET-SAFE GARDEN Your garden should be a safe place that both you and your pets can enjoy together. However, from poisonous plants and toxic chemicals to mouldy food in compost heaps, there are all sorts of potential dangers that responsible pet owners need to be aware of.
THE FEELGOOD FACTOR OF HAVING PETS What is it about the companionship of a pet that helps humans feel better?