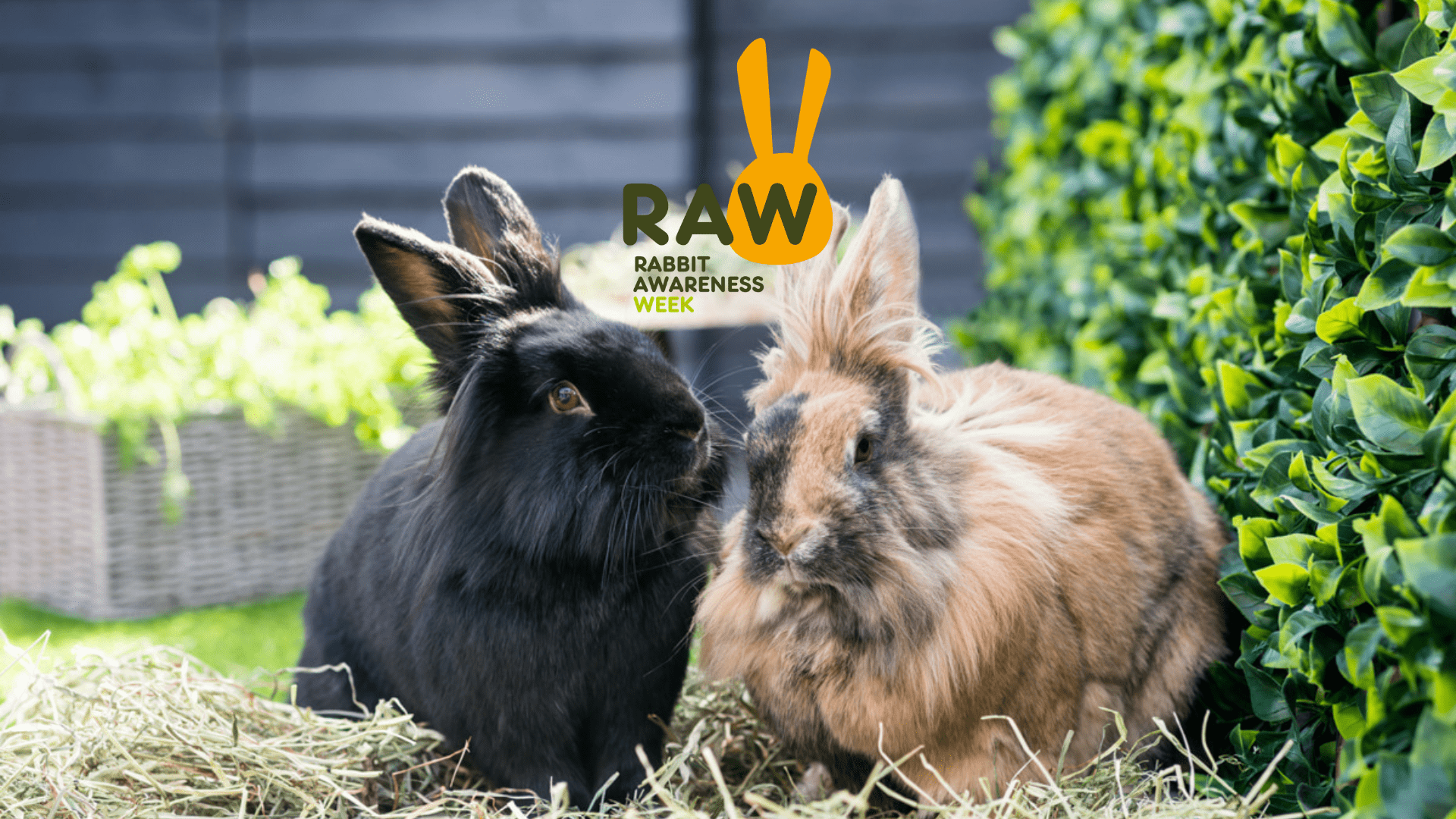 Are you making Room for Rabbits?
This year's focus of Rabbit Awareness Week (RAW) is housing. Research that shows 38% of vets think rabbits' environment is the most neglected welfare need, with more than a quarter of UK rabbits being kept in inadequate housing conditions and almost half living alone. 'Room for Rabbits' throws a spotlight on rabbits' environment, providing lots of information on how to adapt rabbit housing for all seasons.
Now in its 16th year, RAW 2022 will take place from 27 June till 1 July and is backed by RAAG (Rabbit Awareness Action Group) – which comprises of some of the UK's largest animal welfare organisations and charities – and is led by Burgess Pet Care. This year's campaign will feature an array of bunny welfare promoting initiatives including vet blogs and videos.
Holly Castle, senior brand manager at Burgess Pet Care, says: "Following a surge in demand for rabbit ownership in the UK during the past two years, it is vitally important that we educate more owners than ever before and continue to help improve rabbits' welfare."
---
How to get involved in Rabbit Awareness Week
Rabbit Awareness Week takes place online over on the RAW social channels:
Holly adds: "Our Facebook and Instagram pages are the best place to find lots of important information to share with family and friends. You can also find lots of great information over on the RAW website. In the run up to RAW and throughout the week, we'll be posting lots of great content all about rabbit welfare. We also work closely with veterinary practices, who may be running special events for Rabbit Awareness Week. Check out your local veterinary practice's social media pages to find out if they're running anything for this year's RAW."
Watkins & Tasker, a veterinary group in the Southwest with an HQ in Portishead, near Bristol, are one such practice. As a RWAF rabbit friendly accredited practice, throughout the month of June it's offering rabbit owners a free nail clip, 10% discount on all rabbit vaccines and a free goodie bags with lots of helpful tips about caring for your rabbit. You can check out RWAF's rabbit friendly vet list here >>
Ian Ramsey – past-president of the BSAVA (British Small Animal Veterinary Association), which endorses RAW, adds: "The BSAVA is once again delighted to support RAW and the theme of this year's campaign. Rabbits remain one of the most misunderstood pets in the UK, but we are confident that vets across the UK will again show their support for this important campaign to improve the lives of pet rabbits."
What's in the RAW pack?
This year's RAW pack is jam-packed with bunny fun and information, including Better Bunnies charts, colouring sheets, bunting, a health log and useful guides to help you set up and get into good habits when it comes to looking after your bunnies and keeping them happy and healthy.
---
It's a common misconception that rabbits are easy to care for and don't need much to keep them happy. in fact, nothing could be further from the truth >>
---
Why making 'Room for Rabbits is so important
Whether your rabbits live outdoors or indoors, it is essential they have enough space – think garden shed, rather than cramped hutch – a hutch is not enough – in housing that's protected from the elements and is safe from predators or loud noises that could scare them, with a spacious, secure exercise area permanently attached to it.
---
Is the outdoor life better for bunnies and guinea pigs, or will these small pets have a more enriching time if they're kept indoors? >>
---
Their home needs to be tall enough for them to be able to stand up fully without their ears touching the roof and to lie fully outstretched in any direction, to take a number of consecutive hops, and to run, jump, explore and forage and do all the things that come naturally to bunnies. As social creatures, rabbits should always be kept in pairs or small groups.
---
How to make more Room for Rabbits
Here's some more really useful information to help you create the best possible home – with plenty of room to roam, forage, tunnel, stretch, leap and binky – for your beloved buns:
---
WANT ALL BUNNIES TO HAVE THE BEST LIFE POSSIBLE? Along with the annual Rabbit Awareness Week, the Rabbit Awareness Action Group (RAAG) has now been established to ensure a greater understanding of rabbits' health and welfare requirements. RAAG is asking for all rabbit supporters to sign up to the first Good Practice Code for the Welfare of Rabbits in England. Add your voice by signing our letter >>
---
LET'S GET SOCIAL Sign up to the Excel Bunny Base – a safe Facebook community for rabbit guardians that are looking for advice and friendly discussions from likeminded owners – and there are lots of cute bunny photos and videos! Also join us on Instagram.
CARE MORE Find lots of useful advice on caring for your rabbits from Burgess, the pet experts.
---
Are your bunnies Burgess bunnies? Join the Burgess Pet Club for exclusive offers and rewards.
---
92% OF UK VETS RECOMMEND OUR BURGESS EXCEL SMALL PETS RANGE.
The entire Burgess Excel Rabbit range of rabbit nuggets, feeding hay and treats is made using only the finest quality ingredients. The grass we use is sourced from the UK to meet our stringent specifications and is exclusive to Burgess. No other pet food manufacturer has access to our grass, and we are justifiably proud of its provenance. At Burgess, we have a long tradition of supporting British farmers and we actively source our ingredients as close to our mill as possible. Find out all the reasons why we're proud of our grass >>
Naturally high in Beneficial Fibre and fortified with vitamins and minerals for healthy eyes, skin and coat, you'll find varieties to suit buns of all ages, from junior and dwarf, to mature, as well as nuggets for indoor rabbits and a light recipe for rabbits who need to slim down.
WHY WE'VE GOT HAY FEVER! For lots of small furries, every day should be a hay day! And not any old hay will do – always opt for high-quality feeding hay to help your small pets stay healthy and happy – and now you can Subscribe and Save 10%!
---
If you found this interesting, you may also like:
SMALL FURRIES NEED A SECOND CHANCE TOO As well as taking on a rescue dog or adopting a cat from an animal sanctuary, did you know that there are lots of small furries in rescue centres around the country that are looking for loving homes?
ARE YOU READY FOR RABBITS? Often considered to be the perfect pets for kids, rabbits have a range of needs that are beyond the capability of young children, and the person responsible for their health and wellbeing should always be an adult.
WHY DOES MY RABBIT...? If you're a bunny lover, you'll probably have many rabbit-related questions you'd like some answers to. For example, why does my rabbit bite me? Why does my rabbit thump? Why does my rabbit nose-nudge me? Why does my rabbit chuck stuff about? Keep reading to discover a whole warren full of fascinating answers...
HOW TO BE A GOLD-STAR INDOOR BUNNY OWNER Indoor rabbits make fabulous house pets, as long as you provide these smart and sociable animals with everything they need to be healthy, happy bunnies.
GAMES TO PLAY WITH YOUR RABBITS Bunnies are smart and active creatures who like lots of things to do and games to play – particularly if there are some tasty rabbit treats involved. We've some fun ideas to add interest and excitement to your buns' day, which will help them stay physically and mentally fit.
BUNNY TALK Rabbits are highly social animals with a complex language all of their own. By learning to understand their body postures, behaviours and vocalisations, you'll uncover their individual personalities
MAKING HAY-TIME PLAYTIME FOR BUNNIES Rabbits need to eat their own body size in hay every day to stay healthy. Our in-house vet Dr Suzanne Moyes advises on how to help your bunnies munch their way through their daily ration by making hay-time a fun experience.
HOW TO HANDLE YOUR RABBITS The way you pick up your rabbits has a direct impact on their welfare, according to latest research. Our in-house vet Dr Suzanne Moyes explains the right ways to handle your rabbits with care.
RABBITS SHOULD EAT A CARROT A DAY – AND OTHER BUNNY MYTHS Find out what you should feed your rabbit to ensure they have a diet that's nutritionally right for them and their specialised digestive system.
HOW TO HELP YOUR BUNNIES GET ALL THE EXERCISE THEY NEED To encourage your bunny chums to like to move it, move it, create an exciting space where they can hop, run, jump, explore and forage.
21 AMAZING FACTS FOR BUNNY FANATICS  Even if you're a lifelong bunny lover, there are a few things you may not know about your hay-chomping chums.
7 TOP TIPS FOR CREATING A PET-SAFE GARDEN Your garden should be a safe place that both you and your pets can enjoy together. However, from poisonous plants and toxic chemicals to mouldy food in compost heaps, there are all sorts of potential dangers that responsible pet owners need to be aware of.
WILD AT HEART Inside every pampered small pet is the desire to exhibit their innate, hardwired, natural behaviours which reveal their wild origins. It's the reason why bunnies want to dig and burrow, guinea pigs like to keep a watchful eye on what's going on from a safe hiding place, hamsters stuff food in their cheek pouches and chinchillas prefer to sleep hunched up. Find out more about the natural and fascinating behaviours of some of our favourite small furries.
BIG IDEAS FOR SMALL PETS As well as providing the right nutrition, suitable accommodation and company of their own kind (apart from Syrian/Golden hamsters who prefer to go solo – for other pets, same sex or neutered pairs or small groups are recommended) enrichment is just as important for our small pets.