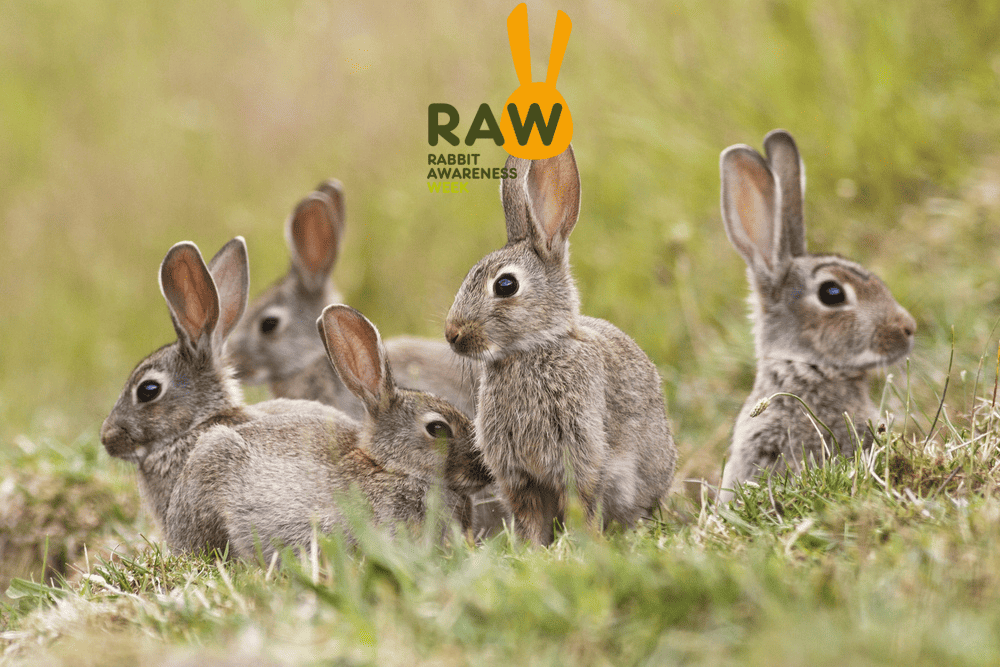 Rabbit Awareness Week 2022 – it's a wrap!
Find out what bunny owners across the UK had to say about how this year's RAW event has helped them improve the lives of their pet rabbits...
A massive thank you to everyone who downloaded a RAW pack, hung out bunny bunting, coloured in a bunny poster, took part in the Better Bunnies programme, or liked and shared one of our RAW social media posts. You've helped to make a real difference to these often misunderstood animals.
This year's theme of Room for Rabbits shone a spotlight on creating suitable environments for outdoor and indoor bunnies. We're delighted that this annual event is continuing to spread the word about the importance of taking the best possible care of these intelligent, social animals.
Our packed, five-day programme of events included:
Day one: The basics
Day two: Indoor set-ups
Day three: Outdoor set-ups
Day four: Adapting your rabbits' housing for the changing seasons
Day five: DIY day – upcycling household items and making items yourself
---
What did rabbit owners think?
At the end of this year's RAW event, we sent out a survey to see what rabbit owners across the UK thought. We're delighted that there's been some really encouraging feedback:
52% of owners surveyed said they will be making new items for their rabbits themselves or upcycling household items after seeing RAW
53% will be buying new boredom breakers
46% will be adding new items into their rabbits' housing
20% will be improving their rabbits' indoor housing
16% will be improving their rabbits' outdoor housing
---
Is the outdoor life better for bunnies, or will these small pets have a more enriching time if they're kept indoors? >>
---
More than half of rabbit owners surveyed – 52% – said they'd learnt something new about rabbit housing (DIY-day was particularly popular) as well as how improve the lives of their pet rabbits. Some of the heart-warming comments we received included:
"I thought that owning a lone rabbit was optional based on the many YouTubers with only one rabbit, but I'm happy to say I'm going to start the bonding process soon with my rabbit to make sure he's no longer lonely thanks to the RAW campaign."
---
"I learnt that rabbits' dental disease is painful for rabbits – always make sure you get them checked at your vets"
---
"I was inspired to level up and enrich the environment for my free roaming rabbit even more. I did another house for him to play in and added more toys."
---
RAW also reminded 37% of owners surveyed to vaccinate their rabbits against potentially fatal diseases. Interestingly, when it comes to caring for rabbits, the thing that owners stated they felt they knew the least about was enrichment – such as toys and digging boxes. So that could be a theme for a future RAW event!
---
It's a common misconception that rabbits are easy to care for and don't need much to keep them happy. in fact, nothing could be further from the truth >>
---
The veterinary groups who supported RAW also shared their views, with 98% of veterinary professionals surveyed believing that RAW has had a positive impact on the care of rabbits in the UK, which is music to our (bunny) ears! And, while 87% believe rabbit welfare is improving in the UK, there's still a way to go. According to our survey, veterinary professionals believe the most neglected welfare needs are:
Environment 35%
Companionship 29%
Diet 14%
Behaviour 13%
Health 8%
---
A determined bunny with digging on their mind can quickly make their escape! find out how to rabbit-proof your garden >>
---
Will you help all bunnies to have the best life possible?
Our mission to improve the lives of the UK's pet rabbits continues. If you'd like to help us help all bunnies to have the best life possible, join our campaign. The Rabbit Awareness Action Group (RAAG) has been established to ensure a greater understanding of rabbits' health and welfare requirements and is asking for all rabbit supporters to sign up to the first Good Practice Code for the Welfare of Rabbits in England. Add your voice by signing our letter >>
---
Top tips for making more Room for Rabbits
Your rabbits' environment is really important for their welfare. The Rabbit Awareness Action Group (RAAG) has pulled some top tips together so you can give your furry friends the best life >>
---
Give your rabbits the freedom they love and allow them to exhibit their natural behaviours with a Runaround Run, Tunnel and Connection Kit >>
---
92% OF UK VETS RECOMMEND OUR BURGESS EXCEL SMALL PETS RANGE
Designed to help your rabbits stay healthy and happy, the entire Burgess Excel Rabbit range of rabbit nuggets, feeding hay and treats is made using only the finest quality ingredients. The grass we use is sourced from the UK to meet our stringent specifications and is exclusive to Burgess. No other pet food manufacturer has access to our grass!
Naturally high in Beneficial Fibre and fortified with vitamins and minerals for healthy eyes, skin and coat, you'll find varieties to suit buns of all ages, from junior and dwarf, to adult and mature, as well as nuggets for indoor rabbits and even a light recipe for rabbits who need to slim down.
Subscribe & Save 10% on every order of selected Burgess Excel feeding hay and nuggets and have your packs delivered straight to your door >>
---
LET'S GET SOCIAL Sign up to the Excel Bunny Base – a safe Facebook community for rabbit guardians that are looking for advice and friendly discussions from likeminded owners – and there are lots of cute bunny photos and videos! Also join us on Instagram.
CARE MORE Find lots of useful advice on caring for your rabbits from Burgess, the pet experts. Housing, health, feeding and more. It's all here >> 
---
Are your bunnies Burgess bunnies? Join the Burgess Pet Club for exclusive offers and rewards.
---
If you found this interesting, you may also like:
SMALL FURRIES NEED A SECOND CHANCE TOO As well as taking on a rescue dog or adopting a cat from an animal sanctuary, did you know that there are lots of small furries in rescue centres around the country that are looking for loving homes?
ARE YOU READY FOR RABBITS? Often considered to be the perfect pets for kids, rabbits have a range of needs that are beyond the capability of young children, and the person responsible for their health and wellbeing should always be an adult.
WHY DOES MY RABBIT...? If you're a bunny lover, you'll probably have many rabbit-related questions you'd like some answers to. For example, why does my rabbit bite me? Why does my rabbit thump? Why does my rabbit nose-nudge me? Why does my rabbit chuck stuff about? Keep reading to discover a whole warren full of fascinating answers...
HOW TO BE A GOLD-STAR INDOOR BUNNY OWNER Indoor rabbits make fabulous house pets, as long as you provide these smart and sociable animals with everything they need to be healthy, happy bunnies.
GAMES TO PLAY WITH YOUR RABBITS Bunnies are smart and active creatures who like lots of things to do and games to play – particularly if there are some tasty rabbit treats involved. We've some fun ideas to add interest and excitement to your buns' day, which will help them stay physically and mentally fit.
BUNNY TALK Rabbits are highly social animals with a complex language all of their own. By learning to understand their body postures, behaviours and vocalisations, you'll uncover their individual personalities
MAKING HAY-TIME PLAYTIME FOR BUNNIES Rabbits need to eat their own body size in hay every day to stay healthy. Our in-house vet Dr Suzanne Moyes advises on how to help your bunnies munch their way through their daily ration by making hay-time a fun experience.
HOW TO HANDLE YOUR RABBITS The way you pick up your rabbits has a direct impact on their welfare, according to latest research. Our in-house vet Dr Suzanne Moyes explains the right ways to handle your rabbits with care.
RABBITS SHOULD EAT A CARROT A DAY – AND OTHER BUNNY MYTHS Find out what you should feed your rabbit to ensure they have a diet that's nutritionally right for them and their specialised digestive system.
HOW TO HELP YOUR BUNNIES GET ALL THE EXERCISE THEY NEED To encourage your bunny chums to like to move it, move it, create an exciting space where they can hop, run, jump, explore and forage.
21 AMAZING FACTS FOR BUNNY FANATICS  Even if you're a lifelong bunny lover, there are a few things you may not know about your hay-chomping chums.