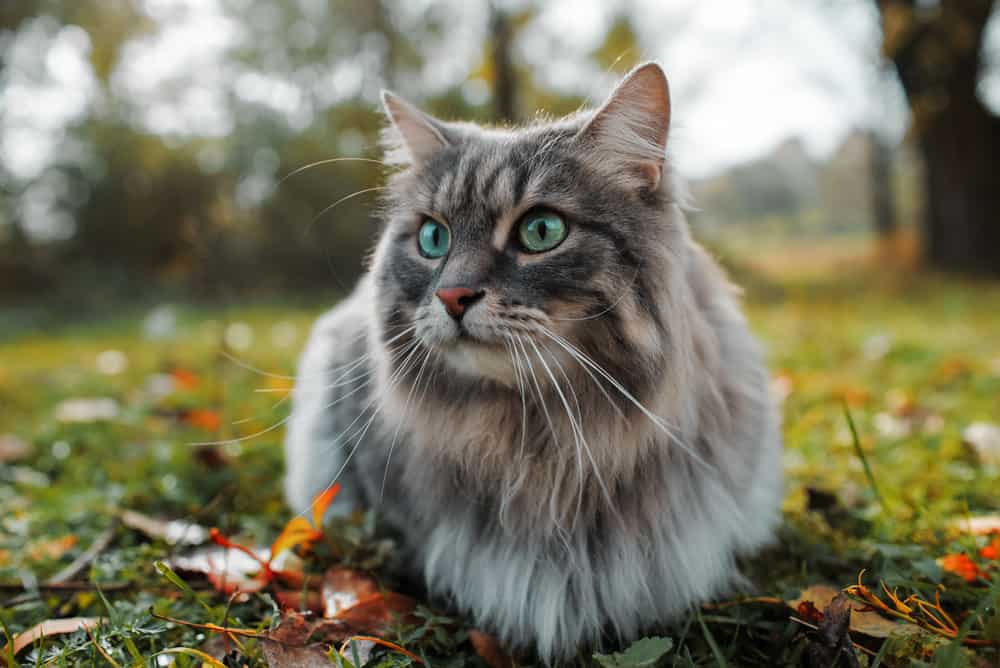 International Cat Day needs you!
"Our vision is a world where every cat is treated with kindness and an understanding of its needs." If you're a cat lover and fully support this statement by feline welfare charity Cats Protection, then why not show cats just how much you care on International Cat Day? We've 8 great ways that you can make a difference for cats.
Created by the International Fund for Animal Welfare (IFAW – whose mission is to "rescue and protect animals from around the world") in 2002, August 8 is International Cat Day – a special date on the calendar for cat lovers everywhere to raise awareness for cats and learn ways to help and protect them.
So, what can you do for cats – alongside spending some extra quality time with your favourite feline, playing some games with them and serving up their favourite cat food? Here are just a few ways you can do your bit and show that you really care about cats.
---
Help out at your local animal sanctuary as a cat carer
Animal sanctuaries could not operate without a willing band of volunteers. Check out rescue centres in your local area and see what opportunities are available. You could be spending time with cats in their care to help them grow in confidence, carrying out home checks for potential new owners, capturing photos and videos for the sanctuary's website, helping with feeding times or lending a hand in the laundry with the washing. Whichever way you help out, it will be hugely appreciated.
---
Become a Cheer Squad volunteer
If you're an enthusiastic sort who's great at waving flags and shaking your maracas, you could become a Cats Protection Cheer Squad volunteer. Fundraising events such as The Great North Run and the London Marathon are a great source of income for the charity and, as a Cheer Squad Volunteer, you'll support Cats Protection's event participants make it through their challenge by cheering them on at selected cheering points along event routes. You'll also be instrumental in raising awareness and representing the charity.
---
Host a fundraising afternoon tea
Dust off your best china and host a traditional afternoon tea event with cucumber and egg mayonnaise sandwiches, scones and a selection of cupcakes – you could even summon up your inner Bake Off and make a cat-themed cake as the centrepiece. Don't forget to ask your friends for donations!
If you tell Battersea Dogs and Cats Home about your fundraising idea, you can order a free fundraising pack. The charity also has an A-Z of fundraising ideas to inspire you. With the money you raise you could sponsor a Battersea Cat Cabin. From as little as £5 a month you will make sure there's always somewhere safe and warm at Battersea for lost and abandoned cats to call home while they wait to find a family. You'll also receive a welcome folder containing your very own Cabin Sponsorship certificate along with regular updates about the cats you're helping to see how your support is making a difference.
---
Donate, donate, donate!
It doesn't just have to be money! Most rescue shelters and rehoming groups need cat food, bedding, blankets, towels, old newspapers, cat litter, litter trays and scoops, feeding bowls, cat toys, scratching posts and cat carriers – so, next time you're having a declutter, see what cat-related items you can spare. Ask any cat-owning friends too so you can put together a caring cat bundle of goodies. In addition, if you can donate any good quality, clean items – from unwanted clothes, shoes and homewares – these can be sold in cat charity shops to raise vital funds. Find your nearest cat rescue shelter >>  
---
Sign up for the annual Tour De Blue Cross
Dig out your Lycra shorts and cycling helmet and join animal lovers up and down the country to rise to the challenge of cycling either 125 miles or 302 miles this September as part of the annual Tour de Blue Cross. The entry fee is £12.50 and how you complete the Tour is up to you. Cycle on the road or in the gym. Go for long-distance treks or shorter rides. Head out on your own or with friends. As long as you go the distance by 30 September, you'll have smashed the challenge. On average, it costs Blue Cross £911 to rescue and rehome a cat or kitten, so every mile you cover will make a difference.
---
Become a flair for fashion shop volunteer
If you know your lantern sleeves from your palazzo pants, you could become a retail 'flair for fashion' volunteer for Cats Protection and help raise the funds needed to help cats and kittens in need. This fashion-forward role involves identifying, pricing and sorting saleable clothing from donated stock, with the money raised going directly to helping felines in need. Making a difference can mean raising as little as 18p, which is enough to feed a cat being cared for by Cats Protection for a day.
---
Become a microvolunteer
If you have a really busy life and are always chasing your tail, but would like to be involved in supporting animals, microvolunteering for the RSPCA is perfect. It involves carrying out quick activities when you get a few moments to spare that make a big difference to animal welfare. You'll get three or four microvolunteering activities a month, such as completing online surveys, signing campaigns or petitions and liking and sharing posts on social media to spread information about the RSPCA's animal welfare work. The RSPCA rescues more than 20,000 cats a year and you'll feel proud to support the oldest welfare charity around whose mission is to improve the lives of all animals.
---
Harness the power of social media for cats
If you follow the likes of Cats Protection, Blue Cross, PDSA and local rescue centres on Facebook, you'll likely receive updates on campaigns, fundraisers and requests to find homes for rescue cats looking for a second chance. So why not make it part of your routine to like and share those posts. Who knows who you may reach? You could inspire someone to get their cat microchipped, vaccinated, and neutered (to prevent litters of unwanted kittens who will all need to find a home) or match a cat with their purrfect human. It's a quick and easy way to show just how much you care for cats.
---
Learn more about 'cat friendly resources'
As custodians of International Cat Day, iCatCare's theme for 2022 is 'cat friendly resources'. The organisation has designed cute and colourful educational materials to help humans make sure they're providing cats with the essential resources they need to stay physically and mentally healthy in a cat friendly way. Covering topics such as scent communication, play, feeding, toileting and travel, you can find out more here >>
---
CATS AND NEUTERING – THE FACTS
Cats Protection states: "While having a huge number of kittens might sound like fun, recent research has shown that 70% of kitten litters in the UK are unplanned. That's a lot of kittens needing care, attention and homes – something that can be difficult to prepare for. To avoid more unwanted cats in the UK, our advice is simple. If you can, book your cat in for neutering at four months old."
Young cats can have kittens of their own from just four months of age. With their independent lifestyles, accidental pregnancy is a big risk, with one female capable of having up to 18 kittens a year. That's why getting your cat neutered is so important.
But did you know that just 48 hours after neutering, cats need an estimated 20% fewer calories? While neutering has many benefits, particularly for outdoor-loving felines, it does mean a cat's needs can change. Your feline friend will require fewer calories, as his or her body has less work to do. Neutered cats are also more likely to have urinary tract infections and it increases the likelihood of hairballs. Burgess Pet Care's in-house vet, Dr Suzanne Moyes, advises: "It's a good idea to regularly monitor your cat's weight and switch to a diet specially created for neutered cats to prevent them from becoming overweight and to help with other changes."
---
At Burgess, all our cat food is made using premium ingredients and is high in protein, to ensure excellent quality and superior taste to help keep your cat happy and healthy – from kitten, to adult and mature and our award-winning variety for neutered cats.
How often should you feed your cat?  Once a day? Twice a day? Or, more than that? Find out why little and often suits most cats – and the reason why play should be part of your feeding routine >> 
---
CARE MORE Get more advice on caring for your cat from Burgess, the pet experts. Training, nutrition, grooming and general care. It's all here >>
Is your cat a Burgess cat? Join the Burgess Pet Club for exclusive offers and rewards.
---
If you found this interesting, you may also like:
CAT BREEDS – TAKE A CLOSER LOOK AT SOME OF THE UK'S MOST POPULAR TYPES OF CAT Siamese or Bengal? Norwegian Forest or Maine Coon? Ragdoll or Russian Blue? Which breed of cat do you find most captivating? We count down 10 cat breeds that are riding high in the popularity charts, plus one favourite feline that's not actually a breed at all ...
DOES YOUR CAT LOVE TO SPEND LOTS OF TIME OUTDOORS? HOW CAN YOU KEEP THEM SAFE AND SOUND? If you have a cat companion who rarely spends times indoors, causing you many an anxious moment as you wonder where they are and what they're getting up to, how can you minimise risks for your feline friend?
THE HOMING INSTINCT – CAN CATS REALLY FIND THEIR WAY HOME? There are plenty of stories of cats who have gone missing for days, weeks, months and even years, who have somehow, miraculously, managed to find their way home – including Big Ginge, who was recently reunited with his owners 10 years after he went missing from their narrowboat. Top tip – it's much easier if they're microchipped! Plus, what a change in the law will mean for every cat owner...
EARLY LEARNING FOR KITTENS How we interact with, play with and 'train' a new kitten will have a big influence on their behaviour around people as an adult cat, so it's important to go about it in the right way. We've plenty of top tips...
WHY MATURE CATS OFTEN MAKE THE BEST COMPANIONS Kittens are cute, but older cats can be cuddlier. Find out why mature, mellow felines can be the perfect lap-loving companion pets.
CAT CONUNDRUMS Do you know what a female cat is called? Or why cats lick you? Why do cats purr? Why do cats knead? And is it true that cats only meow at humans, not at other cats? Test your feline knowledge with our fun cat conundrums quiz.
CAN YOU TRAIN A CAT? Felines excel at training their human guardians to give them food, attention and a cosy lap to curl up on. But is it possible for us to train them?
DOES YOUR CAT KNOW THEIR NAME? Whatever name we choose to bestow upon our beloved pet cats, does it make any difference to them? Do they actually understand that they're called Alfie or Bella or even Archibald von Snugglemuffin?