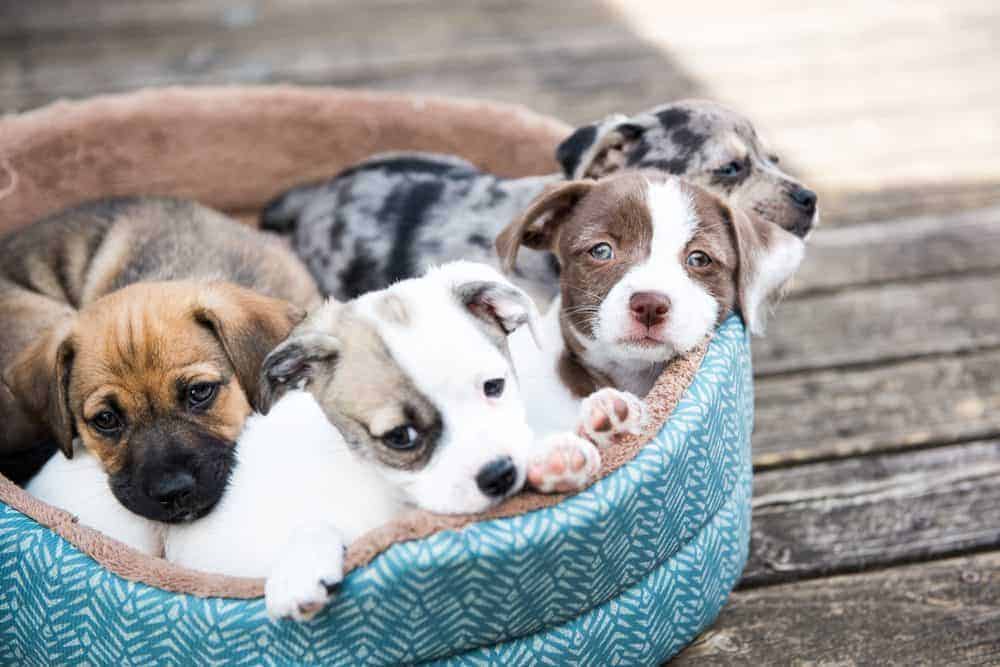 Looking out for lockdown puppies
'Don't Be DOGFISHED' is a new campaign to help stop people being duped into buying puppies that have been illegally imported into the country by devious dealers.
Paula Boyden, Veterinary Director at Dogs Trust, says: "People think they are getting a healthy, happy puppy but behind the curtain lurks the dark depths of the puppy smuggling trade. Many of these poor puppies suffer significant health conditions or lifelong behavioural challenges. This is why we are touring the country in a van like those used by puppy smugglers to educate the public, advising them how they can take action to avoid being 'dogfished'. If it seems too good to be true, as hard as it is, walk away and report it."
---
DID YOU KNOW?
Google searches for 'buy a puppy' increased by 120% in the month after lockdown was announced on 23 March, according to Dogs Trust
---
Dogs Trust polled over 2,000 puppy owners to see how many buyers might have fallen victim of illegal puppy smuggling, where puppies are brought into the UK from central and eastern European countries to sell on for vast profits. 
Many described how sellers falsified paperwork, offered discounts for a quick sale or lied about the age and breed of the dog.
Warning signs
51% of puppy buyers polled were not allowed to see the puppy more than once 
43% were not allowed to see the puppy with their mum 
19% of buyers who were not allowed to see the puppy at the seller's home, revealing they were asked to collect their puppy in a carpark or layby – something that no breeder with care for the welfare of the puppies would do
13% said their seller lied to them about the dog they were buying (such as about the age, breed and whether they had been vaccinated and microchipped) rising to over a fifth (21%) among those who bought via online adverts
26% said they had concerns, related to health or behaviour, about their puppy within just a few weeks of buying them
What the experts say
The Don't Be DOGFISHED campaign is asking potential new owners to take the following steps to avoid being misled when buying a puppy:
Always see puppy and mum together at their home and make sure to visit more than once
Ask lots of questions and make sure you see all vital paperwork, such as a puppy contract – which gives lots of information about their parents, breed, health, diet, the puppy's experiences and more
If you have any doubts or feel pressured to buy, as hard as it may be, walk away and report the seller to Trading Standards on 0808 223 1133
---
Have you heard of Lucy's Law?
On 6 April, the Government introduced landmark new legislation to tackle the low-welfare, high volume supply of puppies and kittens, by banning their commercial third-party sale in England to help disrupt the supply chain of unscrupulous breeders and dealers.
'Lucy's Law' means that anyone wanting to get a new puppy or kitten in England must now buy direct from a breeder or consider adopting from a rescue centre instead. 
 
Licensed dog breeders are required to show puppies interacting with their mothers in their place of birth. If a business sells puppies or kittens without a licence, they could receive an unlimited fine or be sent to prison for up to six months. 
The law is named after Lucy, a Cavalier King Charles Spaniel who was rescued from a puppy farm and is the result of a 10-year grassroots campaign supported by many animal-loving famous faces including Ricky Gervais, Brian May, Rachel Riley, Deborah Meaden and Sue Perkins.
Marc Abraham, media vet, author, founder of Pup Aid and the Lucy's Law campaign, said: "I'm incredibly proud to have led the 10-year campaign to ban cruel puppy and kitten dealers and to get this essential Lucy's Law legislation over the line. I'd like to give a huge thanks to UK Government for passing this law, as well as every animal-loving parliamentarian, celebrity, welfare organisation, and member of the public that supported us."
---
If you found this interesting, you may also like:
ARE YOU READY FOR A DOG? If you're thinking of adding four paws, an inquisitive nose and a waggy tail to your life, make sure you really know what you're taking on. Things to consider include cost, time, exercise and training – and the fact that your life will never be quite the same again...
Sources: dogstrust.org.uk, gov.uk