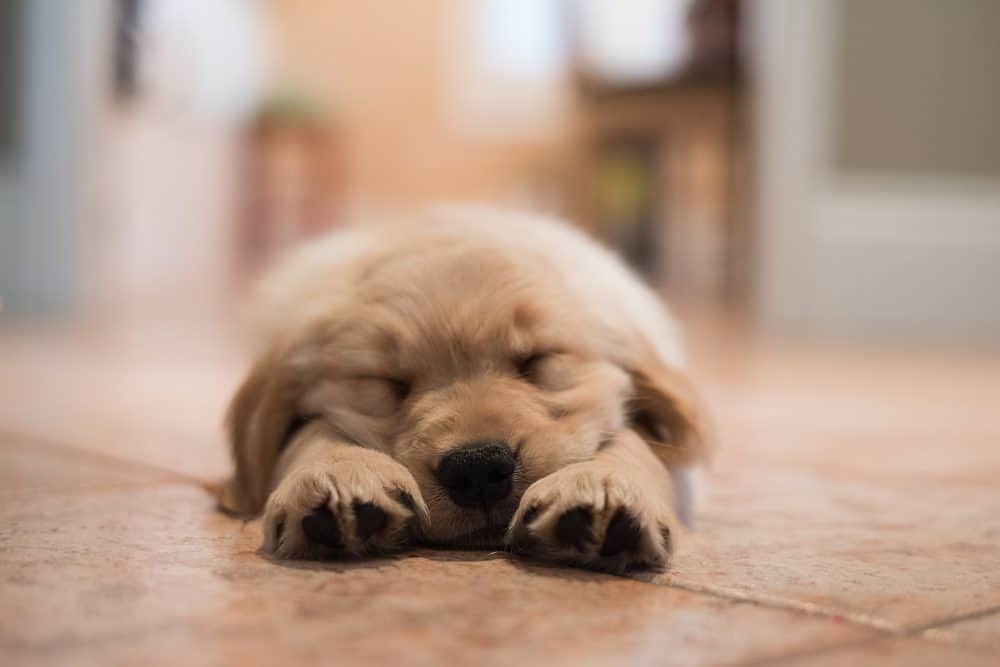 Are you ready for a dog?
Any dog lover will tell you that they'd never be without a four-legged companion. That loyal, affectionate friend who wakes up full of joy for the day ahead, is always pleased to see you and will never spill your secrets. Of course, there's also the small matter of muddy paw prints on your kitchen tiles, dog hair on your sofa, the odd chewed slipper and, quite possibly, a few holes in the lawn – not to mention a desire to go for at least two decent walks a day, whatever the weather. 
Taking on a dog is a huge decision. It requires money, time and commitment. Here are some of the things you'll need to consider...
---
The cost: can you afford it?
Not including how much it costs to actually get a dog you'll also need money to cover regular vaccinations, boosters and parasite control, insurance (in case they get ill or injured  – there's no NHS for pets – and premiums will steadily rise as they get older), food and all the kit. This may include a bed, blankets, bowls, collar and name tag (a legal requirement), harness, leads, poop bags, toys, car restraint, a grooming brush, dog toothpaste and toothbrush and, if they're not already neutered and microchipped, you'll have to pay for that too. 
If you're not home all day, you'll also need to look into the costs of either day care or hiring a dog walker – the RSPCA recommends that dogs are never left alone for longer than four hours. Puppies, in particular, need plenty of company and ongoing training during the day. Plus, what arrangements will you make when you go on holiday? There are various options from kennels (which don't suit every dog) to pet sitters and these may cost more than you think.
---
DID YOU KNOW?
The PDSA estimates that owning a dog will cost you a minimum of between £6,500 to £17,000 over their whole lifetime:
Small dog breeds: £6,500 to £12,000 (around £70 a month)

Medium dog breeds: £8,500 to £13,000 (around £80 a month)

Large dog breeds: £7,400 to £17,000 (around £105 a month)
These figures don't include the cost of purchasing a dog, vet fees, the cost of day care or dog walker, boarding kennel or training classes.
---
Your home: is it dog friendly?
Do you have enough space for your new pet to have a separate eating and sleeping area? Are any items that could be harmful to inquisitive young dogs and puppies – such as cleaning products and electric cables – able to be placed out of reach? Is your garden secure with a six-foot fence so it's safe for them to run and play in? Is there anywhere they could squeeze through or dig under to escape? Have you checked for plants that are poisonous to dog? Are you happy to regularly mop up muddy pawprints and vacuum away dog hair on your furniture and carpets? 
---
Your lifestyle: how will a dog fit in?
Ask yourself if you're sure that you can provide everything a dog needs to be healthy and happy. The Animal Welfare Act 2006 places a legal duty of care on their owners or keepers to provide for their animals' five welfare needs:
Health – Protection from pain, injury, suffering and disease and treated if they become ill or injured
Behaviour – The ability to behave naturally for their species
Companionship – To be housed with, or apart from, other animals as appropriate for the species
Diet – A suitable diet. This can include feeding appropriately for the pet's life stage and feeding a suitable amount to prevent obesity or malnourishment, as well as access to fresh clean water
Environment – A Suitable environment. This should include the right type of home with a comfortable place to rest and hide as well as space to exercise and explore
Even if you think a dog would fit in with your lifestyle right now, are you planning any big changes such as moving home or starting a family? A dog is for life – so any big lifestyle changes you're planning should be able to accommodate a canine companion too. 
In terms of how much time a dog requires – most dogs would like to be with you every moment of the day. While this isn't practical, you do need to be around as much as possible. Dogs Trust has some useful reading on this subject: Do you have time for a dog?
---
Exercise: who'll be walking the dog?
The 2019 PDSA Animal Wellbeing (PAW) report revealed that 1.3 million dogs in the UK aren't walked every day. For dogs across the country, this is devastating. Most need at least an hour of exercise a day – some breeds more – ideally at least twice a day, every day, 365 days a year, come rain or shine. Can you commit to that? Find out more about how much exercise different breeds of dog need here
---
Training: are you ready help your dog to learn?
Dogs can find the human world complex and confusing, which is where training comes in. Dogs don't just arrive knowing what to do and a lack of training can result in behavioural problems that can be hard to manage. Training helps dogs learn what's expected of them and helps them become calm, confident and polite members of society. All dogs – from puppies to older canines – can benefit from a suitable, reward-based training class – it also gives humans the chance to learn about how dogs learn, helping to build a great partnership. Courses such as the Kennel Club's Good Citizen Dog Training Scheme  are something that every dog owner should consider investing in. Find out more about training here:
---
The right dog for you: how do you make the choice? 
Never, ever choose a breed of dog just because you like the look of them or because they're fashionable. Popular flat face breeds such as Pugs and French Bulldogs can suffer from all manner of health problems. Huskies (in vogue thanks to Game of Thrones ) have found themselves in environments that are completely unsuitable for their needs.
The watchword is research. Find out as much as you can about the breeds you're interested in and ask your local veterinary team for advice. Sometimes, you may find adopting an older dog that's already housetrained and used to living with a family may suit you better than taking on a demanding puppy. PDSA has an online quiz Get PetWise to help you make the right choice.
---
Finding a dog: where will you get your new friend from? 
If you decide you're ready to take on a puppy, always select a breeder from the Kennel Club Assured Breeders list. Never buy from a pet shop, the internet or local newspapers. Dogs sold here may come from a puppy farm – unscrupulous places where profit is placed above animal welfare. Pup Aid has useful information about the correct way to get a dog. The organisation's #Wheresmum campaign focuses on educating new owners about the cruel trade of puppy farming, ensuring people only buy from a reputable and honourable breeder.
And of course, there are all sorts dogs – from pure breeds to cross breeds – of different ages, sizes and personalities, at rescue centres around the country, waiting for a second chance to live in a loving home. Good rehoming centres have rigorous adoption procedures, including home checks, and carefully match their dogs to the adopter's lifestyle and circumstances. They'll also offer plenty of helpful advice on caring for your new dog and provide you with post-adoption support. Here are some to check out:
---
If you found this interesting you may also like:
THE WAY YOUR DOG BEHAVES IS DOWN TO THEIR GENES
Environment and training all have a part to play, but most canine behaviour traits are hereditary, concludes a new study – which is something to seriously consider before choosing your perfect canine companion...
DO YOU HAVE IT IN YOUR HEART TO RESCUE A HOUND?
What have you done today to make you feel proud? For hound rescuers, it's adopting a long-legged, sofa-snuggling, loving and loyal rescue dog and giving them a happy new life...
DOG BEHAVING BADLY?
Sometimes, dogs being dogs is just too much for their human owners to handle. That's why we need to help our canine companions to learn when we're happy for them to do certain things, and when we're not  
DOG DOMINANCE? WHY IT'S TIME TO DITCH THIS OUTDATED IDEA
Our relationships with our pet dogs should be about developing a unique human/canine partnership where we both learn from each other, rather than trying to establish who's boss
THE GREAT CRATE DEBATE
Are dog crates a useful tool to aid with toilet training in puppies and to provide a safe space, or are they unnecessary accessories that humans have begun to rely too heavily on?
WHICH SMALL PET IS RIGHT FOR YOU?
Small pets come in all different shapes, sizes and species, so it's no surprise that choosing the right addition to your family is far from easy. We've lots of advice to help you make the best decision...
Sources: pdsa.org.uk, rspca.org.uk, bluecross.org.uk, dogstrust.org.uk