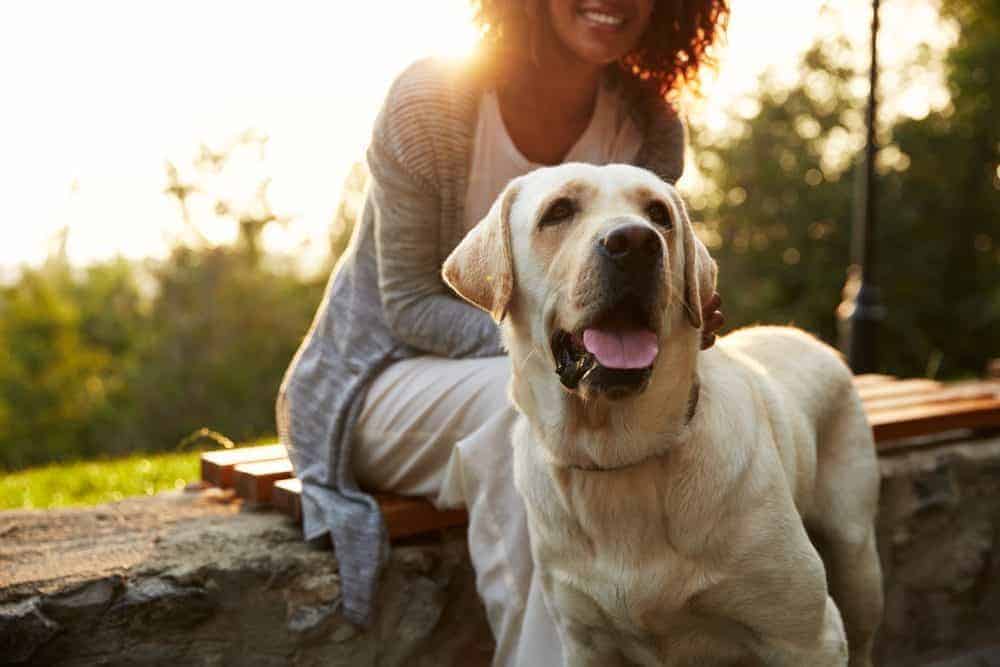 Share the pet love
April is National Pet Month, which is all about raising awareness of responsible pet ownership through educational campaigns, along with celebrating the benefits of having pets in our lives. It also encourages fundraising for pets in need and, for animal lovers, it's simply the best month of the year...
In the US, this year's National Love Your Pet Day falls on 11 April, but here in the UK we have a whole month to show our animal companions just how much we love and appreciate them – and to celebrate how caring for animals brings so many benefits to our lives.
When it comes to explaining to any non-pet owners just how wonderful, important and special our animal friends are, animal charity Blue Cross has it nailed, stating: "Pets can be our best friends, confidants, motivators and even our teachers. In many cases, they also improve our wellbeing and health. For some people, pets are quite simply a lifeline. It's no wonder that an estimated 12 million, or 44%, of households in the UK have pets. Anything that encourages you to get out and explore the great outdoors helps to improve mental wellbeing, and in many cases pet ownership does this. But, again, even when you're inside, snuggles on the sofa with your cat, dog, hamster or rabbit can reduce stress and lift our mood due to the so-called happy hormones, or endorphins, that it releases."
A recent scientific study into maintaining better health and reducing loneliness conducted by the University of York and the University of Lincoln backs this up. Researchers found that, of the 6,000 participants who had at least one pet, more than 90% said their pet helped them cope emotionally and 96% said their pet helped keep them fit and active.
---
Best friends and soulmates
The survey also revealed the strength of the human-animal bond did not differ significantly between species. Lead author Dr Elena Ratschen from the Department of Health Sciences, University of York, said: "We also discovered that, in this study, the strength of the emotional bond with pets did not statistically differ by animal species, meaning that people in our sample felt on average as emotionally close to, for example, their guinea pig as they felt to their dog."
Indeed, more than a third of people in a recent Blue Cross survey described their pet – of whatever species – as a best friend: "Pets make us laugh, cheer us up when we're feeling at our worse or are unwell and they are a non-judgemental shoulder to cry on. They never share our secrets, and bring us comfort when we need it the most. Pets can become our soulmates without uttering a single word."
---
National Pet Month 2021 – Pets and People Caring for Each Other
Celebrating the relationship between pet animals and their human guardians is at the heart of National Pet Month (NPM), which raises awareness of responsible pet ownership and shares the many benefits of our cherished companions across the UK.
For NPM 2021, the focus is on the five animal welfare needs, the physical and mental health benefits of pets and the tireless work of the veterinary profession through a pandemic. The organisation states: "This will sit alongside our theme of Pets and People: Caring for Each Other, reflecting how our pets have positively impacted us through a year of lockdowns, and looking at how we can give back, ensuring our pets stay healthy and happy."
The topics covered under the five welfare needs include:
Companionship
The need for companionship has never been more in the spotlight as we have been forced to spend time away from our loved ones. The connection with our pets has been a lifeline as NPM's series of#PetPawsitivity stories
There'll be a focus on the companionship needs of our pets and a look at the unique challenges when we return to work.
There'll be discussion and tips on pet friendly office policies and advice on what makes a pet's ideal home environment – whether they're a solitary animal or prefer companionship.
We'll also share the latest results of a PFMA (Pet Food Manufacturers' Association) survey on new owners in lockdown, providing valuable insights into UK pets and their owners today.
Behaviour
To ensure our pets remain happy and healthy, it's important to understand the behaviour of our animals so we know if, and when, to seek advice from pet and vet professionals.
NPM will provide support and advice to help avoid issues such as separation anxiety as we ease out of lockdown and routines change.
NPM will also share top training tips from the APBC (Association of Pet Behaviour Counsellors) and NOAH's (National Office of Animal Health) expert guide to Knowing Your Pets' Behaviour.
Diet
With pet obesity on the increase, it's never been more important to ensure our pets are eating a nutritious and well-balanced diet.
NPM will lead discussion and share articles on the latest data from PFMA and include advice and support to ensure pets are eating well throughout their lifetimes.
Health
From the moment a new pet arrives, it's important we provide them with the best health care to help them live life to the full.
To help achieve this, NPM will be sharing all the latest news, advice and tips on vaccinations, worming, and other vital care.
Environment
Everybody – people and pets alike – needs a place they can call home, somewhere safe and secure and appropriate for their needs.
Today more people rent their homes, particularly younger generations who have embraced pet ownership during the pandemic, and felt its benefits. However, it can be difficult to find suitable accommodation, with some people forced to give up their pets to find somewhere to live. The final week of NPM will look at efforts to change policy and make pet friendly rental accommodation the norm, as well as offer advice to new and young pet owners who might be struggling.
---
How to get involved
NPM is all about working together to celebrate our pets and make their lives better – what better reason do you need to get involved? The organisation states: "We love to see fundraisers and events in support of the UK's many phenomenal pet welfare organisations and charities. This can be individual or larger events, virtual or in-person"
While the National Pet Month campaign runs from April to May each year via various media outlets, the important messages that NPM endorses run all year-round. The organisation continues to develop informative and important content for both experienced and new pet owners alike.  As An educational campaign, NPM is unique in bringing together animal welfare charities, professional bodies, pet businesses, schools, youth groups, and pet lovers. The campaign is coordinated by National Office Of Animal Health (NOAH) and Pet Food Manufacturers' Association (PFMA)
---
Is your pet a Burgess pet? Join the Burgess Pet Club for exclusive offers and rewards.
As a family-owned business with over 300 years of history, the health and wellbeing of pet animals is Burgess Pet Care's number one goal and we're proud of our expert knowledge in animal nutrition. Burgess Pet Care also organises annual small pet events – Rabbit Awareness Week, now in its 15th year, and, most recently, the first ever Guinea Pig Awareness Week. These events bring together leading small animal welfare experts and veterinary professionals from across the UK, along with welfare charities and organisations that work to help improve standards of rabbit and guinea pig care. Every September, Burgess Pet Care also hosts the annual 10-day takeover for Greyhounds and Lurchers, where nominated rescue charities receive special deliveries of delicious, nutritious Supadog Greyhound and Lurcher food to feed hundreds of hungry hounds, waiting patiently in shelters across the UK  for their forever homes.
---
If you found this interesting, you may also like:
YOU'RE MY BEST FRIEND Which would you choose – a night out with your friends or night in on the sofa with your dog? If it's the latter, then you're not alone. More than half of pet owners admit they enjoy the company of their animals more than that of their human friends, according to a new poll.
WHY PETS ARE SO GOOD FOR OUR MENTAL WELLBEING The unconditional love and companionships pet animals provide can be a lifeline for people contending with mental health issues...
IT'S OFFICIAL – PETS HELP TO RELIEVE EXAM STRESS It's exam season and stress levels are at a peak in households across the country. One of the best ways to relieve the tension is to spend time with your pet. In the US, some universities are even rolling out dog therapy sessions with remarkable results...
DOGS CAN SMELL HOW HUMANS ARE FEELING If you're a dog owner, it's a safe bet that you feel your pet is tuned into your emotions. Now, science has proved that this really is the case. However, it's the way that canines sense human emotions that's rather astonishing...
WHY IT'S GREAT TO HAVE A PET  They're our companions, our best friends and they can transform lives. In National Pet Month, it's time to say – thank you pets!
ARE YOU A PET EXPERT? How clever is your dog? Why do cats groom so much? How high can chinchillas jump? What do you call a group of rats? Test your pet general knowledge with our fun and informative 12-question quiz. Answers at the end – but no peeking!