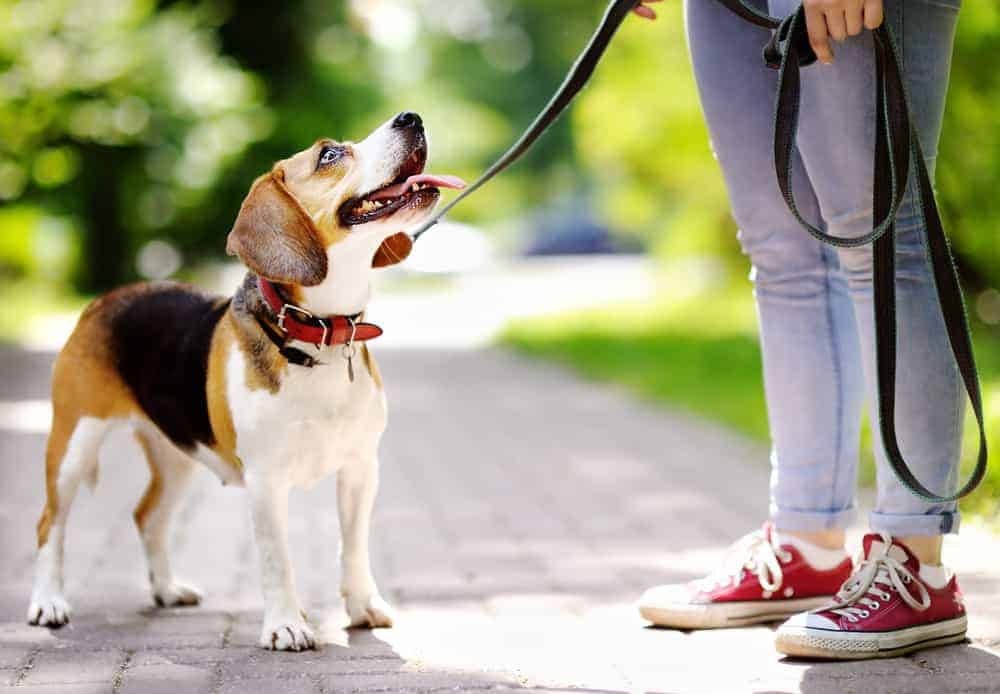 Walking back to happiness
Get out and about with your dog during National Walking Month!
The lovely month of May, when the blossoms are in full bloom and the woods are adorned with bluebells, is also National Walking Month. What better excuse do you need to set off, with your canine companion in tow, to enjoy some fresh air, explore the UK's wonderful countryside and boost both your – and your dog's – feelgood hormones?
However, before you set off, there's a few things you need to think about to ensure that you both have a wonderful time, rather than a series of misadventures...
---
Is your dog's training up to scratch?
It's always good to brush up on the basics of some positive reward training. Without training, the world can be a pretty confusing place for your dog. And, as we expect our canine chums to behave in set ways and follow certain rules – such as coming when we call them – they need to understand those rules before they can stick to them. It's easier for dogs to learn when it's fun. Here's some useful info:
If your dog hasn't mastered 'not pulling on the lead' yet, then this is something else to work on. Going on a lengthy leg stretch is not much fun for either of you if your four-pawed pal is yanking your arm off and half strangling themselves in the process.
Being out and about in the countryside makes having a good recall even more important, but it can be one of the hardest things to teach. After all, how can you persuade your canine companion that you're far more interesting than whatever he or she has got their nose stuck into?
---
What do you need for a dog walk?
Before you set off on an exciting human/canine adventure, make sure you have everything you could possibly need. It's always better to be safe than sorry!
Take a rucksack of essentials including poop bags, water, bowl, spare lead, snacks (canine and human), waterproof jacket and mobile phone. Remember to leave only footprints and to take only photographs.
Pack a basic first aid kit for yourself with plasters for blisters, antihistamine and sun cream, and one for your dog, with a roll of self-adhesive or crepe bandage, some non-adhesive absorbent dressings, surgical sticky tape, blunt ended scissors, tweezers and tick hook. Bookmark your phone with websites of local vets for when you're away from home, such as Find a Vet.
---
What type of walking adventure should you embark on?
Planning ahead is essential to ensure you choose the right sort of walk that will suit both you and your dog. Take time to rest and seek shade in warmer weather and be careful not to over-exert your dog if he or she is a puppy, a flat-faced breed such as a Bulldog or Pug, an older dog, is suffering from an illness or recovering from an operation.
Different breeds can cope with different amounts of exercise – a Golden Retriever, Border Collie or Springer Spaniel will happily explore outdoors for a couple of hours or more, whereas a Miniature Dachshund, King Charles Spaniel or Pomeranian will prefer a shorter burst of exercise of around half an hour. As a guide, animal charity PDSA has created a chart which outlines the recommended amounts for different breeds.
---
Are you prepared for the unexpected?
The Great Outdoors is a place like no other – and you just never know what might happen next. Remember to follow The Countryside Code and always keep a watchful eye on your dog to keep them out of trouble. Here are some useful tips:
If you're planning a long hike, take a map and a compass and don't rely on your mobile phone – lots of countryside areas are out of signal range.
Many woods have waymarked paths and routes you can follow. Be sure to stay on the paths to avoid damaging important wildlife habitats.
Keep your dog in sight at all times so you know what they are doing/chewing/drinking.
While some dogs love puddles, don't let them drink water in stagnant pools that doesn't look clean. A blue/green paint-like scum of algae floating on the surface of still water can be irritating or even fatal.
Avoid a potentially fatal 'bloat' or a stomach torsion by not exercising your dog for at least an hour before and after meals, or after drinking lots of water.
Some dogs love sticks, but you should NEVER throw them as they can cause potentially fatal injuries. Throw and play with an approved, tough plastic toy instead, and make sure it's big enough not to be swallowed.
If you have to go through a field of cattle, don't panic and don't run. Put your dog on a lead and walk calmly and quietly through the field, staying away from the herd. Close all gates behind you.
If you spot a horse on a bridleway, remember not to get too close to the animal. Keep your dog calm so they're not tempted to bark, and don't shout or run, in case you startle the horse.
Always check your dog's skin for pea-sized ticks after a walk. Remove them immediately with a tick hook (or ask your vet to), as they can spread serious diseases. Never squeeze or pull them off as this will leave tick body parts in your dog. Better still, ask your vet about products to keep dogs safe from tick-borne diseases before you go.
Seek veterinary advice immediately if your dog shows signs of being unwell following your countryside visit.
Happy wanderings!
>>>>>>>>>>>>>>>>>>>>>>>>>>>>>>>>>>>>>>>>>>>>>>>>>>>>>>>>>>>>>>>>>>>>>>>>>>> 
Is your dog a Burgess dog? Join the Burgess Pet Club for exclusive offers and rewards.  
CARE MORE Find out more about caring for your dog from the pet experts >>
>>>>>>>>>>>>>>>>>>>>>>>>>>>>>>>>>>>>>>>>>>>>>>>>>>>>>>>>>>>>>>>>>>>>>>>>>>> 
If you found this interesting, you may also like:
DOG DAYS From puppy to adolescent, through to adult and senior, as your dog goes through different stages, their exercise and nutrition needs change. Find out how to help them stay happy and healthy every day of their lives...
WATCH OUT FOR THESE SPRINGTIME HAZARDS If you want to avoid a pet emergency this spring, it's important to take a closer look at some springtime hazards that vets would like pet owners to be aware of.
ARE WE HAVING FUN YET? HOW TO MAKE ON-LEAD WALKIES MORE OF AN ADVENTURE FOR YOUR DOG  Going out for a walk is the highlight of the day for many dogs, which is why it's important to keep things as interesting as possible. We've 8 top tips to spice up your dog's life when it's time for on-lead walkies...
WET AND WILD Most dogs love splashing about in water and it's a great way to keep your canine chum cool on a hot summer's day. However, whether it's at the beach or along the riverbank, when it comes to water, it should always be a case of safety first.
HOLIDAYS WITH YOUR DOG Staycations can be great news for your dog as it means they can go on holiday too! However, it's important to plan everything from ensuring your road trip is dog-friendly (comfort, safety, and plenty of pitstops) to your location (are there dog-friendly beaches and places to visit nearby?) to ensure your canine chum has a happy holiday as well.
IT'S TOTALLY COOL – A SUMMER SAFETY GUIDE FOR PETS While we're all hoping for another long, hot summer, scorching sunny days can be challenging for our furry friends. When it comes to keeping pets cool in summer, there are lots of things we can do to help.
DOGS ON TOUR Tips on travelling in your car with your dog this summer.
TOO HOT TO HANDLE? While we have sweat glands all over our bodies to help us regulate our temperature, animals don't have the ability to cool themselves down as easily and can be vulnerable to heatstroke. It's up to us humans to take extra care of our pets in hot weather.
THE BIG SNEEZE Did you know that our pets can suffer from hay fever too?
KEEP CALM AND CALL THE VET If your much-loved pet suddenly became unwell or suffered an injury, would you know what to do? What symptoms should you look out for that suggest the situation is serious? When should you call the vet?