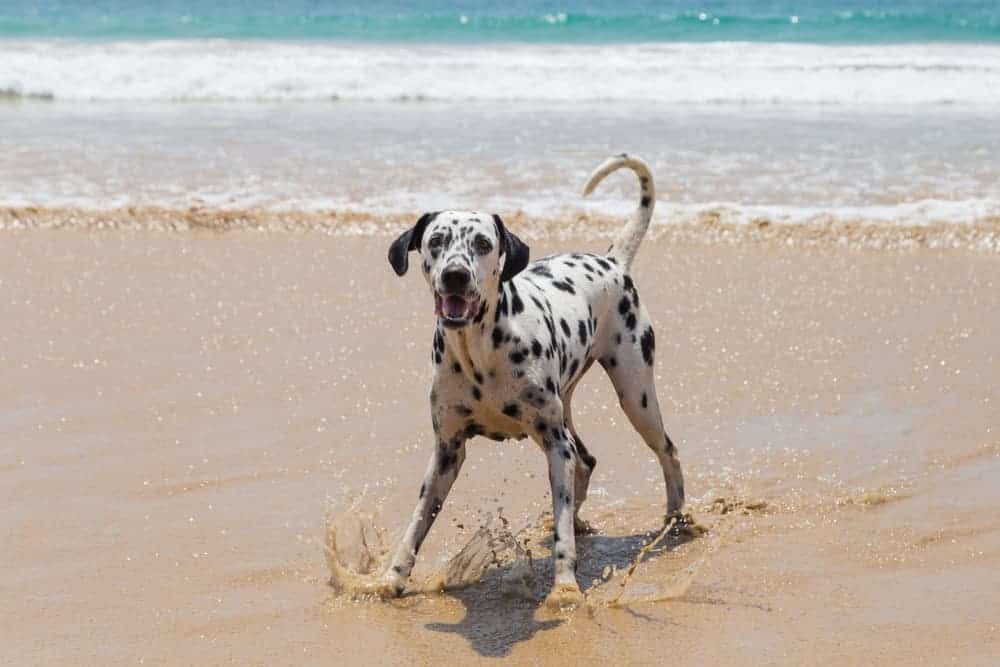 Where can I walk my dog this summer?
After so long being stuck in the same old place doing the same old walks, getting the chance to travel around the UK suddenly seems like the ultimate in staycation luxury. And, if you've got a canine chum, being out and about is always double the fun. We take a look at some of the best places around the country to walk the dog – from seaside saunters and rambles in the forest, to ambles around stylish country estates. Plus, before you embark on an exciting doggy day out, check out our essential health and safety tips.
First things first
You and your dog may be keen to get away, but don't leave home until you've done the following:
---
How often should you walk your dog? While all dogs need daily exercise, how much depends on their breed, age, health and even their personality...
---
SEASIDE STROLLS
Embleton Bay, Northumberland
This long stretch of golden sand, overlooked by the eerie ruins of Dunstanburgh Castle, is one of the cleanest and most unpopulated beaches in the UK. Set within the Northumberland Coast Area of Outstanding Natural Beauty, BBC's Countryfile Magazine readers voted it the best beach in the UK 2017. With its secluded sand dunes and enticing rock pools, dogs will love it too. Find out more >>
Harlyn Bay, Cornwall
There are several dog-friendly beaches in Cornwall, with crescent-shaped Harlyn Bay considered one of the best. The combination of golden sand, dunes and tide pools means there's plenty for your canine chum to explore, plus there are delightful walks from the beach to Mother Ivey's Bay and Trevose Head. Find out more >>
Balnakeil Beach, Durness, the Highlands
With its white sands, rolling grassy dunes and turquoise waters, Balnakeil, in the very north of Scotland, boasts stunning views at every turn and is renowned for its spectacular sunsets. Often deserted, there are endless opportunities to explore this wild and beautiful location with just your four-legged friend by your side. Find out more >>
Rhossili Bay, Gower, Wales
This coastal gem was named by TripAdvisor as one of the best beaches in the UK, and the 11th best beach in the world. It's also a must-visit destination for dog owners – The Times even nominated Rhossili Bay as 'The UK's No 1 dog-friendly beach'. With its bracing Atlantic swell and stunning views, you may even spy some basking seals or dolphins playing in the surf as you stride along its three miles of sandy shore with your dog at your heels. Find out more >>
Ballycastle Beach, County Antrim
The traditional seaside town of Ballycastle is located on the Causeway Coast Route of Antrim, not far from the Giant's Causeway and Glens of Antrim and Rathlin. It's also home to a fine stretch of sandy beach, which runs from Ballycastle's marina all the way to the popular fishing spot of Pans Rocks just over a mile away. Dogs are allowed throughout the year, but must be kept on a lead during the summer. Find out more >>
Dog-friendly beaches near me >>
---
When is it too hot to walk your dog? Check out our summer pet safety tips to help your furry friends remain cool, calm and comfortable.
---
STAY SAFE AT THE BEACH BY FOLLOWING THIS ADVICE:
---
FOREST FROLICS
Speech House Woods, Coleford, Forest of Dean
This is a pleasant two-and-a-half-mile circular forest walk between Coleford and Cindeford. It combines fantastic forest scenery with very gentle inclines, so is ideal for older dogs or those that can't go too far such as puppies or flat-faced breeds likes Bulldogs and Pugs. Find out more >>
Bellever Forest, Devon
This lovely forest in the heart of Dartmoor provides four-legged friends with both a runabout in the woods and the chance for a paddle or swim in the East Dart river. Four waymarked trails provide routes for every ability of dog walker – and dog, with plenty of places to picnic and watch the wild Dartmoor ponies. If you're both energetic types, you can climb to the top of Bellever Tor. Find out more here >>
Big Dog Forest, County Fermanagh
If the name of this location isn't enough to draw you in, then take a look at what's on offer. Big Dog and Little Dog are two hills that are named after the Irish Wolfhounds belonging to the legendary giant Finn MacCool. Follow the two-and-a-half-mile Big Dog walk and explore some of Fermanagh's best upland landscapes and the Big Dog forest, which is home to red deer, herons and dragonflies. Find out more >>
Grizedale Forest, Lake District
Grizedale offers a magical forest experience in the Lake District World Heritage Site that's perfect for adventurers. You can plan a walk of up to 10 miles through woodland paths, up streams and along rocky trails – and even discover sculptures along the way. If you and your very active dog (Border Collies, Lurchers and Labradors may be up for the challenge) are after a wild day out, this is the place for you. Find out more >>
Jeskyns Community Woodland, Cobham, Kent
Jeskyns is home to 360 acres of newly planted woodlands, meadows and orchards. There's a good network of surfaced walking trails, a Fairy and Elf Village, café and – most importantly – a dog activity trail, where your canine pal can tunnel, weave and balance their way along the route. Fun for all dogs, but particularly those who adore agility – such as Spaniels, Collies, Jack Russell Terries and Shetland Sheepdogs. Find out more >>
---
Follow Blue Cross's top tips for trouble-free forest adventures:
---
GRAND TOURS OF COUNTRY ESTATES
Blickling, Norfolk
An imposing Jacobean mansion and ancient yew hedges sit at the heart of a magnificent garden and historic park in the beautiful Bure meadows. With more than 4,600 acres to wander about in, Blickling's parkland is the perfect spot for interesting walkies. The four-and-a-half mile circular route is fascinating for both humans and canines alike as it takes you past Long Plantation, Great Wood, the Tower, Brickyard and Mausoleum. Find out more >>
Cliveden, Buckinghamshire
With over 300 acres of woodlands, riverbank and formal gardens to explore, Cliveden offers a varied selection of dog-friendly walking trails to suit all abilities. There's even a handy dog walk map that you can download to plan your route. Dogs are welcome off lead in the woodlands, provided they are kept under close control. Find out more >>
Clumber Park, Nottinghamshire
Clumber Park has always been a place where dogs can have a good time – indeed the Clumber Spaniel breed was developed here when the park was home to the Dukes of Newcastle. You and your doggy companion can enjoy a delightful six-mile walk through woodland and heathland along the border of the Ducal Estates Of Clumber and Thoresby, which avoids areas of the park that may contain grazing livestock. Find out more >>
Beningbrough Hall, Gallery and Gardens, North Yorkshire
Surrounded by parkland, with riverside and woodland walks on all sides, Beningbrough Hall has an intriguing past. From the wealthy teenager who inherited it, to the hall's use as an RAF billet, Beningbrough has been shaped for more than 300 years by the people who lived here. Dogs are welcome in the parkland with miles of paths to explore. Ask for a parkland walks leaflet when you get to admissions. Find out more >>
Greys Court, Oxfordshire
Set in the rolling hills of the Chilterns, the estate grounds are full of wooded parkland and rambling walks, just waiting to be investigated by waggy-tailed explorers. Follow the red arrows through the farmland and beech woods and you'll be delighted to discover that this two-mile walk is stile-free, which is really helpful if you have a large breed such as a Great Dane, Irish Wolfhound or Bernese Mountain Dog. As you may come across different types of wildlife and grazing farm animals it's best to keep dogs on a lead. Find out more >>
National Trust walks near me >>
The National Trust asks visitors to keep their dogs under close control, which it outlines as follows:
---
Is your dog a Burgess dog? Join the Burgess Pet Club for exclusive offers and rewards.
At Burgess, all our dog foods are made using premium ingredients to ensure excellent quality and superior taste to help keep your dog happy and healthy – from puppy, to adult and senior. We've also developed foods to meet the specific nutritional needs of working dogs, Greyhounds and Lurchers, and dogs with sensitivities. And we're very proud of our Paul O'Grady's 'No Nasties' dog food range, which comes in Hypoallergenic and Grain Free varieties and is, in Paul's words: "the best food you can feed your dogs."
All Burgess dog food is a complete food. This means, whatever variety you choose for your dog, it will contain all the nutrients they need in the correct balance.
---
If you found this interesting, you may also like:
COUNTRYSIDE CALL BACKS Being out and about in the countryside makes having a good recall even more important. Here's what (and what not) to do.
WET AND WILD Most dogs love splashing about in water and it's a great way to keep your canine chum cool on a hot summer's day. However, whether it's at the beach or along the riverbank, when it comes to water, it should always be a case of safety first.
IT'S TOTALLY COOL – A SUMMER SAFETY GUIDE FOR PETS While we're all hoping for another long, hot summer, scorching sunny days can be challenging for our furry friends. When it comes to keeping pets cool in summer, there are lots of things we can do to help.
SUMMER SAFETY – WHY YOUR PETS NEED YOU TO STAY ALERT! Mid-summer means endless days to enjoy time outdoors with our animal chums. It also means being aware of all sorts of hazards that can affect our furry friends. But don't panic, we've plenty of great advice to help you be a pet parent who can totally handle it...
DOGS ON TOUR Tips on travelling in your car with your dog this summer.
GOOD DOG! HOW TO MAKE DOG TRAINING A SUCCESS Is your dog's behaviour proving to be a bit of a challenge? The secret to successful training is getting to grips with dog communication and dog body language so that the two of you can really understand what you're saying to each other.
IS TAKING YOUR DOG FOR A WALK A TUG OF WAR? Pulling on the lead is a behaviour that many dog owners grapple with on a daily basis. But with training, patience and plenty of encouragement, every dog can learn to walk nicely on the lead.
KEEP CALM AND CALL THE VET If your much-loved pet suddenly became unwell or suffered an injury, would you know what to do? What symptoms should you look out for that suggest the situation is serious? When should you call the vet?