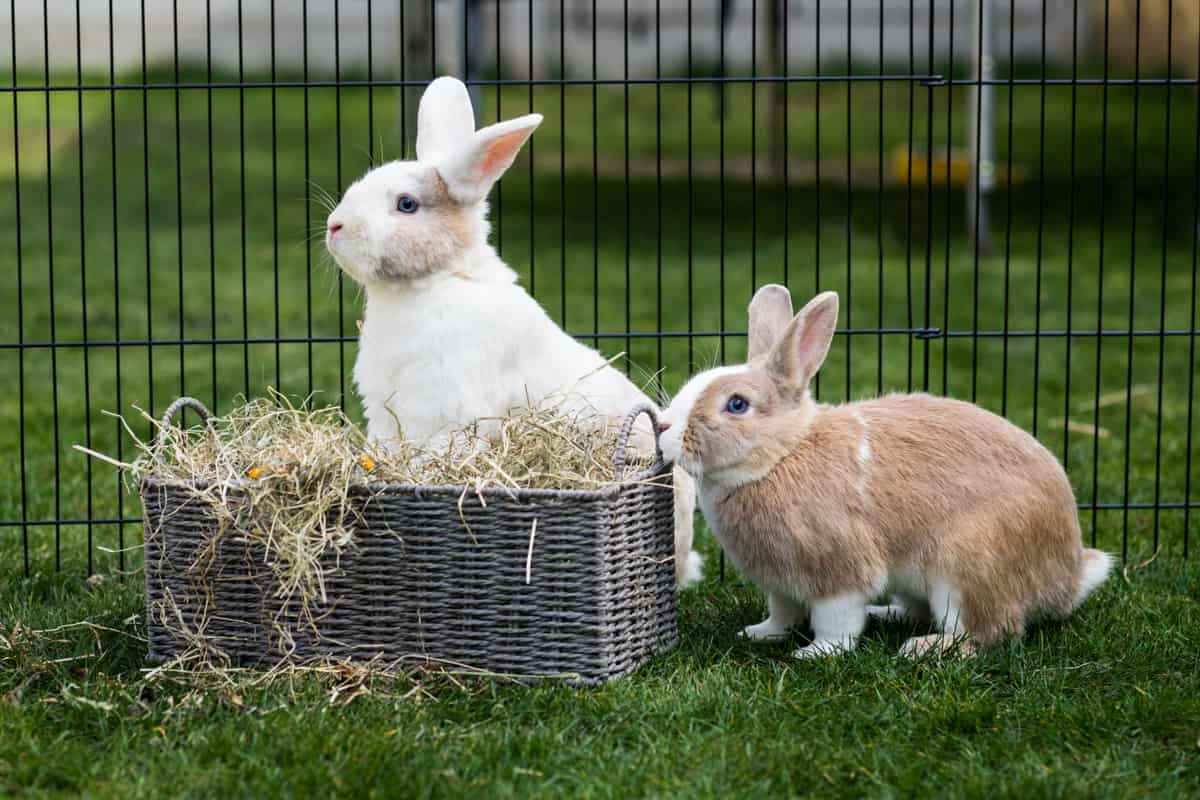 New Look Nuggets
Your small pets' favourite nuggets now have a brand-new look!
Rabbit nuggets, guinea pig nuggets and other varieties of nuggets for small pets may not look very exciting from the outside – but inside, they're packed full of fibre and all the vitamins and minerals your small pets need to help them stay healthy and happy.
Designed to capture all the nutritional benefits of fresh grass, which fibrevores such as rabbits, guinea pigs and chinchillas, would naturally eat in the wild, and to prevent selective feeding (a real problem with muesli-style foods, causing dental and digestion issues) all Burgess Excel small pets nuggets, feeding hay and healthy treats are made using only the finest quality ingredients at Burgess's own factory in the heart of Yorkshire.
In fact, did you know it was Burgess Pet Care that developed the UK's first single component nugget for rabbits to prevent selective feeding and the world's first food specifically formulated for indoor rabbits?
Look out for the new look!
The company's latest innovation is to give the Excel nuggets packaging a whole new look –with bold, bright colours and gorgeous new photography – so that your small pets' favourite food really stands out and is easy to spot in-store.
In-house vet, Dr Suzanne Moyes, explains: "We've updated the packaging based on feedback from our customers, simplifying the layout to make the key product benefits clearer so it's even easier for owners to choose the best product for their small animals. For example, 81% of rabbit owners and 60% of guinea pig owners told us that dental health was very important to them, so we've added a new 'Don't forget the hay for dental health' logo to our packs. We've also slightly tweaked the formulations for our best-selling Adult Rabbit with Mint and Guinea Pig with Mint nuggets. There are no changes to the ingredients, but we've slightly increased the fibre levels."
You'll also see a new 'muesli free' logo on the back of all the new packaging. Dr Moyes adds: "We hope this will help spread awareness about the problems that can be caused by selective feeding in some small animals."
---
Got a question about the new-look Burgess Excel nuggets packaging? Keep reading to find the answers in our Q&A below.
---
Why nuggets are the best choice for small pets
Muesli has the reputation of being a healthy, nutritious food for humans and the same approach has been used when marketing muesli-type foods for small pets. Unfortunately, the opposite is true. While pet owners may think they're buying a healthy mix of tasty nibbles, feeding a muesli mix to small pets such as rabbits, guinea pigs and chinchillas, can result in all sorts of health problems.
Research undertaken by The University of Edinburgh revealed that muesli-based diets encourage selective feeding, where small pets eat some high starch/sugar components of the muesli diet, while rejecting the nutritious and fibre rich elements. This can cause painful teeth problems and lead to an imbalanced diet.
The best way to ensure your small pets are getting everything they need from their diet is to stick to the 5-step Excel Feeding Plan, which was developed in conjunction with one of the world's leading small animal vets for rabbits, guinea pigs and chinchillas. This will provide your small pets with the perfect daily balance of fibre and nutrition.
---
Big care for small pets
---
Burgess Excel nuggets Q&A
Q: Why have you changed the pack design?
A: Based on customer feedback we've updated our design to modernise it and make the product benefits clearer on the front of our packs, so it is easier to choose which one is right for your small pets.
Q: Have you changed the recipes?
A: We have slightly tweaked some of our recipes to increase the levels of beneficial fibre, but the top-quality ingredients and careful method of processing remain the same. We haven't added anything new or taken anything out, so you don't have to worry about transitioning to the new varieties.
Q: Why have you changed the recipes?
A: The new recipes have higher levels of fibre which is important for rabbits and guinea pigs. Remember that 85%-90% of your rabbit or guinea pigs' diet should be fresh grass or feeding hay.
Q: Will the changes affect the taste?
A: We have tested the new formulations on some of our own animals and they all enjoyed munching away on their nuggets as usual! This wasn't a surprise given the very small changes to the recipes that we've made.
Q: Have the 1.5kg bags replaced the 2kg bags?
A: With the exception of Excel Ferret Nuggets, all our 2kg nuggets will change to 1.5kg as our customer research reveals that this pack size is better suited to the majority of small pet owners' needs.
Q: What is the recyclability of the bags?
A: The majority of our bags are recyclable in large supermarkets.
---
Ever wondered why 92% of vets recommend our Burgess Excel small pets range? It could be down to the exceptional care we take with our grass...
At Burgess, all our small pets nuggets, feeding hay and healthy treats are made using only the finest quality ingredients that meet our stringent specifications and homegrown grass that's exclusive to Burgess – no other pet food manufacturer has access to our grass!
By choosing Burgess and Burgess Excel pet foods, you know you can feed your pets with complete confidence. And, by signing up to Subscribe & Save, it's easier than ever to give them the top quality, tasty, nutritious food they deserve, every single mealtime. Simply:
Choose your pet's favourite Burgess Excel tasty feeding hay or selected Burgess Excel rabbit and guinea pig nuggets and click on the Subscribe & Save 10% option
Decide how often you'd like your food delivered
Head to the checkout and complete as normal – then sit back and relax, knowing that your order will be delivered straight to your door!
---
Helping you to help your small pets live their best lives
At Burgess Pet Care, we're focused on helping pets and pet people understand more about the importance of healthy nutrition and caring for their animal companions in the best way possible. Here are some of the ways we can help:
Got a question about caring for your pets or about the best way of feeding them? Ask our vet >>


Looking for helpful advice for your pets? We've lots of great tips to help you give your animals the best life on our pet care pages >>
---
Are your small pets Burgess small pets? Join the Burgess Pet Club for exclusive offers and rewards.
LET'S GET SOCIAL Sign up to the Excel Bunny Base – a safe Facebook community for rabbit guardians that are looking for advice and friendly discussions from likeminded owners – and there are lots of cute bunny photos and videos! Also join us on Instagram. Or why not become part of the Excel Squeak Squad on Facebook? Join Berry & Bramble, our special G-force guinea pigs, on weekly missions and fun competitions.
---
If you found this interesting, you may also like:
HELP YOUR PETS STAY SAFE ALL SUMMER LONG Our dogs, cats and small pets need extra support when the heat is on and we've lots of great advice to protect them from seasonal dangers – from what's the best way to help rabbits cool down to why you shouldn't leave your dog's toys in the garden. Find out how to play it safe this summer with our 21 hottest tips.
SMALL FURRIES NEED A SECOND CHANCE TOO As well as taking on a rescue dog or adopting a cat from an animal sanctuary, did you know that there are lots of small furries in rescue centres around the country that are looking for loving homes?
FINDING A VET FOR YOUR SMALL PETS Did you know that just like hospital specialists, vets have different areas of expertise? That's why, if you have small pets, it can be a good idea to seek out a vet that specialises in small animal medicine.
HOW TO PROTECT YOUR GUINEAS AND BUNNIES FROM PESKY PARASITES When it comes to protecting our gorgeous small pets from mites, fleas, flies, ticks and mosquitoes – and any other irritating and unwelcome pests – a four-pronged attack is the best approach.
THE SECRET TO HEALTHY, HAPPY GUINEA PIGS Guinea pigs have long enjoyed the status of being one of the most popular pets – which is something they undeniably deserve. However, in order to help them live their best guinea pig lives, it helps to see things from their perspective.
REGULAR CHECKS FOR YOUR BUNNIES As well as ensuring their pets have essential vaccinations, owners play a huge role in keeping their rabbits happy and healthy. Keeping a close eye on your buns is the best way to ensure all is well. Our handy checklist can help you keep tabs on your cottontails.
HAMSTER HEALTH CHECKS As well as providing nutritious hamster food and creating a suitable hamster habitat for them to thrive in, there are some important health checks that you should carry our regularly to ensure your hamster is in the pink.
CARING FOR YOUR FERRETS Intelligent and endlessly entertaining, ferrets make fantastically loyal animal companions. However, they have very specific needs that must be met so they can be healthy and happy and live their best ferret lives.
HOW ARE YOUR CHINCHILLAS DOING TODAY? Unlike dogs, cats, rabbits and ferrets, chinchillas don't require a yearly vaccination. This means that many are never taken to the vets for check-ups. That's why it's really important to give your chins a weekly health check yourself.
HELP YOUR RATTY FRIENDS TO DO WHAT COMES NATURALLY Every rat is an individual with their own particular likes and dislikes. As a caring rat owner, it's your job to provide your rat pack with a range of activities that enable them to exhibit their natural behaviours – but leaving the choice of what they do and when they do it up to them. 
MICE Q&A When did mice first become pets? What do mice eat? How sociable are mice? What do mice like to do? We've all the mice info you need to help you enjoy caring for these tiny, epic explorers who love to forage, play, climb and interact with their cage mates.
ASTONISHING GERBIL FACTS Find out everything you've ever wanted to know about these friendly, curious tunnelling experts who, despite their small size, are simply bursting with character.
DEGU Q&A Where do degus come from? What do degus eat? How sociable are degus? What do degus like to do? We've all the degu details you need to help you become the perfect pet parent to these intelligent, curious, and endearingly entertaining members of your family.
HOW TO TELL IF YOU HAVE A HAPPY PET With some pets, it's pretty easy to work out if they're happy. Dogs, for example, are such a giveaway with their wagging tails and big sloppy smiles. With other pets, signs of happiness can be rather more tricky to figure out.
OUR PETS ARE SO LOYAL AND LOVING, LET'S GIVE IT RIGHT BACK AT THEM Whether your best furry pal is a dog, cat, rabbit, guinea pig, ferret, hamster, rat, gerbil or chinchilla, there's no doubt that when it comes to being a loving and loyal friend, our pets come out on top.
5 WAYS TO GET THE WHOLE FAMILY INVOLVED IN PET CARE From being involved in looking after a pet and learning a sense of responsibility, to fun activities you can all do together, we've 5 IDEAS to get all the family involved.
WHICH SMALL PET IS RIGHT FOR YOU? From beautiful bunnies to delightful dwarf hamsters, small pets make good companions for animal lovers of all ages. However, there are lots of things to take into consideration before you take the plunge and become the proud owner of a small pet or two.
NEW PETS ON THE BLOCK? When it comes to the enjoying the company of animals, we humans have forged bonds with other species for thousands of years. We delve into the fascinating history of some of our favourite pets...
7 TOP TIPS FOR CREATING A PET-SAFE GARDEN Your garden should be a safe place that both you and your pets can enjoy together. However, from poisonous plants and toxic chemicals to mouldy food in compost heaps, there are all sorts of potential dangers that responsible pet owners need to be aware of.