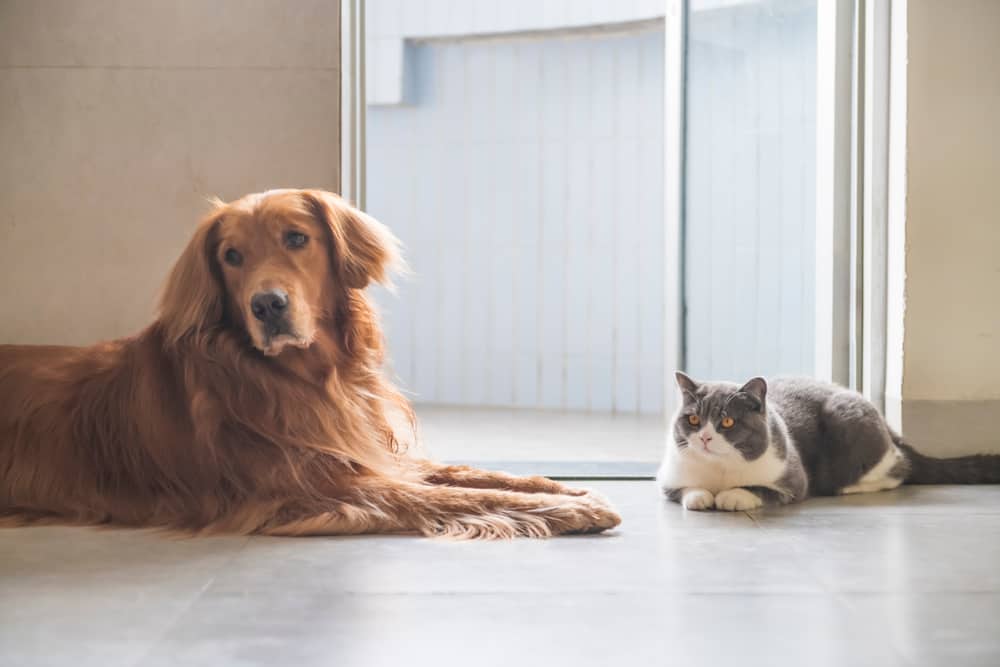 Pets and the pandemic – the aftermath…
With pet rescue charities full to bursting, the 'adopt don't shop' message is more important than ever.
Pet rescue charities across the UK are having to cope with ever-increasing numbers of unwanted animals. The combination of people returning to work post-Covid, and the rising cost of living, means that some people feel they have no choice but to give up their pets. What's more, the number of people choosing to get pets from rescue charities has fallen.
To help understand the situation better, the 2022 PDSA Animal Wellbeing (PAW) Report analysed the impact of two turbulent years of the pandemic on the UK's pets.
The changing picture of UK pet ownership
Highlighting the changing picture of UK pet ownership, the report – the largest and most comprehensive analysis into the welfare of the UK's pet dogs, cats and rabbits – shows a worrying shift in pet acquisition behaviour, as more owners choose to get pets from abroad, as well as a drop in the number of animals adopted from rescue centres.
The report notes that a significant number of these new pets are displaying concerning signs, which include separation-related distress, fearful and anxious behaviours – as owners transition back towards pre-pandemic work and social habits.
While the estimated population of dogs, cats and rabbits remain similar to pre-pandemic levels, the report reveals:
24% of all owners acquired their pet in the last two years, equating to 5.4 million pets acquired since the start of pandemic in March 2020
36% of all owners are new, with no prior experience of owning that species of a pet as an adult and are more likely to purchase from a private seller or breeder than an experienced owner
The number of animals acquired from UK rehoming centres has dropped, with the proportion of cats acquired from this source decreasing from 35% in 2020 to 27% in 2022
46% or rabbits sadly live alone (nearly 460,000 rabbits), representing a large population of pets whose basic needs for companionship are still not being met
As the cost-of-living crisis starts to bite, figures show that an alarming 20% of owners did no prior research before taking on a pet, and just 18% of all owners investigated the costs associated with pet ownership
A third of all dog (29%), cat (31%) and rabbit (28%) owners are worried about paying for unexpected vet bills if their pet falls ill or gets injured
Discussing the report's findings, PDSA Director of Veterinary Services, Richard Hooker, said: "There have been serious impacts on human wellbeing over the past two years, initially through the Covid-19 pandemic and now due to the cost-of-living crisis and other worldwide events. Pet owners need support – it is essential that we continue to work towards understanding and overcoming the barriers owners may have to understanding and providing the care that pets require."
Together, we can help all pets lead happier, healthier lives
If you're an animal lover and want to do your bit to help pets and owners who are struggling in these challenging times, what can you do? We've four ways that you can make a real difference...
---
Spread the message – Adopt don't shop
There are lots of really good reasons why adopting a pet can be a great choice, including:
Rather than a puppy, or kitten, you may find that an adult dog, cat or 'pre-loved bunnies' who know the ropes and can fit straight in with your family may be a more suitable choice.
There are all sorts of dogs, cats and rabbits – from pure breeds to cross breeds – of different ages and personalities, at rescue centres around the country, waiting for a second chance to live in a loving home.
Good rehoming centres have rigorous adoption procedures, including home checks, and carefully match their pets to the adopter's lifestyle and circumstances.
They'll also offer plenty of helpful advice on caring for your new pet and provide you with post-adoption support.
The best breed of dog is rescue – find out more about adopting a dog >>
Cats make wonderful companions – find out more about adopting a cat >> 
Small furries need a second chance too – find out more about adopting rabbits, guinea pigs or other small pets >>
---
Help out at your local animal sanctuary or rescue centre
Animal sanctuaries could not operate without a willing band of volunteers. Check out rescue centres in your local area and see what opportunities are available. You could be spending time with animals in their care to help them grow in confidence, carrying out home checks for potential new owners, capturing photos and videos for the sanctuary's website, helping with feeding times or lending a hand in the laundry with the washing. Whichever way you help out, it will be hugely appreciated.
Discover more ways you can help pets in need >>
---
Pets need responsible owners
Share these top tips from National Pet Month to help people thinking about getting a pet to become better informed:
Think carefully before getting a pet and learn about their special requirements.
Ensure your pet is sociable and well trained.
Provide a nutritious and well-balanced diet.
Provide suitable housing and bedding.
Clean up after your pet and worm them regularly.
Protect against disease. Your vet can provide you with advice.
Prevent unwanted litters and neuter your pet when appropriate.
Groom your pet
Control your pet and ensure it is properly identified.
Take out pet insurance for dogs, cats and rabbits to cover against unexpected veterinary fees and third-party liability.
---
Learn all you can about caring for your pets
Growing your knowledge of how to care for your pets and all the things they need to thrive is the best way to be able to provide them with the best possible life. Learning about your favourite animals is lots of fun too, particularly when you share what you've discovered with all your pet-loving friends.
Here's how Burgess Pet Care can help. As a family-owned business with over 300 years of history, the health and wellbeing of pets is our number one priority and we're proud of our expert knowledge. We also have lots of brilliant information about learning to understand your pets and helping to care for them in the best possible way, which you can find on our Pet Care pages.
CARE MORE Find lots of useful advice on caring for your dog, cat, rabbits, guinea pigs, chinchillas, rats, hamsters, gerbils and ferrets from Burgess, the pet experts.
Plus, check out Burgess Pet Care Pet Talk for the latest tips, advice and talking points for all sorts of pet animals.
Together, we can help all pets lead happier, healthier lives.
---
Is your dog a Burgess dog? Your cat a Burgess cat? Your small pets Burgess small pets? Join the Burgess Pet Club for exclusive offers and rewards.
---
If you found this interesting, you may also like:
SHOW YOUR PETS THE LOVE Make a pledge to your dog, cat, rabbits, guinea pigs, ferrets, hamster, degus, gerbils, rats or mice that you're going to be the best pet owner you can possibly be.
SMALL FURRIES NEED A SECOND CHANCE TOO As well as taking on a rescue dog or adopting a cat from an animal sanctuary, did you know that there are lots of small furries in rescue centres around the country that are looking for loving homes?
CAN SEPARATION ANXIETY AFFECT CATS? Separation anxiety is a condition commonly known in canines, but what about cats? Our feline companions have a reputation for being aloof, independent, or even antisocial – although there are many cat guardians who would firmly disagree with this sweeping generalisation. And new research suggests that some cats are extremely attached to their human guardians and find it difficult to cope when they are absent.
BACK SOON Just like humans, dogs are social animals, and our canine pals like to spend the majority of their time in our company. That's why it's essential that dogs should never be left on their own for too long. However, all dogs benefit from learning to manage being on their own for short periods. Otherwise, if you have to leave your dog and they aren't used to it, it will be very stressful for them.
PLEASE DON'T LET ME BE MISUNDERSTOOD – WHY WE'RE RAISING OUR VOICES FOR RABBITS It seems that people's perceptions and lack of understanding of these wonderful animals means that many are suffering – even though that's the last thing many bunny owners would want. The PDSA Animal Wellbeing (PAW) Report found that half of all UK rabbits live alone and a quarter are kept in inadequate housing conditions, such as cramped hutches.
WHAT KIND OF DOG SHOULD YOU GET FOR YOUR HOME? If you live in a large property with lots of secure land, it could be the perfect place to share with a couple of Irish Wolfhounds or a Siberian Husky or three. However, if you live in more modest surroundings such as a flat, can you still have a dog? And if you do, should you opt for a small breed?
WHY MATURE CATS OFTEN MAKE THE BEST COMPANIONS Kittens are cute, but older cats can be cuddlier. Find out why mature, mellow felines can be the perfect lap-loving companion pets.
OLD DOGS LOVE NEW TRICKS While cute looking puppies are the attention-grabbers at rescue centres across the country, perhaps it's time that older dogs got a second glance.
THE FAMILY DOG – MAKING IT WORK FOR PETS AND CHILDREN Dogs and children can be best friends with a canine chum quickly becoming a much-loved member of the family. However, it's vital that parents teach children how to stay safe around dogs – to protect both child and dog.
A BUNNY IS NOT JUST FOR EASTER It's a common misconception that rabbits are easy to care for pets that don't need much to keep them happy. In fact, nothing could be further from the truth.
COST EFFECTIVE WAYS TO LOOK AFTER YOUR SMALL PETS You may not have a big budget, but as long as you've got a little imagination and a bit of know-how, you can do marvellous things with loo rolls, an old fleecy scarf and some cardboard packaging.
PET INSURANCE EXPLAINED Cat insurance, dog insurance, rabbit insurance – what pets can get cover? Can you get pet insurance for pre-existing conditions? Can you get pet insurance for older pets? Can you get multi-pet cover? We answer some of the most commonly asked questions to help you make an informed decision about pet insurance.