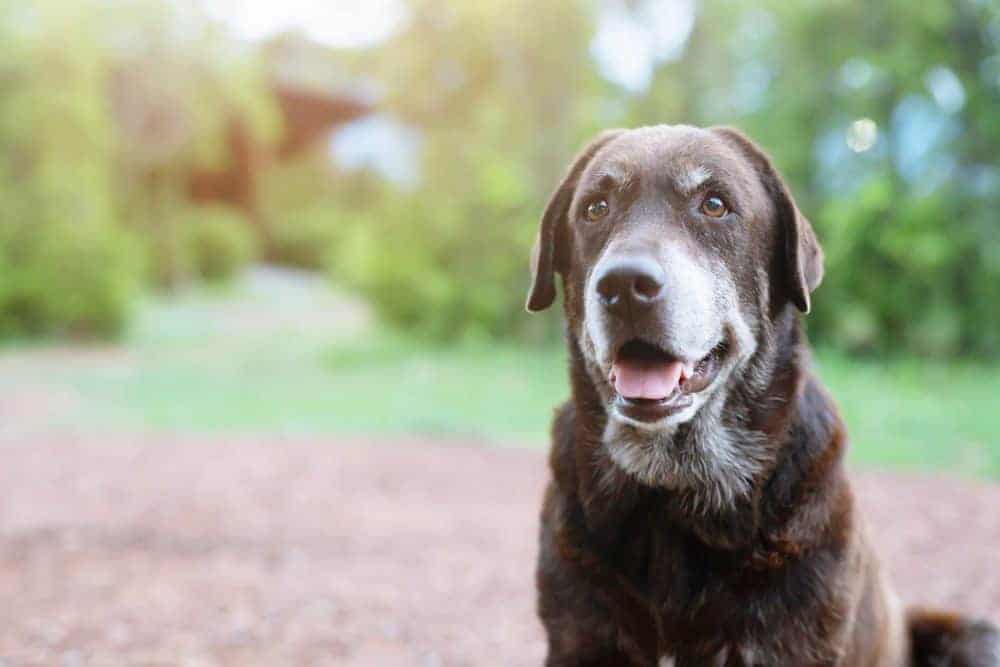 How to help your dog live a long and happy life
When it comes to enjoying a healthy, happy, long life, what works for humans can work for our dogs too, according to science. Find out how you can enjoy the company of your canine pal for as long as possible. Plus, how long will our pet dogs live? And – are dog years really equivalent to seven human years?
As our best four-legged friends and constant companions, we want our dogs to live as long as possible, enjoying many, many healthy and happy years with us. So, what can we do to help them?
Writing for The Conversation, Jacqueline Boyd, Senior Lecturer in Animal Science at Nottingham Trent University, says: "As anyone who has ever lived with a dog will know, it often feels like we don't get enough time with our furry friends. Most dogs only live around 10 to 14 years on average – though some may naturally live longer, while others may be predisposed to certain diseases that can limit their lifespan. But what many people don't know is that humans and dogs share many genetic similarities – including a predisposition to age-related cancer. This means that many of the things that humans can do to be healthier and longer lived may also work for dogs."
Her five top tips are:
Watch their waistline
Plenty of walks
Teach them new tricks
Bonding
Don't skip vet visits
So, let's take a closer look...
---
Watch their waistline
Jacqueline Boyd says: "One factor that's repeatedly linked with longevity across a range of species is maintaining a healthy bodyweight. That means ensuring dogs aren't carrying excess weight and managing their calorie intake carefully. Not only will a lean, healthy bodyweight be better for your dog in the long term, but it can also help to limit the impact of certain health conditions, such as osteoarthritis."
Carefully monitor and manage your dog's bodyweight through regular weighing or body condition scoring – where you look at your dog's physical shape and 'score' them on a scale to check whether they're overweight, or at a healthy weight.
---
TOP TIP
In general, dogs who are at a healthy weight have an 'hourglass' figure when looked down upon from above. The abdomen should be narrower than the chest and hips and they should look 'tucked up', which means that a dog's chest is closer to the ground than the belly when he or she is standing. Ribs should not be readily visible but are easily felt with light pressure. The Pet Food Manufacturers' Association (PFMA) has a handy Dog Size-O-Meter, which you can check out here >>
---
Using both regular weighing and body condition scoring methods together will allow you to identify weight changes and alter their diet as needed.
Jacqueline Boyd also recommends using feeding guidelines as a starting point for how much to feed your dog, adding: "You might need to change food type or the amount you feed to maintain a healthy weight as your dog gets older, or depending on how much activity they get. Knowing exactly how much you are feeding your dog is also a crucial weight-management tool – so weigh their food rather than scooping it in by eye."
---
NUTRITION KNOW-HOW
Burgess Pet Care has developed a range of 'light' foods for dogs that you can incorporate into your pet's weight loss programme. However, switching diets is something that has to be done gradually, to avoid upset tummies, and you should plan to do this over a couple of weeks.
---
"More generally, good nutrition can be linked to a healthy ageing process, suggesting that what you feed can be as important as how much you feed," says Jacqueline Boyd. "'Good' nutrition will vary for each dog but be sure to look for foods that are safe, tasty and provide all the nutrients your dog needs."
Burgess in-house vet Dr Suzanne Moyes agrees: "When it comes to feeding our pets, only the best will do – which sometimes means adapting their diet to best suit their life stage and lifestyle. Over the past few decades, the science of pet nutrition has come a long way. We now know much more about the significant role nutrition plays when it's tailored to the different stages of our pets' development, ensuring the optimum quality of life for the longest time possible."
---
NUTRITION KNOW-HOW
A dog's nutritional needs varies throughout their life. Puppies require a little more protein to support their growing muscles and the right balance of calcium and phosphorus for developing bones and teeth. Adult dogs require foods that are naturally rich in protein for good muscle maintenance and essential fatty acids to help nourish their coat and maintain healthy eyes. Neutered dogs, or those who are not as mobile, require fewer calories supplied in 'light' recipes. Senior dogs benefit from added glucosamine for optimal joint mobility and prebiotics to aid the body's natural defences.
All Burgess dog foods are made using premium ingredients to ensure excellent quality and superior taste to help keep your dog happy and healthy – from puppy, to adult and mature.
There are also foods to meet the specific nutritional needs of working dogs, Greyhounds and Lurchers, and dogs with sensitivities, which features unique recipes that are free from the usual ingredients that can upset your dog's stomach, making it ideal for those with a sensitive digestion. And we're very proud of our Paul O'Grady's 'No Nasties' dog food range, which comes in hypoallergenic varieties.
---
Plenty of walks
Jacqueline Boyd advises: "Exercise has many physiological and psychological benefits, both for our dogs (and us). Physical activity can help to manage a dog's body weight and is also associated with anti-ageing effects in other genetically similar species. While exercise alone won't increase your dog's lifespan, it might help protect you both from carrying excess bodyweight. And indeed, research suggests that 'happy' dog walks lead to both happy dogs and people."
---
---
Teach them new tricks
Just as with humans, ageing isn't just physical. Jacqueline Boyd says: "Keeping your dog's mind active is also helpful. Contrary to the popular adage, you can teach old dogs new tricks  – and you might just keep their brain and body younger as a result. Even when physical activity might be limited, explore alternative low-impact games and pursuits, such as scent work that you and your dog can do together. Using their nose is an inherently rewarding and fun thing for dogs to do, so training dogs to find items by scent will exercise them both mentally and physically. Other exercise such as hydrotherapy – a type of swimming exercise – might be a good option – especially for dogs who have conditions which affect their ability to exercise as normal."
---
---
Bonding
Like many companion animals, dogs develop a clear attachment to their caregivers. The human-dog bond likely provides companionship – and often, dog lovers describe them as a family member. Jacqueline Boyd says: "A stable caregiver-dog bond can help maintain a happy and mutually beneficial partnership between you and your dog. It can also help you recognise subtle changes in your dog's behaviour or movement that might signal potential concerns. Where there is compatability between caregiver and dog, this leads to a better relationship – and even benefits for owners, too, including stress relief and exercise. Sharing positive, fun experiences with your dog, including playing with them, are great for cementing your bond."
---
DO YOU TALK TO YOUR DOG?Research reveals that dogs can understand human communication in ways no other species can. Yet, according to a survey by Dogs Trust, only 1 in 5 dog owners think that bonding with their dog includes actually chatting with them. Are humans missing a trick?
WHY PETS ARE SO GOOD FOR OUR MENTAL WELLBEINGThe unconditional love and companionships pet animals provide can be a lifeline for people contending with mental health issues...
DOGS CAN SMELL HOW HUMANS ARE FEELINGIf you're a dog owner, it's a safe bet that you feel your pet is tuned into your emotions. Now, science has proved that this really is the case. However, it's the way that canines sense human emotions that's rather astonishing...
---
Don't skip vet visits
Modern veterinary medicine has seen great improvements in preventing and managing health concerns in dogs. Successful vaccination and parasite management programmes have effectively reduced the incidence of disease in both dogs and humans – including toxocariasis, which can be transmitted from dog faeces to humans, and rabies, which can be transmitted dog- to-dog or dog-to-human.
Jacqueline Boyd says: "Having a good relationship with your vet will allow you to tailor treatments and discuss your dog's needs. Regular health checks can also be useful in identifying any potential problems at a treatable stage – such as dental issues or osteoarthritis – which can cause pain and negatively impact the dog's wellbeing. At the end of the day, it's a combination of our dog's genetics and the environment they live in that impacts their longevity. So, while we can't change their genetics, there are many things we can do to improve their health that may just help them live a longer, healthier life."
---
THE DANGERS OF DIAGNOSING YOUR PET'S PROBLEMS ONLINE Research by the British Veterinary Association (BVA) revealed 80% of vets said they had clients who took their pets to see them later than they should, while 98% believed their clients were influenced by what they had read on the internet. The BVA warns that attempting to self-diagnose pets and buying medication online could lead to a potentially fatal delays in treatment. 
---
What else can you do?
Battersea advises: "Being a responsible dog owner is about providing your dog with everything they need to live a happy and healthy life." The charity recommends that all dog owners do the following:
GET YOUR DOG MICROCHIPPED Microchipping is a legal requirement for all dogs in England, Scotland and Wales. It is very important to keep your dog's chip details up to date with your correct information so that you can be contacted should they go missing.
GET YOUR DOG NEUTERED Neutering your dog not only prevents unwanted litters but can also prevent tumours and other health problems. It also has many behavioural benefits.
REGISTER WITH A VET Don't wait until your dog becomes ill before registering with a vet. Animals need annual vaccinations, and that time is a good opportunity for a complete health check.
CONSIDER GETTING PET INSURANCE Pet insurance is an extremely important consideration for all dog owners. It will help guard against unexpected veterinary fees and allow you to provide the best health care for your dog. There are a number of different policies and providers to choose from, but not all pet insurance is the same. Some policies limit the amount of time or money that you can claim and that's why we recommend that you don't choose a policy based on price alone. You should also consider Third Party Liability cover in case your dog causes an accident.
SOCIALISE FROM A YOUNG AGE Providing your dog with plenty of positive experiencesaround other dogs and people from an early age will help prevent behavioural problems. Regular walks provide your dog with a change of scene and the chance to meet other dogs. Remember, your dog needs a social life too.
KEEP YOUR DOG UNDER CONTROL In urban areas keep your dog on a lead at all times as they could easily be startled by a noise and run off and injure themselves. Before letting them off in a safe area for the first time be confident they will come back when you want them to.
---
How long will our dogs live?
The RSPCA states: "Thanks to modern veterinary science and an increased understanding of their needs, our dogs are living longer, on average, with crossbreeds living longer than purebreds. This is possibly due to something known as 'hybrid vigour', which is the concept that crossbreed animals have some specific health advantages over purebred animals, such as longer lives.
The charity has also compiled a list of the average lifespan of popular dog breeds:
Miniature Poodle2 years
Border Collie5 years
Jack Russell4 years
Crossbreed1 years
Labrador Retriever5 years
Cocker Spaniel5 years
German Shepherd 11 years
Staffordshire Bull Terrier7 years
Cavalier King Charles Spaniel9 years
Chihuahua1 years
Dogue de Bordeaux5 years
---
Are dog years equivalent to seven human years?
The short answer is – no. The American Kennel Club states: "The long-believed '1 dog year = seven human years' theory is not supported by science. Different breeds age differently, with small dogs in general living longer than large ones."
The society points to a 2019 study that suggests a new formula based on changes made to dogs' DNA over time. Although there are differing opinions, as a general guideline, the American Veterinary Medical Association breaks it down like this:
15 human years equals the first year of a medium-sized dog's life
Year two for a dog, equals about nine years for a human
After that, each human year would be approximately five years for a dog
So, following these guidelines, a nine-year-old Labrador would be around 59 in human years and at age 12, would be the equivalent of 74 in human years.
---
Is your dog a Burgess dog? Join the Burgess Pet Club for exclusive offers and rewards.
---
If you found this interesting, you may also like:
TOP TIPS TO KEEP INTREPID PET EXPLORERS SAFE THIS AUTUMN From acorns and antifreeze to seasonal canine illness and sticks – it pays to be aware of all sorts of autumnal dangers.
WHY WHAT DOG FOOD YOU CHOOSE CAN BE A SENSITIVE ISSUE  If your canine chum has a delicate digestion, it can sometimes be a struggle to find a suitable dog food for a sensitive stomach. What's more, your dog's nutrition requirements change as they get older. So, what do you do if you need to find a food that's just right for a sensitive senior canine?
BECOME A DOG COMMUNICATION EXPERT Spending more time with your canine chum? It's the perfect opportunity to learn more about what they're trying to tell you. 
HOW TO BUILD A CONFIDENT DOG If lockdown has knocked your canine's chum's confidence for six, what can you do to help them be less fearful around other dogs so that they can enjoy life to the full?
THE FAMILY DOG – MAKING IT WORK FOR PETS AND CHILDREN Dogs and children can be best friends, however, it's vital that parents teach children how to stay safe around dogs – to protect both child and dog.
FUN AND GAMES IN THE DOG PARK Going to the park is the highlight of many dogs' day as it's a chance for canine chums to enjoy a meet and greet, chase after a ball and dash about with their best buddies. However, not every dog-to-dog interaction goes to plan and there are definite rules of the game.
BACK SOON Helping dogs to manage spending time on their own is an important part of training as all dogs need to be left occasionally. Follow our tips on how to help your dog feel calm and safe when you have to leave them home alone.